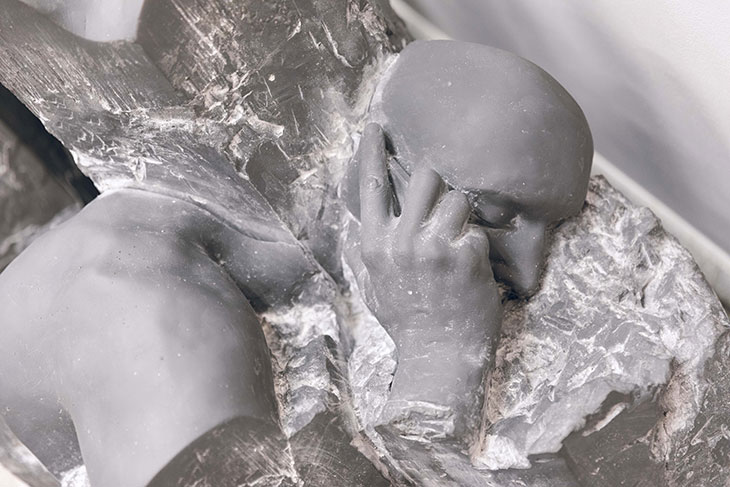 The Manege Central Exhibition Hall in St. Petersburg is opening a New Nature exhibition by the Russian art group Recycle. Created exclusively for Manege, the exhibition analyses the transformation of human personality under the influence of modern technology, focusing on the interaction between man and machine, and studying the possibility of telepathy between them. True to the central theme of their work, the artists reflect on the possibility of eternal life inside a network, and stage startling and ironic experiments on our human mind.
The exhibition spotlights the artists' interactive sculptures and dynamic art objects that turn viewers into participants in a virtual, technological performance.
Artists Andrey Blokhin and Georgy Kuznetsov are Kandinsky Prize winners and participants of the exhibition in the Russian Pavilion at the 57th Venice Biennale of Contemporary Art. In their new project New Nature, the artists continue to explore the cultural and visual codes of Homo Virtualis and his world, in which citation indexes, engagement rates, and the number of people who viewed and "liked" your material are cherished values, and where virtual reality has supplanted religion, wooing away its followers.
The world is currently in the midst of global changes, and whether or not people are physically present with one another is becoming less important. Using new technologies and machine learning, a person is now capable of living an almost full life virtually. We are very interested in how much this will change the life of someone who has decided to enter into this type of interaction with the new world. These days the connection between human and machine is a key element in the development of civilization, and we are currently in the process of laying the foundations of the philosophy surrounding it. Each one of us is adding their data to the new world every day, and almost all of this information is being saved and has value.
– Recycle Group
The works on display are crafted from Recycle's favourite media – plastics, polyurethane, and silicon. Some of them came to Manege from London and Paris. Others have been created in Russia, in part in the artists' hometown of Krasnodar.
The New Nature exhibition is accompanied by a supplemental educational programme, whose main themes include post-internet art, the influence of digital technology on the work of contemporary artists, the transformation of personality and of the material environment in the era of virtual reality, the expansion of the capabilities of our brains, global changes in the environment and climate, and innovation in the spheres of science and medicine.
Visit the project's website and enter the virtual dimension of the exhibition, discover the futuristic world of Recycle Group.