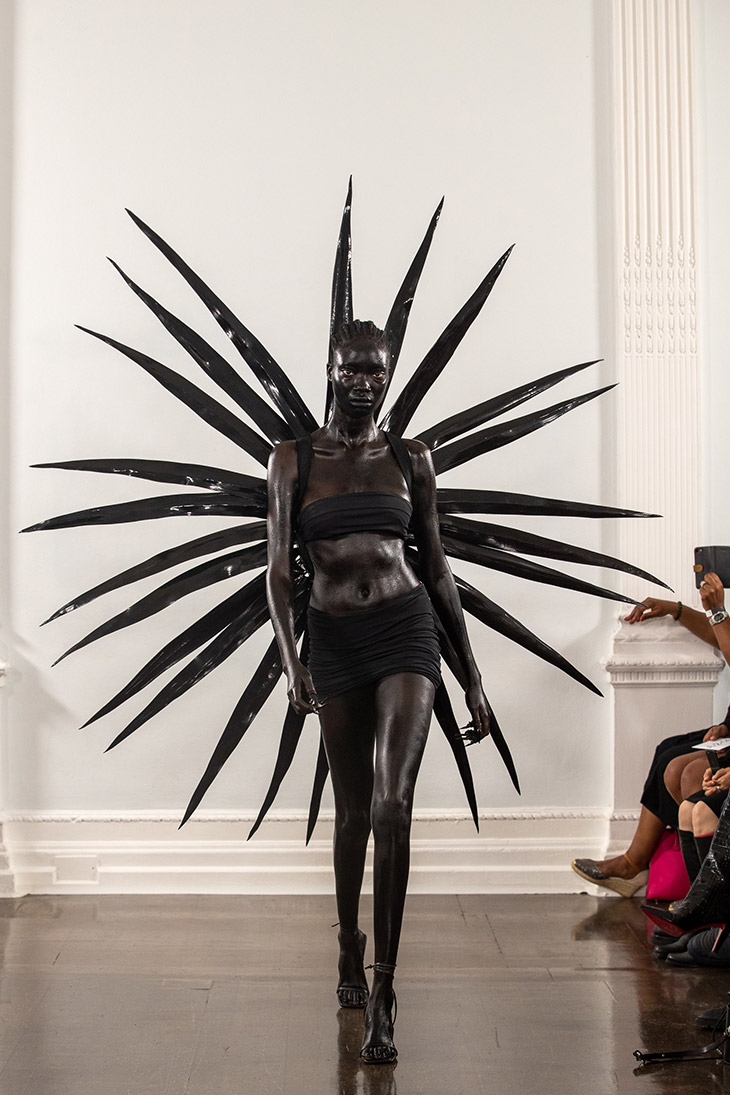 Fashion brands Chet Lo, Goomheo, HRH, Jawara Alleyne, and Maximilian presented their Spring Summer 2022 Collections as part of Fashion East Project at the recently finished London Fashion Week. This season, Fashion East presentations were both digital and physical – HRH and Goomheo unveiled collections digitally, while Chet Lo, Maximilian, and Jawara Alleyne showcased theirs collection on the runway.
SPRING SUMMER 2022 WOMENSWEAR COLLECTIONS
CHET LO
Chet Lo's debut collection for Fashion East explores the tropical haven we all long for. The Splash collection that was inspired by holiday life, and the mystical romance, celebrates the beauty and individuality of each body.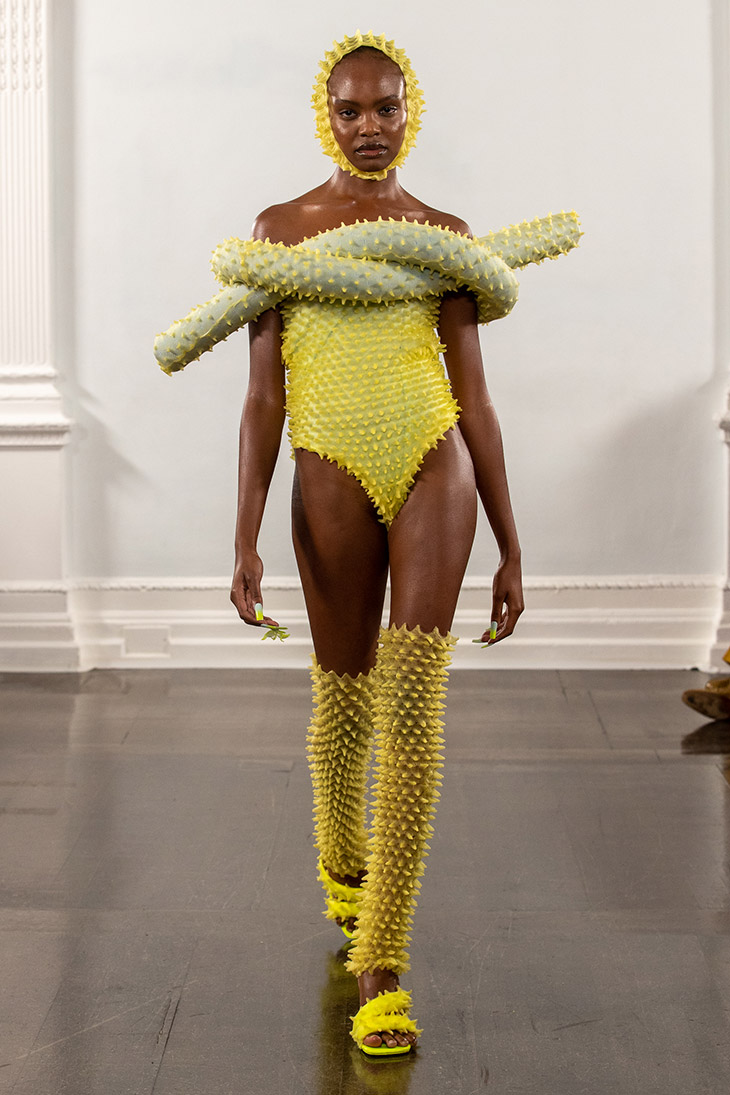 "Lo uses his signature knit techniques and strategic pattern cutting to subvert traditional resort wear. Tracksuits have been reworked in lush terry cloth, panelled with his sheer spike knit fabric. He introduces swimwear with knitted bikinis and one-pieces, the latter paired with cover-ups that cling to the body reminiscent of water that sits on the skin after you've gotten out of the pool. A warm palette pays tribute to nature's purest gifts: tropical sunsets, the ocean and Long Island Iced Teas. Colour gradients of yellow, purple and pink reflecting the sunrise are found on sheer evening gowns and matching skirt sets. Lagoon blue and yellow sleeveless tops with high necklines accompany matching sarongs with sizzling slits." – from Chet Lo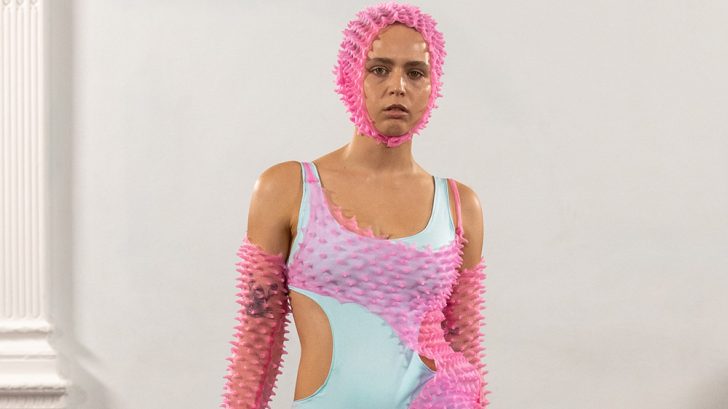 GOOMHEO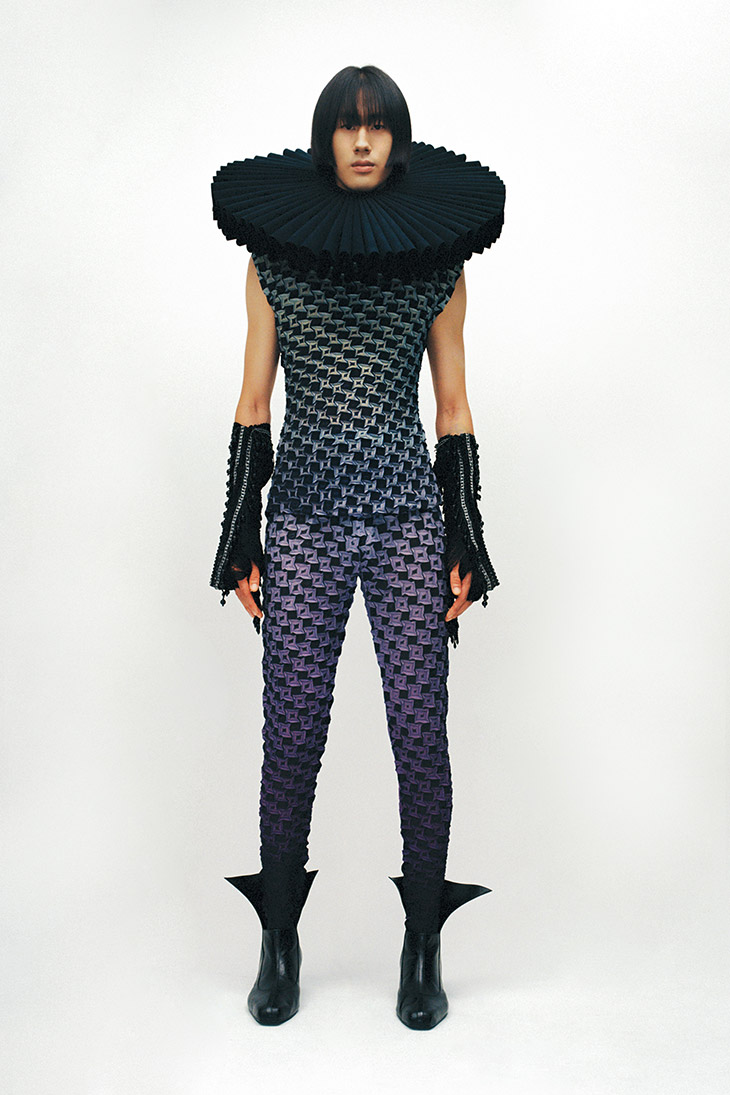 This is Goomheo's fourth Fashion East collection. This season Goomheo connects with a fear of what lurks in the darkness, and embraces the unexpected, the eerie, and the weird, finding the comfort in a chaos.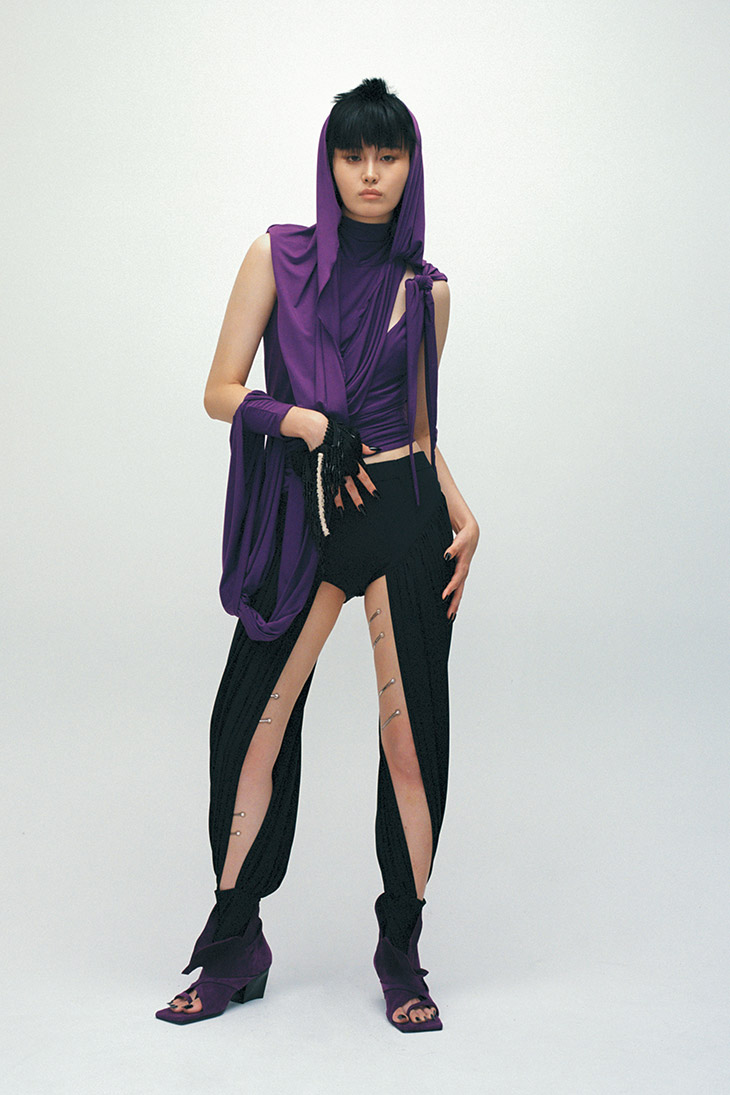 "Barely-there chain tops and swirl-slashed trousers flaunt the body with an almost exhibitionist flair, exploring the idea of nakedness as both a source of subversion and as the most natural, comfortable human state. Similar contrasts and tensions are materially explored through taut wraps and drapes. Interlocking trails of jersey wind around the body into Moebius strip jumpsuits, hems are hoiked up by tight gathers of vegan suede, and the legs of blue jeans are tightly bound by trails of bleached denim. Curtains of fringe and the painterly streaks of further denim washes in indigo blue and stone grey convey a grungy sense of havoc, counterposed by the exacting precision of geometrically pleated, form-fitting separates and a mandarin-collared jacket with a fanning denim train extending from the front of the garment." – from Goomheo
HRH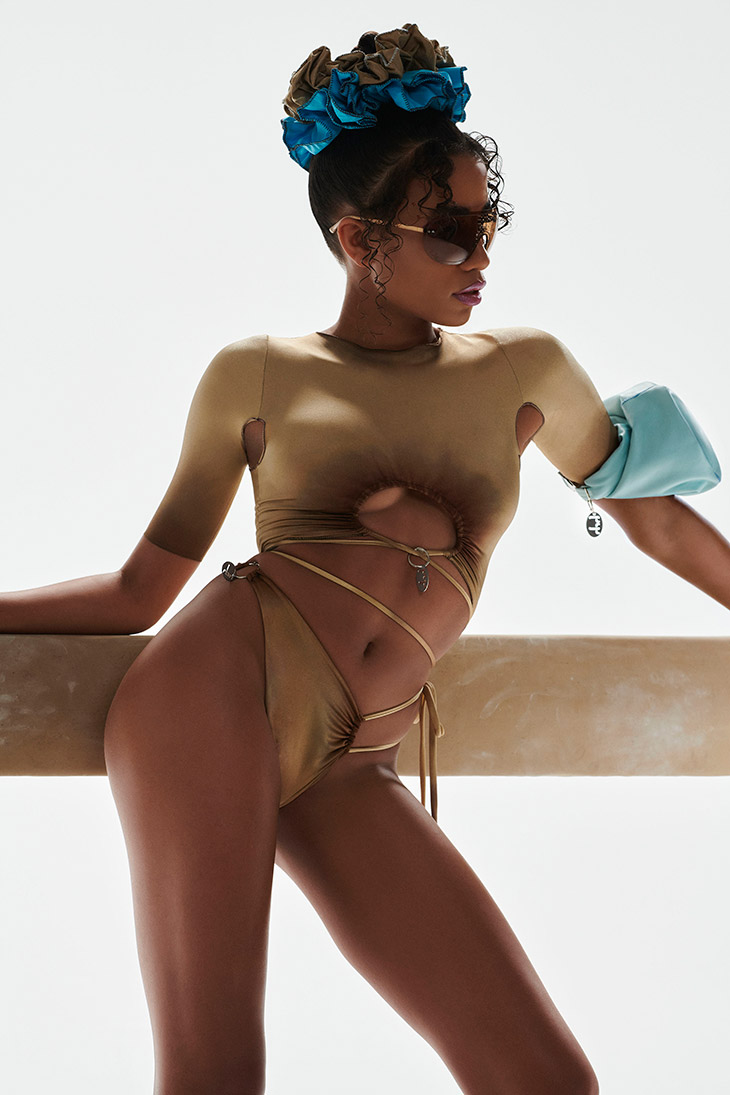 Designer Hannah presented HRH's second collection that was inspired by swimwear, and the Olympics. The collection explores the poise and strength of Simone Biles, and the fighting spirit of Naomi Osaka.
I was so excited to create swimwear as it felt like a very natural progression to make fully embodied looks that cover my team head to toe. I felt very inspired by bodies of water this season and how we perform in it. I have used fabrics that are designed to come into contact with it and have designed my bags as an homage to the 'wet bags' that are used for water sports but reimagined for day to day in leathers. I want this collection to bring everyone 100% pleasure and confidence whether you choose a bag or a full look. – Hannah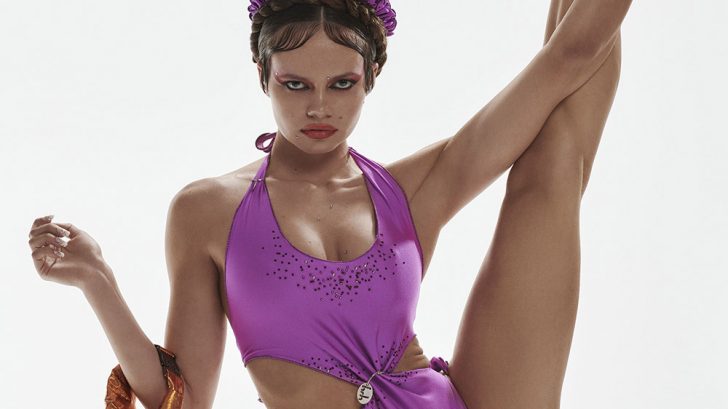 JAWARA ALLEYNE
London-based designer Jawara Alleyne unveiled his first collection, that explores repurposing, draping, cutting and recontextualising. The designer centers his work around freeing the body and the mind from the fashion's constraints. The collection was also influenced by designer's background growing up in Jamaica and The Cayman Islands.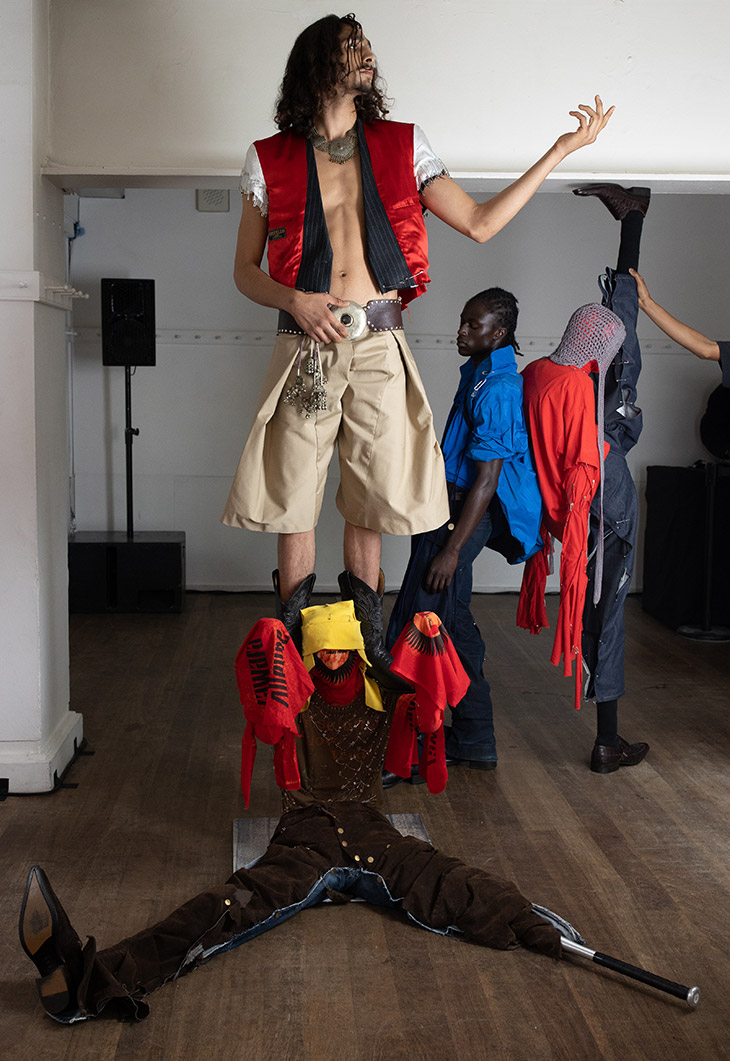 Draping gives a beauty to menswear that you don't normally see, because for some reason draping is usually seen as for women – it's not often found in menswear. It's been fun figuring out how to have beautiful drapes yet keep it recognisably menswear. I've used a T-shirt base, then layered and draped a polo shirt on top, the draping held in place, so that it's draped but also structured. Then there's also a T-shirt with holes that lets you drape it however you want. You can use the armhole, you can use the hole, it's your choice. There's also draping in jeans. I've draped an existing pair of jeans to be low-waisted, then opened, pinned and riveted the sides to make them billow. In a way, the billowing shape comes from the pirate folklore culture of the Cayman Islands, a feeling that was present in my last presentation, but I would never say it was a collection about pirates. It's a collection about my development of fashion. – Jawara
MAXIMILIAN
This season Maximilian's collection was inspired by the designer's childhood memories of family visits to Trinidad, and it captures the feeling of nostalgia, and freedom. The collection explores simplicity, while focusing on ultra-luxe yet unexpected fabrics, and no-nonsense silhouettes.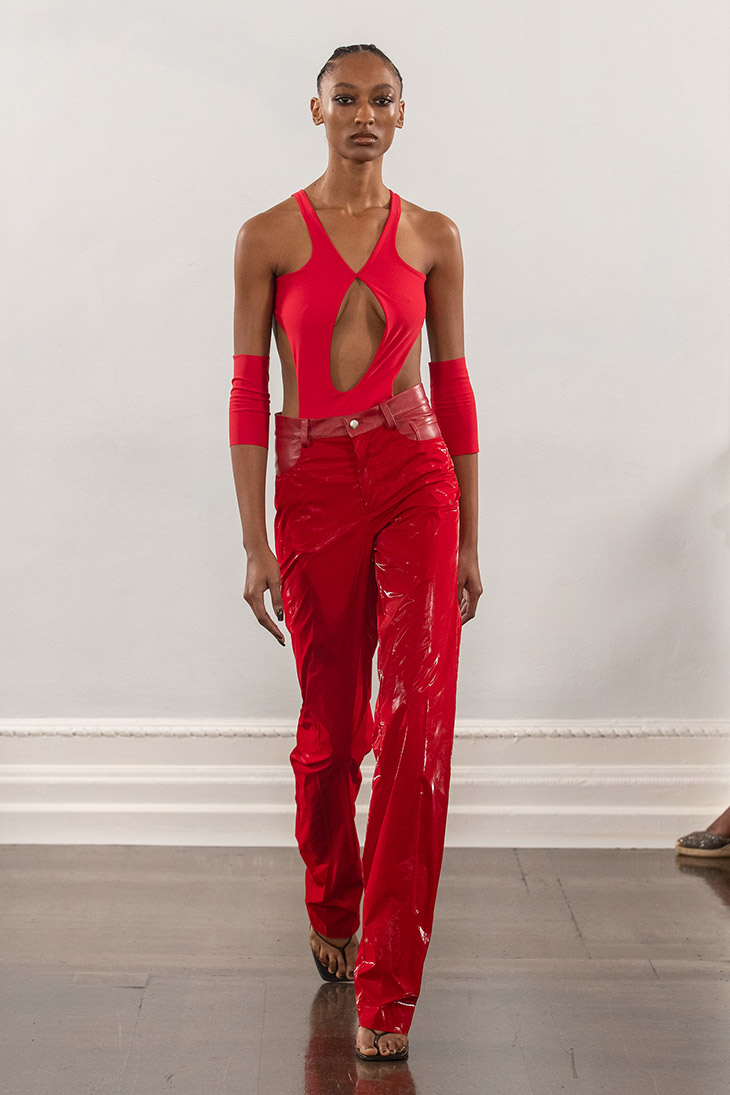 "An insouciant coastal ease is combined with the regimental sharpness of naval military uniforms worn in Port of Spain and utilitarian scuba gear. The high-voltage drama of James Bond films, most notably 1962's Dr No, informs the clothes' cinematic feel, reimagined for modern-day Black protagonists. Second-skin lycra and cut-out bodysuits confidently map the geography of the body, whether diving into a lagoon or walking from the beach to the club. Proud displays of skin are elegantly framed, not just by abbreviated lengths, but also by delicate layers of translucent chiffon scrims, and plunging halter necks with buckled skinny-dip backs. There are looser and softer silhouettes for moonlit island evenings and brazen hyper-femme dancehall dresses. The Harlequin print, a definitive motif of the label, is reintroduced in devoré-velvet dresses as light as a warm ocean breeze. Soft waves of silk fringing follow the curves of nocturnal dresses. Velveteen nylon is like no other, glossy and papery to touch, and coated onto lambskin jeans and ivory cashmere coats. A hand-painted check print appears on screen-printed denim." – from Maximilian