Since yesterday the New York Stock Exchange has another fashion company on it's trade lists. Ermenegildo Zegna Group is the latest fashion company to enter the Wall Street game trading under the ticker "ZGN".
To mark the big date Zegna Group took over the New York Stock Exchange with its newly unveiled Zegna stripe rebranding under the "Road To Tomorrow" slogan. This move marks the latest change for the fashion house.
If the first day is a good omen, Zegna Groups ZGN shares rose on the first day. The wall street outing for the house follows Zegna's merging with US blank check company. This move values Zegna Group on the stock market at 3.1 Billion USD. Yesterday ZGN shares traded at $10.92 with a rise of 6.6%, the opening price was $10.24.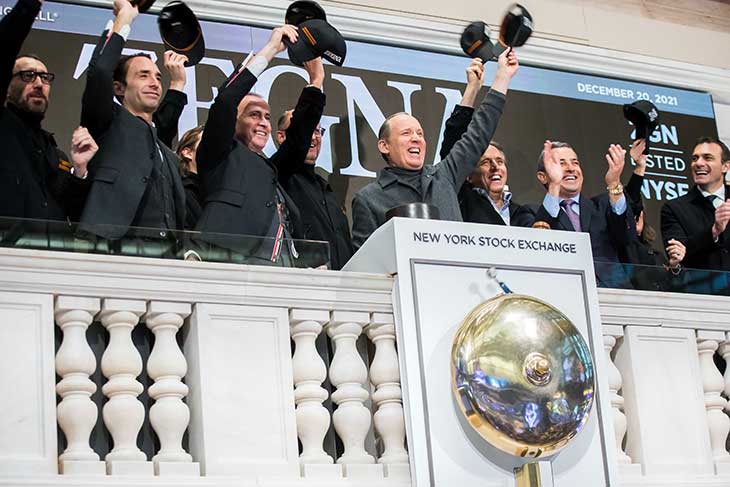 "Our Road has led us to New York City, where the Ermenegildo Zegna Group has officially been listed as a publicly traded company on the NYSE. We continue along the same progressive path that stretches back more than 110 years, leading us to new frontiers and a reimagined contemporary lifestyle. We are proud to celebrate this historic moment – together with you," shares Zegna Group

Earlier this month the Group announced a complete makeover for it's primary brand Zegna. Not only was the new font for ZEGNA introduced, the house is also going for an instantly recognized symbol. The two full stripes in orange are to become synonymous with the name Zegna. The announcement was made with the release of Zegna's Outdoor Capsule collection. A move which may indicate the label's incline towards alpine sport inspired fashion products.
Find more of Zegna on DSCENE.