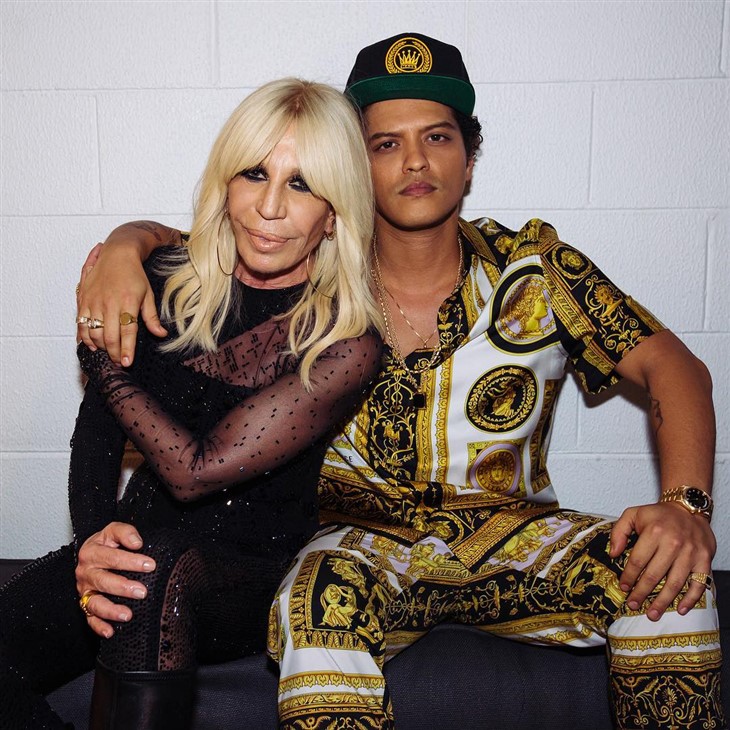 Peter Gene Hernandez, better known as Bruno Mars has been present on the world stage from 2010. We know him for his retro showmanship, stage performances and ability to produce and sing music from various genres: pop, R&B, funk, soul, reggae, disco, and rock. From his first video, where he sported colorful plaids and denim vests, to today's ornate and over the top style, Bruno Mars most definetly evolved his fashion game. The 11 time Grammy winner is now known for his fabulous and funky style, always matching with his current musical genre. You can see him sporting silk tracksuits, bedazzled jackets, layered chains and so much more.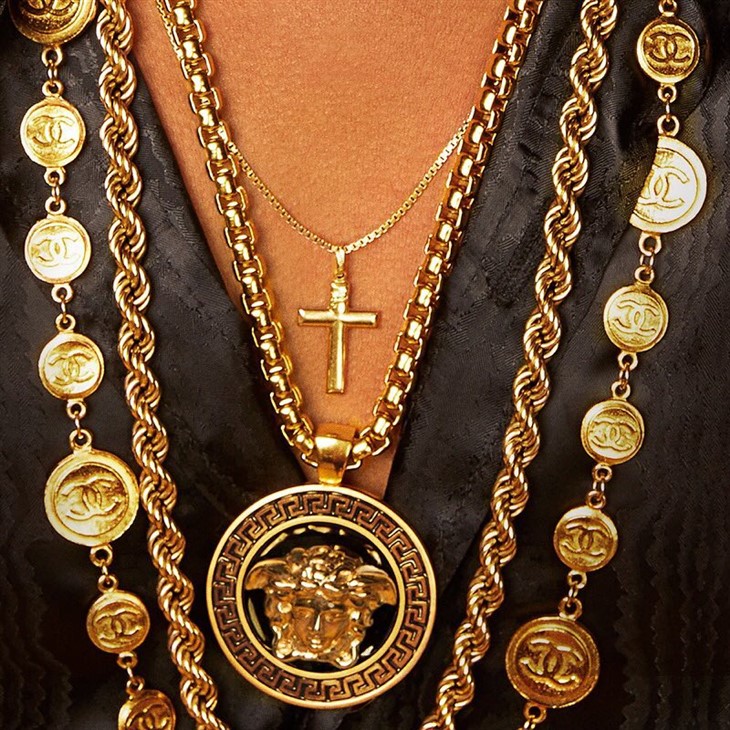 Music industry has become codependent with fashion industry. Performers try their best to bring amazing fits to their music videos, concerts and appearances. There is no good performance without some dazzling fashion following the spirit of the music. The one brand who managed to stick to the performers form their beginning is Versace. Gianni Versace and Donatella Versace brought their love for the fashion to music industry. Beloved by rappers, rockstars, popstars, this brand seems to be performers favorite. Continuing the tradition set by her late brother, Gianni Versace who dressed Elton John, Donatella is embracing the young generations of musicians for the campaigns, runways and more. From Mariah Carey, Madonna to Lady Gaga, Maluma and of course Bruno Mars.
Discover authentic Versace clothing at GOAT.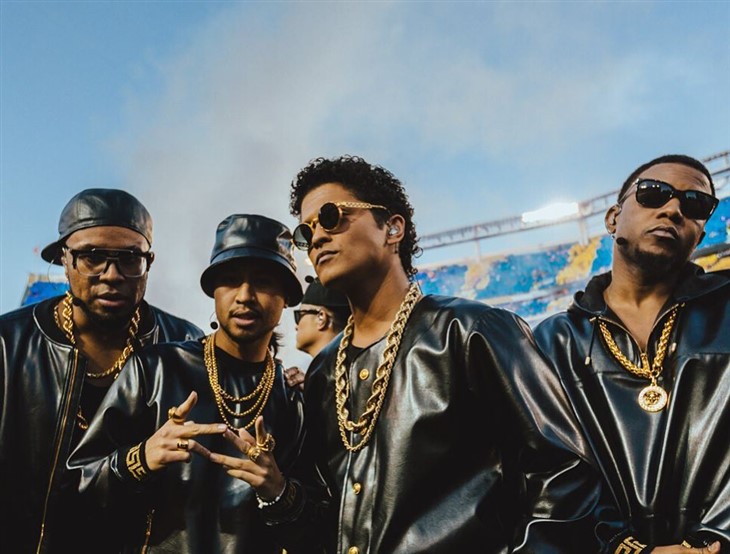 Uptown Funk
Bruno Mars' style definetly gained popularity after the release of Uptown Funk duet with Mark Ronson. The 80s style funk music video, talking about fashion and self-love brought some old-school vintage looks which clearly became a big inspiration for the artist. The single got so popular that it gained Record of the Year at the 2016 Grammy Awards. It also landed Bruno Mars, a Super Bowl halftime show performance where he brought his A game in terms of performance but also the styling. Bruno and his band all sported full Versace leather looks featuring brand's Greek motif around the cuffs and oversized gold Medusa chains, taking fashion cues from '80s-era hip-hop style.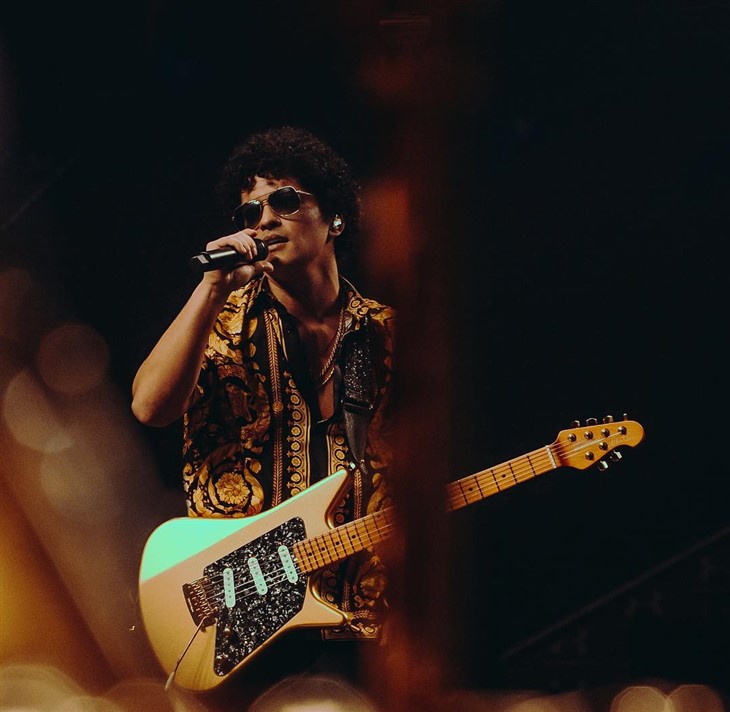 24K Magic
After the succesful Uptown Funk tour, Donatella Versace spotted Bruno Mars and his love for unique Versace style. The collaboration between the two blossomed during Bruno's 24K Magic music video, where almost everyone participating in it wore Versace signature slik baroque printed shirts and of course a lot of gold chains from the brand. The video opens up to Bruno dressing up in his favorite silk printed shirt, putting layers of gold jewelery, showing off his lavish chart-topper style. The whole album was practically inspired by Versace, Bruno wanted to showcase the 90s style, bring the party to the floor and make clear that Versace is part of his vision of the good life.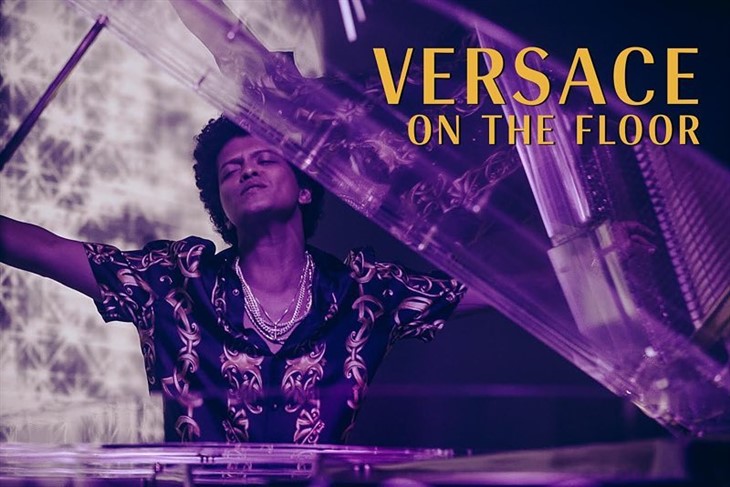 Versace on the Floor
What better way to show your love for the brand than to write a song about it? Bruno Mars presented the "Versace on the Floor" song as a part of the planetary popular 24K Magic album. The song's lyrics address romance and intimacy. For this music video, Bruno Mars invited American actress Zendaya to be the leading actress in the video. Both of them were dressed in custom Versace pieces. Bruno was wearing black pants, a short-sleeved silk button-down shirt, and smoking slippers with gold Medusa emblems, snd Zendaya was dressed in gold chain mail mini-dress. The seducing music makes Zendaya dance, and her Versace dress ends up on the floor. To show her appreciation and love for the song and video, Donatella Versace introduced a video where supermodels like Candice Swanepoel, Natasha Poly, Alpha Dia and more lip-sync and dance to this hit dressed in full Versace looks. One thing is for sure, we love the friendship and collaboration between these two artists celebrating each other.