Discover JIMMY CHOO Fall Winter 2022.23 Collection, that balances the brand's spirit with refinement and exaggerated volumes, and brings dynamic glamour, presented on February 26th, during the ongoing Milan Fashion Week. The focus of the collection is on the silhouette of the legs and the shoe and therefore of the woman. The directional, emphatic shapes are fused with a spirit of movement and dynamic freedom. High boots elongate the body, pointed toes on pumps and boots are exaggerated and intricately detailed, stretching limbs to infinity. For the season the brand explores femininity with precious textures of velvet, crystal honeycomb formation, tactile matelassé and glistening leathers, as well as with the colour palette of refined candy pink, fuchsia pink, pale gold, palladium and graphic black. The shapes bring redefined, and evolved femininity; a key shape is BAKU, a knee-high boot with chiselled 110mm wedge-heel and sharp elongated cut, offered in tactile and strokeable velvets, liquid metal leather and an all-over crystal embellishment that attracts the spotlight. Jimmy Choo's signature piece the Biker boot is reimagined to become a confident statement piece for today's time, with stretch bonded fabric rising to mid-thigh, buckle details and thick tread sole.
Energetic, dynamic, free – the idea for Autumn was to explore silhouettes and shapes, propose new proportions and volumes, create something true to us, yet fresh and still anchored within the codes of our brand. Our woman is walking in our footsteps, with the Jimmy Choo attitude. It's the evolution of our modern goddess but this time she's an urbane goddess. Engineered with today's high-speed world in mind with an equal measure of sensuality and wearability. It's emblematic of how we create, proposing fantasies but always with real life at the core. – Sandra Choi, Creative Director
"Exaggerated and refined, the volumes are amped-up, with MIONNE and SOCORIE platform styles. Always reverting to the essence of the brand, the signature Jimmy Choo pearls are represented as oversized statement embellishment and the enduring crystal MADELINE C-buckle is applied to formal and casual styles alike.Underscoring the importance of motion to this urbane vision, metallic fringe detail frames shoes and bags, swinging in constant animation. The ERIS in nappa is shadowed by a tassel of metal chains, the BON BON features a statement metal fringe lengthening and exaggerating the silhouette, echoing the identity of the whole collection.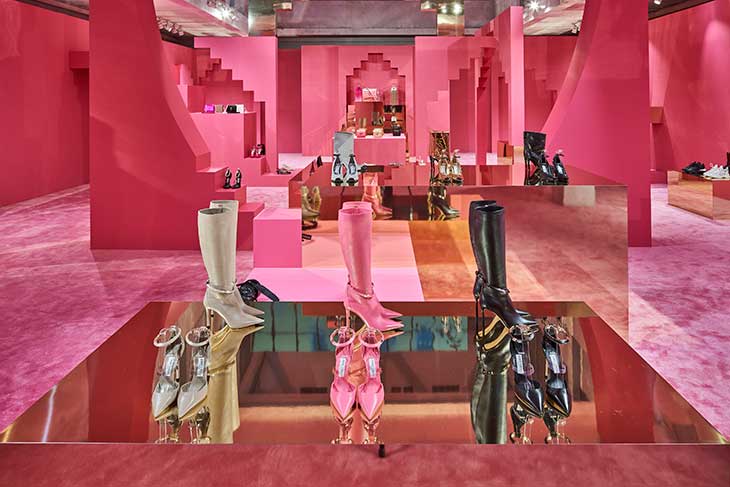 The key accessory of the season is the VARENNE QUAD, a square, boxy shoulder bag distinctive in its simplicity suspended from a delicate chain strap. For Autumn 2022 the VARENNE QUAD is offered in a new signature house code, an intricate geometric matelassé. Inspired by the multifaceted jewels synonymous with Jimmy Choo, these sharp, modern shapes are keyed into the surface of fine nappa and liquid metal leathers in the season's favourite candy pink, pure gold and timeless black. It is also offered in a silver crystal on suede, alongside the BONNY in sparkling crystal mesh for full volume glamour." form Jimmy Choo