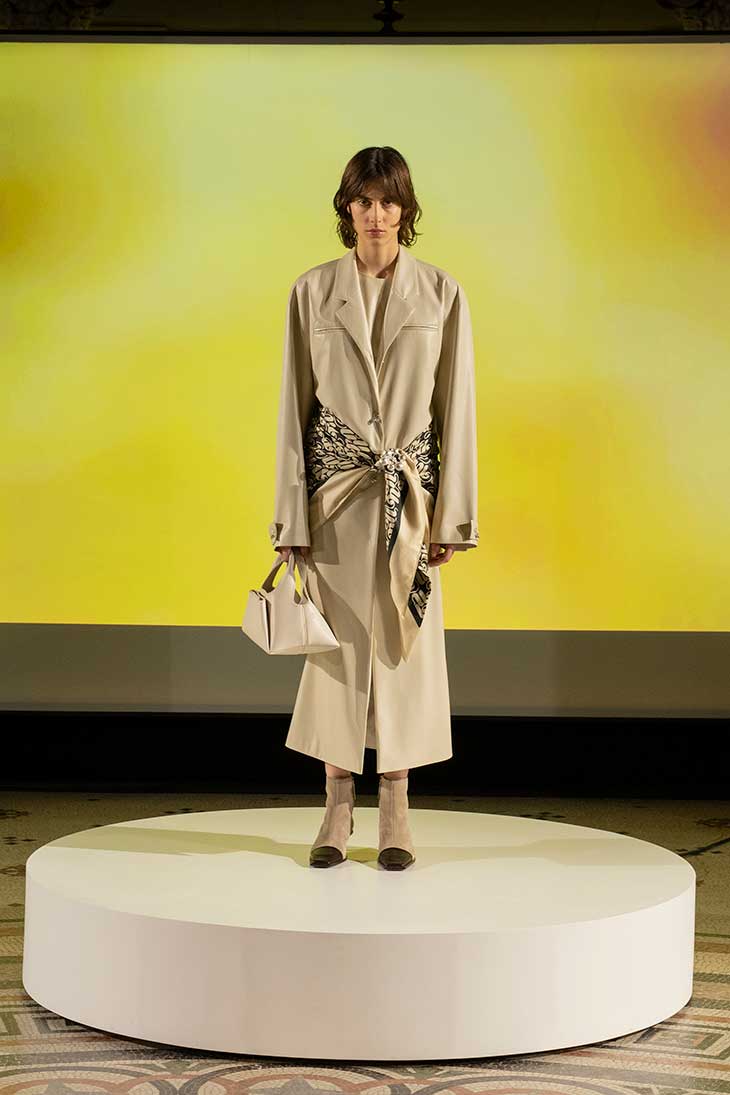 Discover NANUSHKA Fall Winter 2022.23 Collection, that celebrates the brand's creative study of functional and intuitive design, presented on March 1st, during the ongoing Paris Fashion Week. The Industrial Craft collection brings new reinterpretation of Sandra Sandor's ongoing axiom – that if a garment is designed to function well, it will, by definition, be beautiful. For the sesion, the brand brings an eccentric yet practical aesthetic, with combination of elevated fabrics, sensual silhouettes, and decorative elements.
The way in which Bauhaus created a bridge between the Arts and Crafts movement and the era of Industrial Design was an initial point of inspiration – set against the almost surrealistic aesthetic of the 1922 Triadische Ballet, choreographed by painter, sculptor and dancer, Oskar Schlemmer. In Industrial Craft, we're continuing to push the boundaries of what makes a garment functional, compounding an aesthetic style with a dynamic yet elevated relationship to our key values of practicality, comfort and tradition. – Sandra Sandor, Nanushka Creative Director.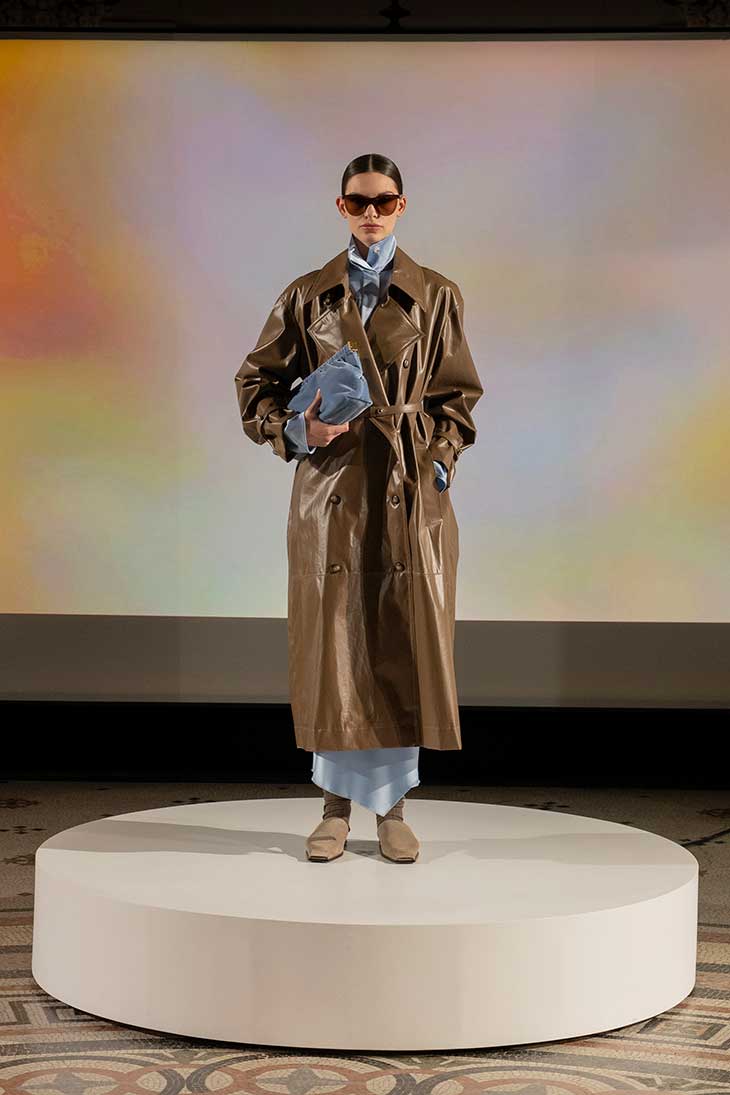 "The Fall/Winter 2022 collection demonstrates creative tension in layering. Fabrics like slip satin and regenerated leather communicate with plush textured fabrics like suede, tubular jacquard and an exclusive short-haired faux fur. Shirts are styled with midi skirts, with a swathe of fringing at the hem; floor-pooling turtleneck sweater dresses are worn over vegan leather trousers; men's tailored trousers are defined by front-slit hems; single-breasted jackets are styled with extreme overlaps to give the appearance of a double-breasted silhouette; workwear-inspired pullovers are refined in slip satin; and trench coats are rendered in a glossy patent canvas. Dangling buttons, ceramic detailing and decorative crochet stitching – a play on the seam detailing from the newly iconic Origami Tote – showcase a renewed focus on creative hardware. This collection could not have been created without the dedication of Ahinaa Perjési and the Nanushka Design Team, who have supported consistently throughout Sandra Sandor's maternity leave. An exclusive collaboration with Athens-based jewelry brand, Vasiliki, strengthens the essential energy of Industrial Craft, featuring imperfect, hand-dripped 18ct gold and recycled sterling silver necklaces, bracelets and earrings that theatrically defy mass production." – From Nanushka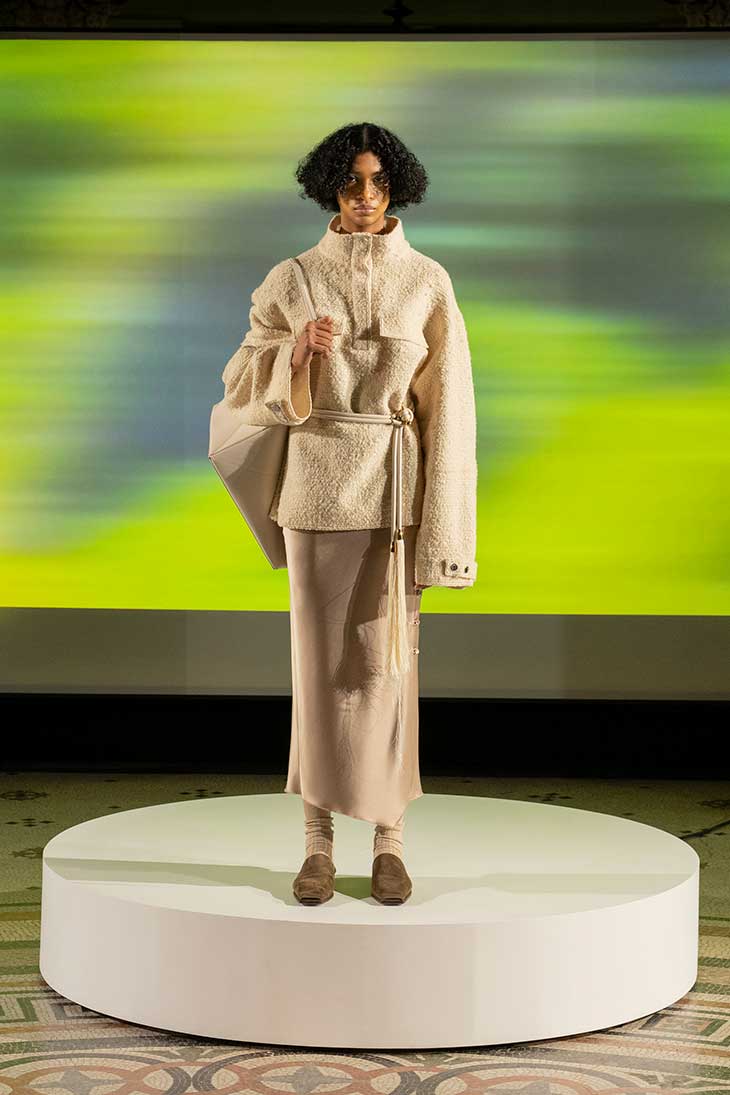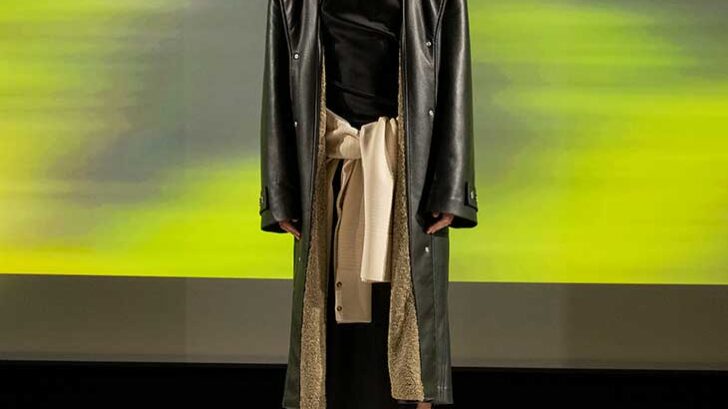 Nanushka is a house headquartered in Budapest, Hungary. Ukraine and Hungary have shared a border since 1991, when Ukraine declared itself an independent country from Soviet Socialist rule. Nanushka's Founder and Creative Director, Sandra Sandor, was born while Hungary was still under a Socialist political system. Sandor therefore has a close understanding of, and emotional connection to, today's crisis. In this instance, we have chosen to use our platforms to draw further attention to the crisis and to provide support. Nanushka is partnering with the Hungarian Charity Service of the Order of Malta to provide accomodation, food, clothing and transport to and in Budapest for those seeking shelter as they leave Ukraine. As a business and as part of the Vanguards Group, we are also introducing a programme to extend this support to members of our industry from Ukraine who find themselves in such a challenging situation. We are pledging to provide support to maintain their businesses – whether that be a place to work or access to advice and education. Nanushka will continue to donate support and funds to this crisis throughout its term. We encourage others from our industry to seek out ways to support the crisis, from personal and corporate donations, to using their own channels to present information that can be shared widely. Please follow the link how-to-help-ukraine-now to find charities and organizations that you can support.