You may love your guy no end and can't get enough time with him, but there could be a slight problem with his fashion sense: perhaps he has none!
Many guys have no idea how to dress themselves well or buy pieces that fit or suit them correctly, and plenty don't care much about their look, either.
This is where a girlfriend or partner can come in and encourage their guy to lift their game. You can follow a few tips to make this happen in a supportive, helpful way.
Point Out Fashionable Looks You Like
The first step is to let your partner know the types of looks you find fashionable and appealing. Point out to him the kinds of style in magazines, on blogs, and on the street or on the screen that you think look awesome so he can start to get an idea of what works and what doesn't. The fact that you rave about outfits on other guys can also encourage him to try harder so he can get the same praise from you.
Give Him Clothes as a Gift
A simple yet effective way to get your guy dressing better is to purchase items for him that you know are cool and will look great on him. When buying presents for him for Christmas or his birthday, or Valentine's Day, why not make at least part of his gift include some fashion gear to elevate his style?
Take Him Shopping
Another tip is to take your partner shopping for some new clothing. If he's resistant to going to the mall in person, you can sit down with him and look at men's summer fashion that is coming online now or even pick up some bargain discounted winter looks that are on sale due to being the end of the season.
Where possible, though, it helps to make the shopping excursion a fun date. If your man doesn't enjoy shopping, combine it with some other activities he likes. For instance, plan to go for brunch at his favorite cafe, then shop, then head for a run or to the rock-climbing gym or his preferred music store or gaming outlet, for instance, before getting all dressed up in your new outfits and going out to dinner or for a boogie.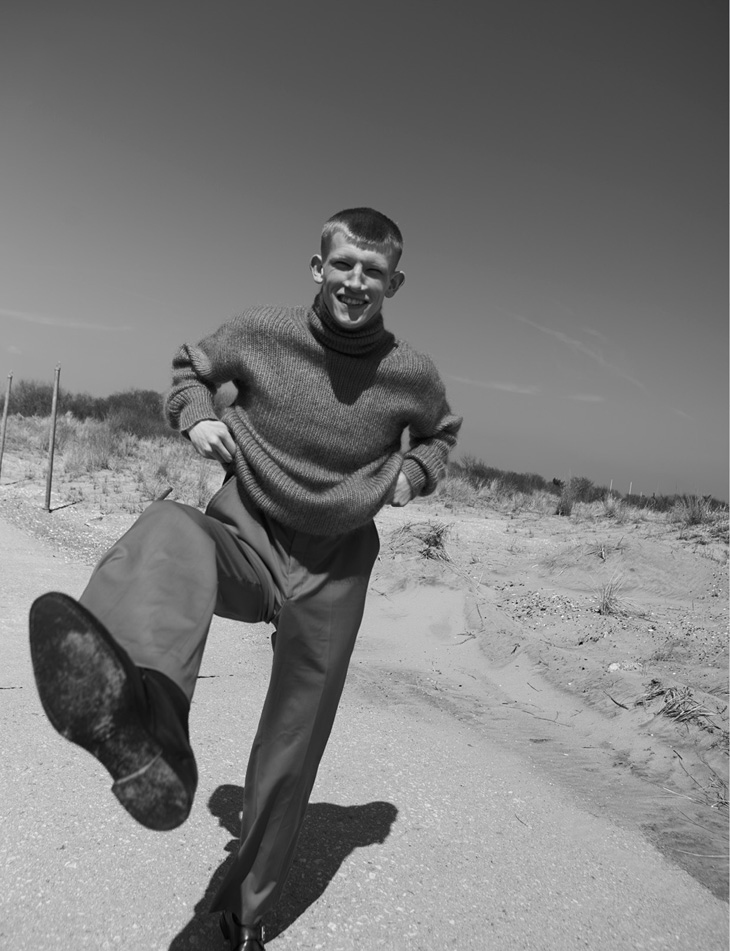 Complement Him When He Dresses Well
As humans, we're programmed to want to repeat things that make us feel good. Keep this in mind when encouraging your boyfriend or husband to dress better. Each time your guy wears an outfit that looks terrific, tell him so. Compliment him plenty to make him feel good and show him clearly what makes you pay attention for all the right reasons.
Plus, it pays to get your friends and family members to do the same. Ask your friends to tell your partner just how great he looks in his outfit when you go out for dinner or drinks or other activities with the group, or have your parents or siblings, etc., mention how stylish he looks at the next catch-up. When a man hears multiple times that a particular outfit really works, he'll be chuffed and more likely to make an effort to wear this ensemble and others like it in the future.
Lead by Example
We all like to look good for the special someone in our life. However, doing so can have the added benefit of encouraging our men to similarly want to make a positive impression on us. Go to the effort of dressing up for your guy and wearing things you know he likes, and then, when he compliments you, let him know exactly why you go all out.
When he hears that you like to turn him on, look your best, and show that you value the relationship enough to keep putting in plenty of effort, he will hopefully remember that it's helpful if he does the same.
Educate on Tailoring
Lastly, tailoring can make the difference between an outfit that looks fantastic and one that is just blah or not even to that level. Many guys don't realize this, though, or think there's not much point in investing money or time in getting clothing tailored. You can educate your guy on this matter and gently point out when things maybe don't fit him so well but can be sorted out with some tailoring.
Take him to the place where you get your clothing altered or find him an excellent men's tailor so he can get some insights into the results that stem from taking an extra step after buying clothing.
As you encourage your man to dress better, be kind at all times and start small so you don't overwhelm him. Always keep his personality in mind and don't pressure him to wear things he clearly hates and doesn't feel confident in. Take these steps, and you'll soon find that the significant other in your life has elevated his style to a whole new level.
Images from Connor Newall for DSCENE Magazine #11 Issue – See the full story here