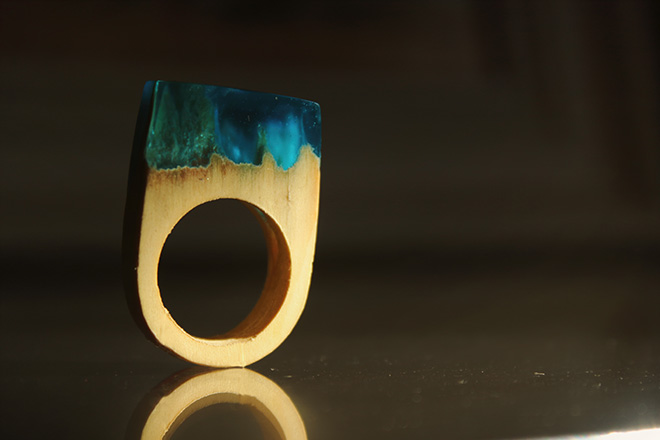 Epoxy resin is a one-of-a-kind chemical mixture that solidifies along with everything you put in it. You can cure it by adding a hardener or exposing it to UV light. It can be poured into molds to produce three-dimensional things. It can also be applied to artwork pieces to prevent them from the damaging effects of wear and tear. And more so, if you're into resin art, its curing effect can preserve any design of your choice, including flowers, plants, and insects.
What Is Resin Art?
Resin art was discovered centuries ago, but more people have returned to this craft recently due to the pandemic and the ensuing lock-downs. It can be a wonderful opportunity to explore your creative side and perhaps can be a source of additional cash should you decide to sell one of your masterpieces.
And today, there are a lot of artistic expressions that can be created using epoxy resin. You may even consider indulging yourself and livening up your home with these artworks, whether you buy them or do them yourself. You may browse this recommended site to start your resin art project with the supplies conveniently delivered to your doorstep.
How To Spruce Up Your Home With Epoxy Resin Art
To help you start, here are some ways you can spruce up your home with epoxy resin art.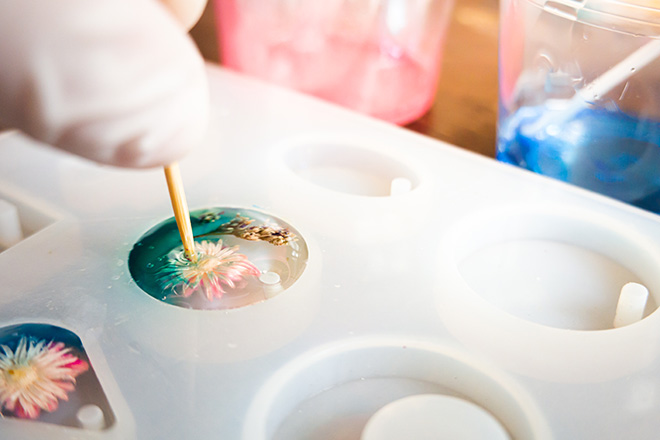 Install Resin Art Tables And Chairs
Introduce the warmth of summer into your home and make it stay through all the seasons. Consider splashing up summer colors like the ocean and the beach with lots of flowers, combined with an epoxy resin finish. Having a table built with epoxy resin tabletop, with chairs etched with matching colors, could not only give your dining room a boost, but they're also a good conversation starter.
Side tables with summer-designed epoxy resin can also be a great addition to your patio. Your resin-furnished table can make a summer haven out of your outdoor space. You can also add some resin art pieces like ashtrays and centerpieces on top.
Enhance Counter Tops With Resin Art
Epoxy resin-filled countertops and bar tops may offer a long-lasting surface. With epoxy resin, they can be resistant to wear and tear when properly installed since filling these surfaces with resin may cover all its pores and resist the effects of moisture.
These resin-enhanced surfaces can also complement high-end luxury furniture pieces in your home. But even if these resin artworks can withstand high temperatures without being damaged, you should still exercise caution and avoid setting hot dishes and utensils on them to prolong their life.
Install A Resin Art Basin
You can revamp your kitchen or bathroom by adding an epoxy resin washbasin to curate a futuristic and art-gallery look. Sinks made of resin can also sometimes be included in vanity units, which helps reduce the overall weight of the wall-mounted furniture.
Resin is considered lighter than porcelain and less costly. It also comes in various colors, which you can mix and match for a more personal touch. The hardened artwork may seal applied surfaces against moisture and constant water exposure. Aside from that, at the same time, it also adds elegance and timelessness to your kitchen and bathroom.
Highlight A Resin Art Chandelier
One of the many ways you can show the artistic flair of your home is through your chandelier. You can make your chandelier a work of art with doodles or a sprinkling of colorful dust on your resin mold to get that artistic lighting effect. You can opt for subtle colors with lots of silver to your transparent resin. Creating homey-like lighting from your chandelier can help set the vibe of a cozy living room.
Restore With Resin Art Frames
Another way you can vamp up your home is by redecorating your living room with some resin-molded frames. Pretty little mementos and pictures with frames in dazzling colors could uplift the mood of every onlooker. You can then put these ornaments strategically in your living space to spruce up the design of your living space.
Moreover, you can also restore old wooden frames with drips of lovely colored resin. And as a result, you can have eye-catching frames that you can match with your bedroom or living room upholstery.
Resin Art On Kitchen Stuff
For a festive look, you can sculpt your artistic marks on teacups, saucers, and chopping boards, with resin etchings. You can also combine colors and some unique items from nature like naturally colored leaves and flower petals into a colander mold. Then pour in the resin, and you can have a functional art piece.
Wrapping Up
Resin is dense and pliant enough for you to mix with colors. You can form extraordinary designs on whatever mold or artwork you want with it. And from there, you can spruce up and revamp your furniture and design elements at home with some DIY resin art ideas.