Louis Vuitton is back to it's on the road cruise and pre-collection shows – the latest the Louis Vuitton Cruise 2023 runway show presented in San Diego, California. The location as sci-fi and cinematic as Nicolas Ghesquière's very own path often mixing the cinematic and real life. This time the impressive location is The Salk Institute for Biological studies, a marvel of American architecture designed by Louis Khan.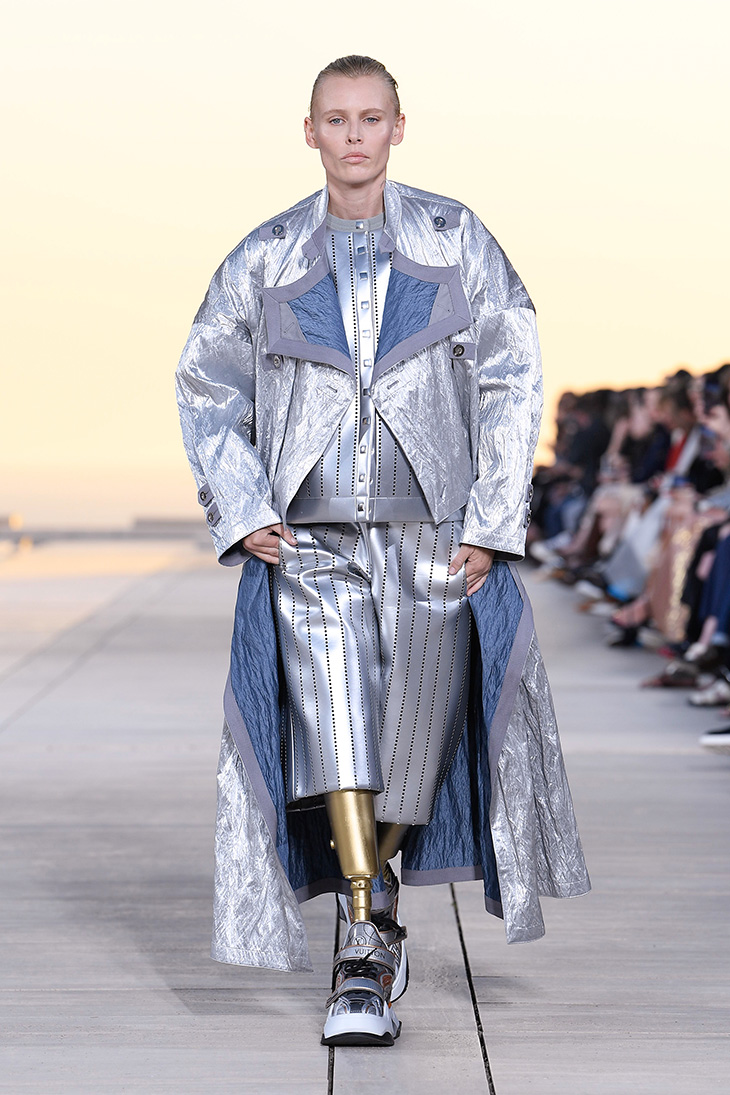 "Here, in this place of biomedical research, questions on humanity lie at the forefront of the world's most illustrious scholars' minds. Architect Louis Kahn puts the sun, the creator of natural life, at the heart of the Salk Institute, a brutalist from 1965 designed as a serene concrete monastery for enlightened souls. At a specific time of the day, during a blazing sunset, the sun is perfectly framed by building within the precise axis of the central fountain. The combination of the sun rays and shimmering water bathes everything in a golden hue, transforming all it touches into gold," shares Louis Vuitton in their notes.
Nicolas and his team are inspired by the sun for the Cruise 2023 collection. With a wardrobe as fashion forward it is hard not to think of these garments as ultimate pieces for a setting such as cinematic as a story of 'Dune'. Yet Ghesquiere successfully dodges the moment of a costume presentation, instead it presents signs of trends to come. In addition to the ready-to-wear once again we are seeing a strong emphasis on label's core – the accessory and handbags. The collection presents a rich exploration of Louis Vuitton's classic handbags but also more than one standout handbag piece.
"The sun is guest of honour in the Cruise 2023 collection. It plays an active part in the evolution of this wardrobe where changes in temperrature set a stylistic tempo. The heat nomadic aesthetics, between sand and cliffs, a fluid look. The unique light of the West Coast creates prisms on clithes full of reflections. Linen, jaquard, silk, leather, tweed…give the illusion of a metallic palette, reverberating and shimmering under the sun. The vibrations and reflections of the silhouettes shine in dialogue with the sunset," adds Louis Vuitton team in their press notes.
In addition to the redesigned handbags, Louis Vuitton Cruise 2023 offers a serious study of what is LV footwear. Bringing in new sneaker styles, and chunky boots ready to convince us the oversized sole is here to stay.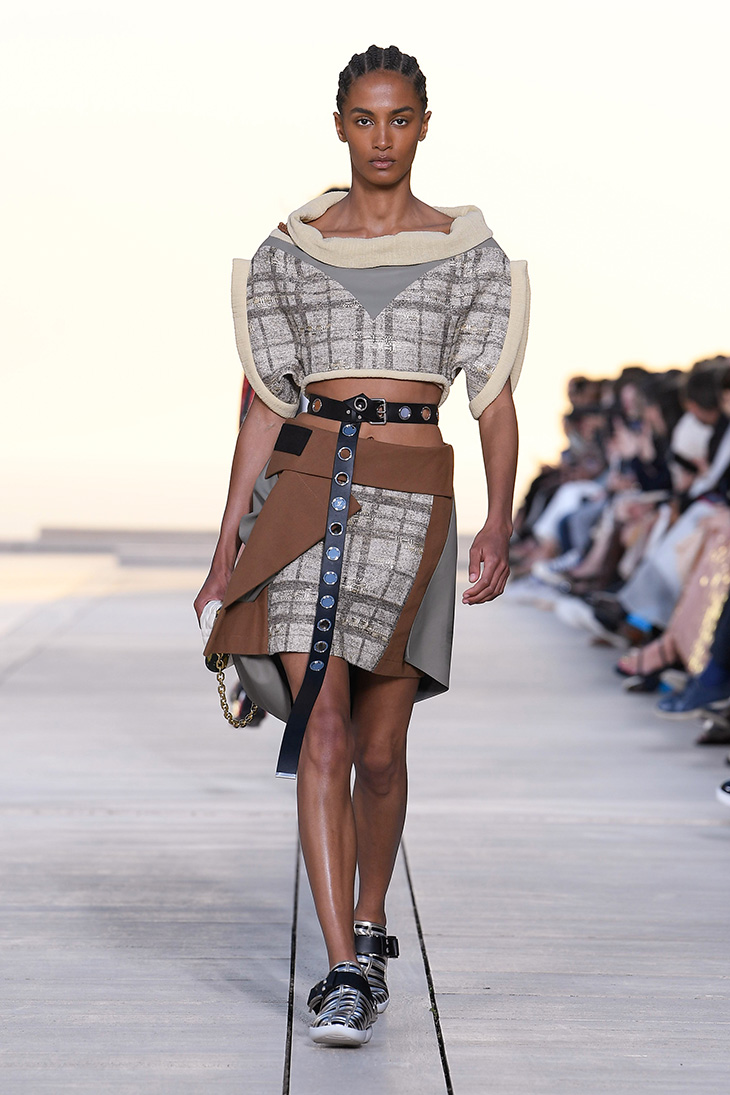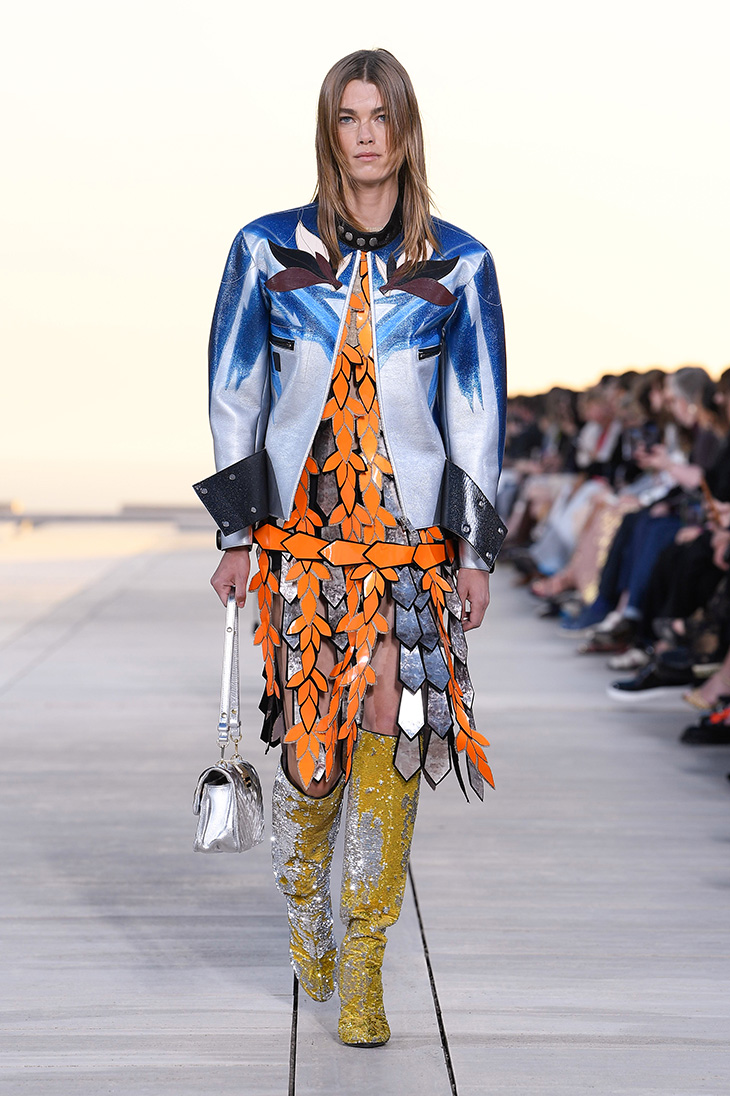 Opening the show is singer Lous and the Yakuza joined on the runway by athletes Dalilah Muhammad and Eileen Gu as well as top models Akon Changkou, Sasha Pivovarova and Emm Arruda to name a few. Styling for the show is in the safe hands of Ghesquiere's close friend and collaborator Marie-Amélie Sauvé, while makeup is work of the legendary makeup artist Pat MacGrath with hair courtesy of Duffy.
Discover all the looks from Louis Vuitton cruise 2023 collection in our gallery:
HAIR Duffy
MAKE-UP Pat MacGrath
IMAGES
Giovanni Gianonni : looks Pictures
Adam Katz Sinding : Celebrity Portraits
Martien Mulder : Scenography Pictures
Mathieu Brechoire : Vidéo
Casting Director: Ashley Brokaw
Stylist: Marie-Amélie Sauvé
Have a detailed look of the accessories at Louis Vuitton Cruise 2023 show:
Take a closer look of the bags from Louis Vuitton Cruise 2023 collection:
Athletes: Dalilah Muhammad, Eileen Gu
Entertainer: Lous and the Yakuza
Models: Akon Changkou, Alyda Grace, América González, Ashley Radjarame, Chloe Lambert, Chloe Oh, Chu Wong, Clementine Balcaen, Cyrielle Lalande, Denise Ascuet, Ella Rattigan, Emm Arruda, Felice Nova Noordhoff, Fleur Breijer, Giselle Norman, Grace Valentine, He Cong, Hyunji Shin, Iman Kaumann, Jade Nguyen, Jay Pak, Julia Nobis, Kate McNamara, Lauren Wasser, Lex Peckham, Lucy Rosiek, Mady Thompson, Majesty Amare, Mariam de Vinzelle, Marsella Rea, Masha Skokova, Mathilda Gvarliani, Mathilde Henning, Mathilde Brok Brandi, Michelle Laff, Raelynn Bumgardner, Rayssa Medeiros, Sacha Quenby, Samile Bermannelli, Sarah Brown, Sarah Dahl, Sasha Pivovarova, Saunders , Selena Forrest, Shelby Hayes, Signe Veiteberg, Sora Choi, Steinberg , Theresa Hayes, Tomiwa , Victoria Fawole, Vilma Sjöberg