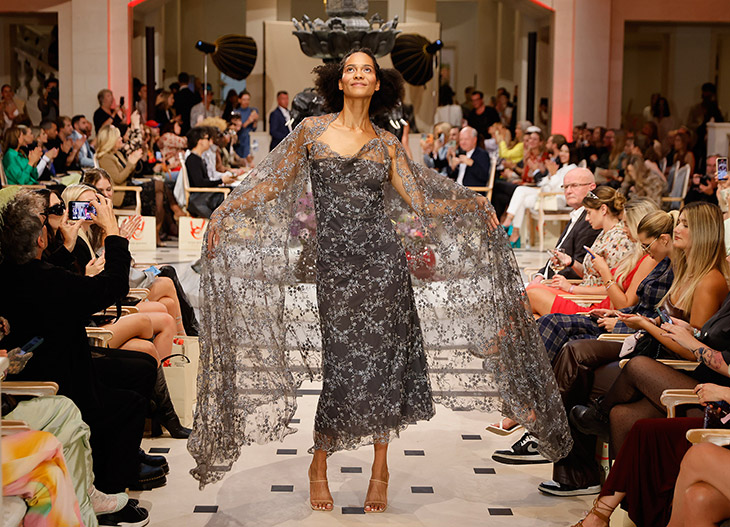 "Move on
inwards and outwards,
in every direction
through the simplicity
of expansion
Move on through the present
moment, finding the pleasure
in every instant
as you realize that you are
not walking, but dancing
your own life
In your unique process
because what you move
will move you
what you feed will feed you
as you recognize the world
in your mirror
from the pure bliss
of existance." – by Anja Gockel & Rainer Brenner
When Anja Gockel invited her guests to present her Spring Summer 2023 collection titled "Move on", there were multiple reasons to celebrate. First of all 100 years of legendary Hotel Adlon were honoured. As one of the most prestigious 5-star hotels situated in the Berlin Mitte district, directly at "Pariser Platz" and beside Brandenburg Gate, this was truly a reason to celebrate. But it should not be the only one. Furthermore 25 years of reopening of the legendary hotel were jubilated. In addition to that, also Anja Gockel memorialized the 25th anniversary of her brand. As you can imagine the mood of this event was full of positive energy.
Movement was depicted as a contrast to laziness. Movement was displayed as life and survival, joy and enjoyment, charm and aesthetic. The designer declared: "The more I encounter each day like dancing, the calmer and more peaceful every day and thus life appears. That is how I am stepping out of the daily chaos and I am creating my collections which gives me clarity and sense for my life. That is why my summer collection is dedicated to movement." Move on. "Motion creates emotion. My collection is my view on the world, my mirror to what is happening around me, my attitude to the world, always full of colours and emotions." Move on. "It is the mirror image of my further development, up to an all-embracing view in which everything is connected with each other and everything keeps moving."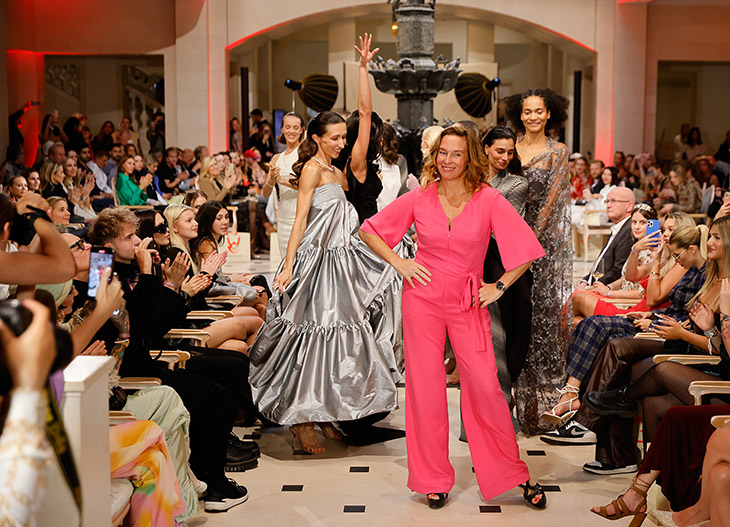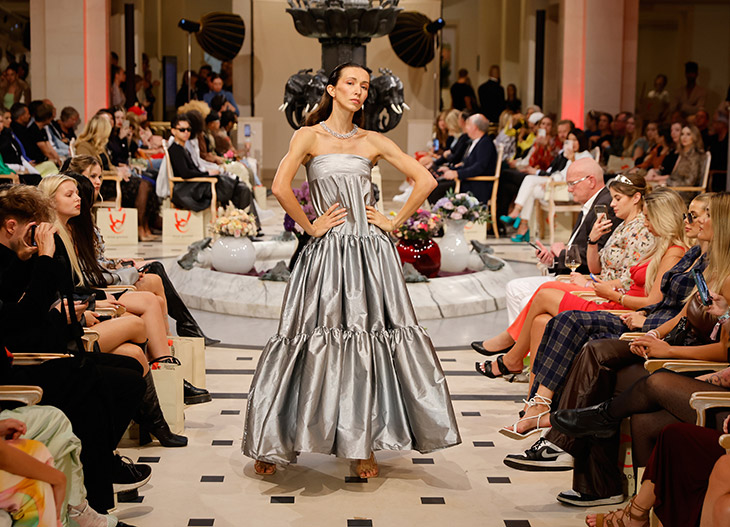 For her Spring Summer 2023 line Anja Gockel focused on lightness which was interpreted in various ways. The diverse depictions of women on the catwalk displayed her wide range of inspirations. They had their origins in various fields of life, for example as manager, artist, musician, influencer, dancer and traveler. During the fashion show they all became part of the happening and thus, a kaleidoscope of femininity was represented.
The vibrant colour choice of this range definitely deserved devotion. It underlined the blithe, joyful and optimistic character of this line. Several tones were repeatedly applied, such as light coral, crimson, sky blue, mauve, fossil, silver, offwhite and nightblack. Some outfits were kept tonal, whereas others contained of various nuances.
"Move on" encourages everyone to stay optimistic and curious for new adventures. Furthermore it can be understood as the inspiration to get out of your comfort zone, to break up in life and to don't ever look back. The vibrant, eye-catching yet very wearable pieces of this line underline this powerful message.
Images Courtesy of © Anja Gockel GmbH
Review by Sussan Zeck for DSCENE Magazine.