Austrian designer Rebekka Ruétz, who regularly shows her collections twice a year during Mercedes-Benz Fashion Week Berlin, presented her latest line on 7 September 2022. As location, Telegraphenamt (Telegraph Office) in the Berlin-Mitte district, the main location this season, was chosen. Before taking a closer look at this range, we would like to emphasize the ethical aspect of Rebekka Ruétz' collections, as they stand out due to their sustainable production. It can be described as "high quality slow fashion", i.e. social responsibility and the consideration of environmental standards play a major role.
Being significant for the style of this collection was its free spirit that was paired with a curious approach to romance and tenderness. Due to their unique character, the pieces of this line certainly stayed in mind. The vivid mix and match of materials underlined this impression. Allowed was whatever makes you feel good and lifts your mood, so dare to wear the clothes you like! The powerful message to enjoy life in all its facets by wearing the most unique looks clearly shone through.
Contrary elements were often harmoniously united: When observing this creative collection, you will recognize the inspiring pairing of romantic and futuristic influences. Rebekka Ruétz took her guests down to memory lane and encouraged them to give their dreams space.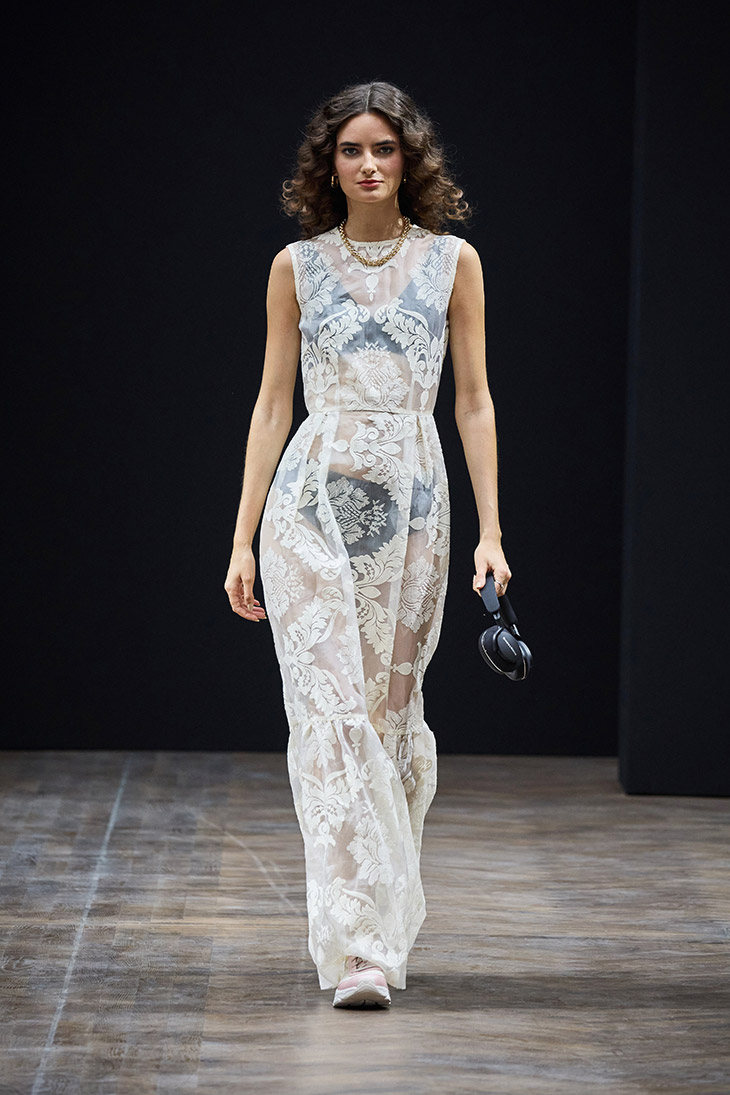 The print choice definitely deserved devotion – botanical and marble prints played a major role. They teamed up with decorative materials and sporty accessories. What a strong statement! Rose prints that appeared on fabrics in rich gold were one of our favourite prints of this line. However the designer also focused on the feelgood factor of the wearer. Therefore she often applied delicate and comfortable materials. They were harmoniously united with flowing cuts that were flattering the female silhouette and movements. Hence they brought a special transparency to the whole line.
What also stayed in mind was the very special detail-awareness of this set: It was ranging from asymmetrical crops and ruffles that created volume to fabrics like cotton, transparent lace, vegan leather and golden foils that underlined the exclusive character of the outfits. Crocheted accessories were another highlight worth mentioning. It was the first time we recognized these elements in her collection. When it comes to the cuts, many looks were focused on the waist which underlined their feminine approach. Another highlight were long, flowing sleeves. Transparent elements appeared fragile while detachable belt details displayed a welcome break in style.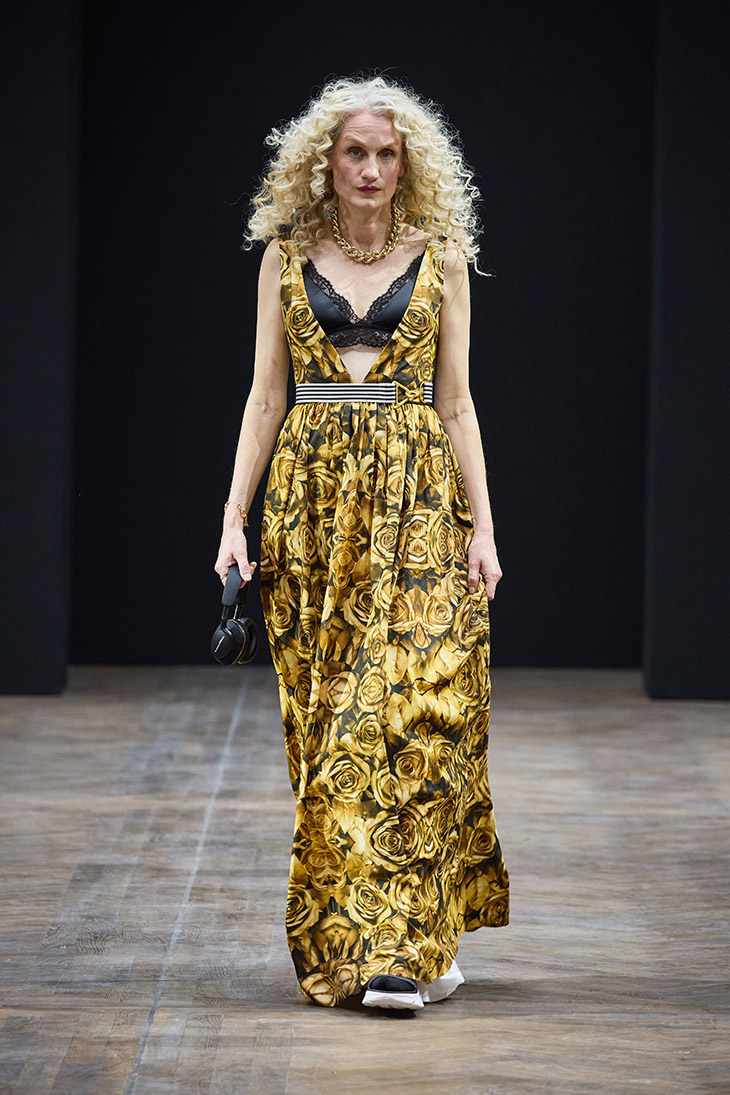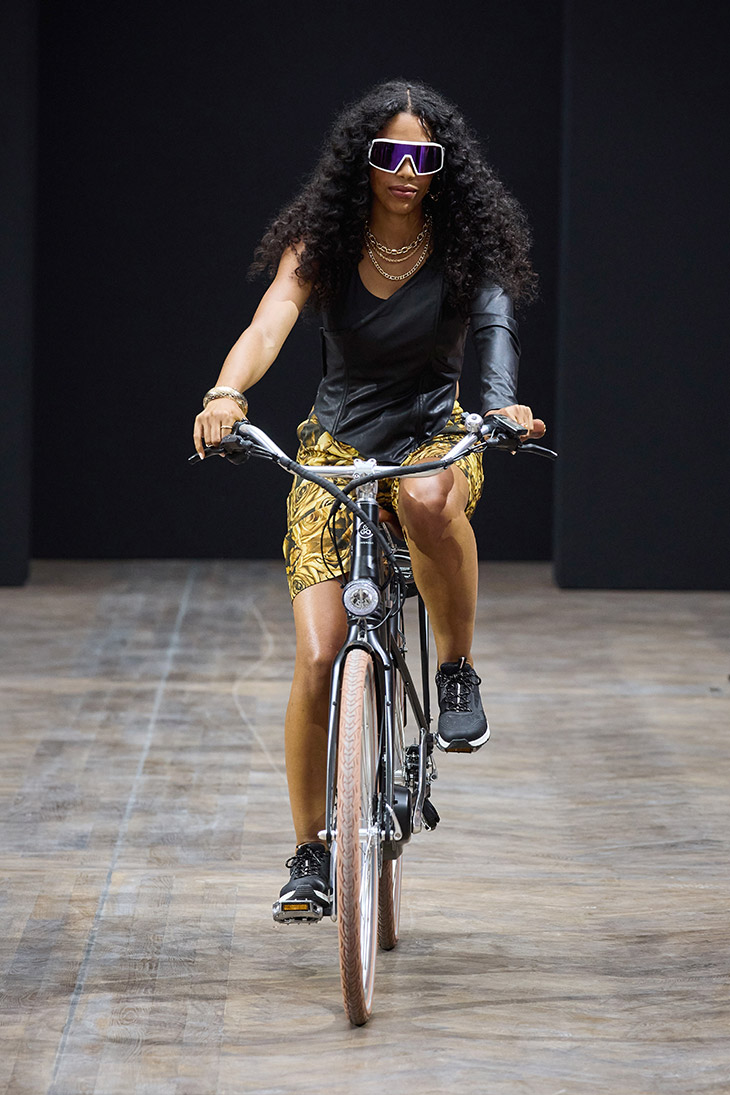 Funky sunglasses in colourful nuances, for example in striking azure blue, underlined the futuristic approximation of the outfits. Some models rode down the runway on a bike, others were "listening to music" by wearing large headphones. The message to enjoy life clearly shone through. Shoe-wise, it was all about comfortable flats. Either sandals or sneakers, wear whatever you prefer, but keep it comfortable! Chunky necklaces and eye-catching earrings were a powerful statement that perfectly rounded off the overall impressions.
The colour palette consisted of both cold and warm elements: we noticed both off white, rose beige, rose, striking gold, warm grey stone and volcanic black. Creations in distinctive gold tones that were often provided with rose pattern or appeared shining, were eye-catching highlights. The glamorous and extravagant influence of these looks definitely stayed in mind.
With her Spring/ Summer 2023 collection titled "friederIKE", Rebekka Ruétz encouraged her guests to celebrate today's freedom to express yourself individually. It can be understood as a celebration of life by wearing eye-catching, sustainable pieces that are vividly mixed and matched together. High quality and environmental standards play a central role.
Runway Images Sebastian Reuter / Getty for Nowadays
Behind The Scenes Images Nathalie Hutter
Video Direction, Concept & Idea, Editing: Linda Leitner
Production & Design: Rebekka Ruetz
Model: Yasi Yari
Photographer: Nathalie Hutter
Hair & Make Up Artist: MAC Cosmetics Germany
Review by Sussan Zeck for DSCENE Magazine.