JULIA MICHAELS is one of the most prolific songwriters on the contemporary music scene today, but also Michaels has a legion of fans and a successful career of a singer already under her belt. Her solo hit single "Issues" counts billions of plays on streaming platforms such as Spotify but also YouTube; additionally she collaborated on duets with who's who in the music industry. Julia lists hits and duets with Shawn Mendes, James Bay, Niall Horan, Clean Bandit, LAUV, Maroon 5, Kygo, Jordan Davis, Diplo and Keith Urban to name a few. The list of singers who she wrote and co-wrote timeless hits with ranges for everyone from Britney Spears, Justin Bieber, to Dua Lipa and Mendes.
For DSCENE magazine's November 2022 cover story and the upcoming DSCENE Art Edition (out in Print in December + click here to pre-order.) Julia Michaels sits down to talk with our Contributing Culture and Music Editor NIKOLA BAJOVIC. In their conversation Nikola and Julia talk about her truly astonishing body of work, but also ways to deal with anxiety, dreams and future plans.
Julia's upcoming single "Sorry To Me Too" is only a couple of days away with release date on November 11th, you can pre-save it on Spotify.
Julia Michaels teamed up with Fashion Photographer Raul Romo for a stunning cover story, captured on a studio location in Los Angeles. Continue reading for Julia's exclusive DSCENE Interview:
When was the first time you realised you want to be a singer not just a songwriter? – I think the first time was when I wrote "Issues". It was just such a personal song for me and I wrote it on a really emotional day, that the thought of giving it to someone else just didn't feel right to me. The rest is history!
What three words describe you as an artist? – Honest. Emotional. Petty.
Nowadays so many artists try to keep authenticity in their careers. What does authenticity mean for you and your career? – It means everything to me honestly. I've based my entire artist career around it. I'm not shy to talk about things I'm feeling or going through. I'm grateful to have a fan base that understands me and connects to my music. I know it doesn't appeal to everyone, but I'm grateful to the ones that it does.
With the first single "Issues" you really gave us something new and refreshing in the music industry. Your voice and lyrics are majestic. Where are you getting such inspiration from? – That's giving me way too much credit. But thank you. I get a lot of my inspiration through conversations or experiences. Sometimes even in the middle of an argument I'll just start writing in my head. Probably a weird version of avoidance mode. Haha!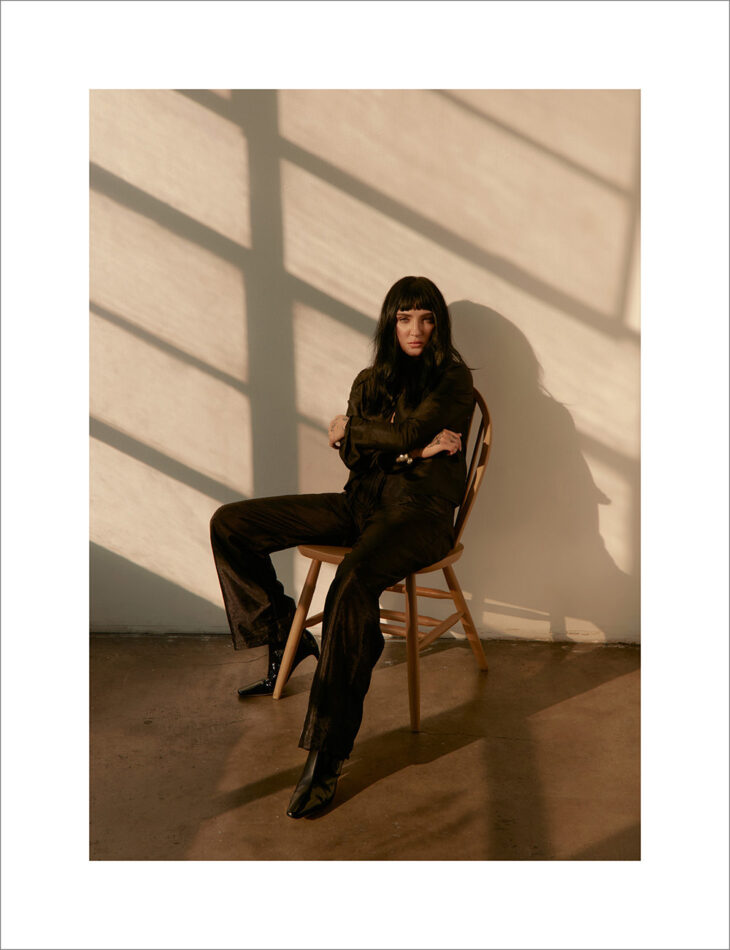 I can freely say you made some of the biggest hits in the career of some of the most prominent pop artists. With everyone seeing you as a hitmaker, how do you deal with the pressure while working on new songs (how much does it affect your creative process)? – That's very kind of you to say. I don't think the pressure to create ever goes away. More internally than anything. I always want to push boundaries and try new things and blend things you wouldn't normally. That's the beauty of music. It's art. It's expressive and you can do it however you want to. Sometimes it works and sometimes it doesn't. I think it's all trial and error. But there's truly nothing more exciting than when you write something you truly love.
Your biggest hits wake pure and sombre emotions in your fans and people who like to listen to your music. But when you write do you draw inspiration from your own life? – Yes always. But I think that's why my fans connect with me so much. Cause they know that it's real. And sometimes they've been through the same things so they can find themselves in the songs, which is a beautiful feeling. I remember being 13 and feeling completely misunderstood and clinging to certain artists that made me feel loved and seen. I wouldn't be who I am today without those artists.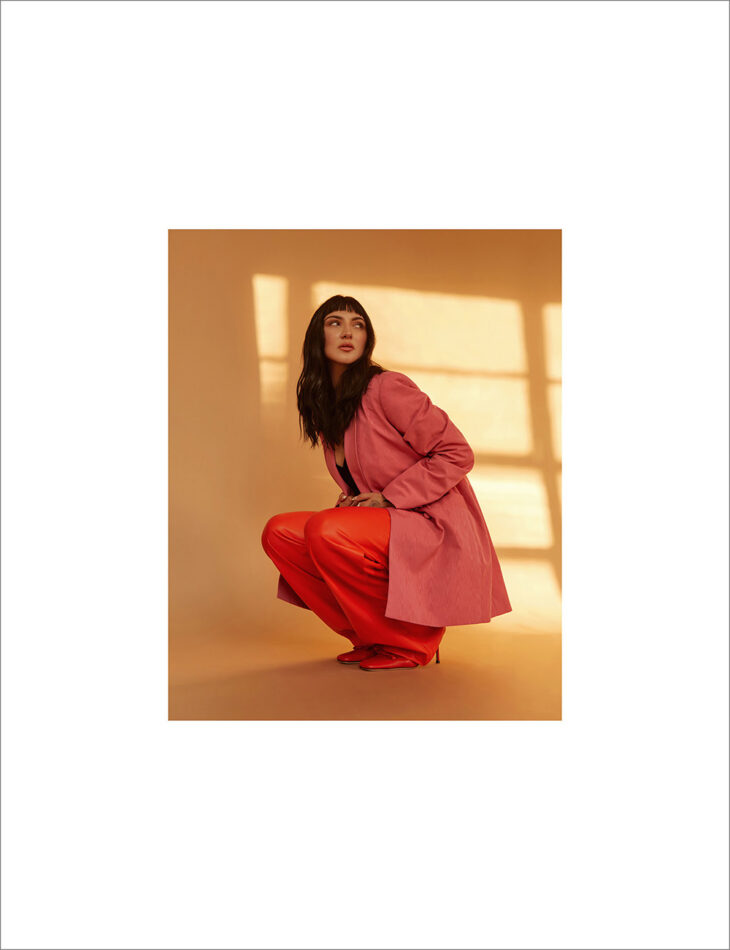 Do you ever actually dream about the music you write?  And if so, do you write it down when you wake up?   – I definitely have before!!! I've woken up and recorded them. But I don't think they've actually become songs. I wrote a lot in my head. Especially if I have the space to be alone with my thoughts. Sometimes I'll write full songs and I won't write them down. I'll just save them until I get to the studio and see if it sounds the same out loud [laughs].
Not many artists want to openly speak about mental health and anxiety, but you're not one of them and exactly with that you are sending some very strong and powerful messages. My question is how are you feeling now and do you still have episodes with anxiety? – Anxiety is definitely a recurring thing in my life. It plagues me in many different ways and sometimes at the most inopportune times. But I've gotten better at managing, at rationalizing with my fears, and at coming to terms with my anxiety. I don't think it will ever go away, but I definitely feel like every day I'm getting better at accepting it for what it is and learning more tools to better deal with it.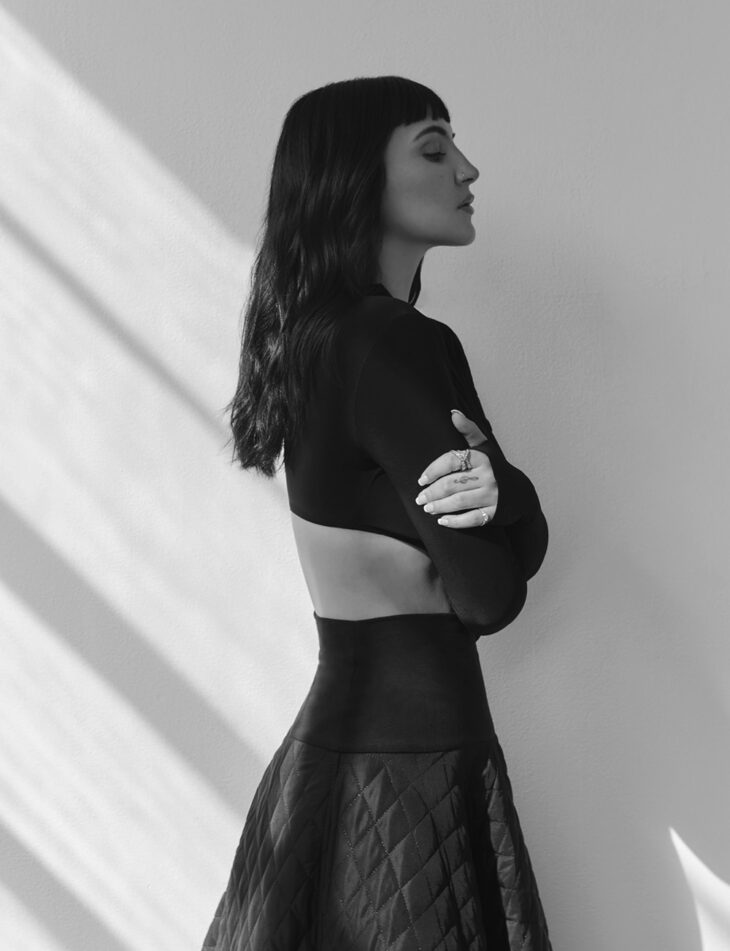 You are constantly working on new projects and songs. What are you working on next, and when can we expect a new album from you? – I'm always lurking in the shadows working on something [laughs] but right now I'm focusing on my music and getting that out for my fans.
What are your dreams for the future? – I want to tour again! I miss my fans so much! I want to put out new music and I would love to be able to play bigger shows.
For the cover, Julia Michaels is wearing In The Mood For Love blazer, and Shay rings.
Photographer Raul Romo
Fashion Stylist Luca Kingston at The Wall Group
Makeup Artist Rob Scheppy at The Only Agency
Hair Stylist Scott King at The Only Agency
Talent Julia Michaels – @juliamichaels
Retouching Assistance Al-Sayed Mohamed
Interview and words by Nikola Bajovic