Fashion house LOEWE unveiled its Holiday 2022 campaign, that celebrates craft and color, lensed by photographer Lukas Wassmann. The campaign, captured by the Mediterranean, features a series of still life images that bring together vibrant selection of gifts and striking surrounds. For the season, Loewe highlights the Chinese Monochrome collection of bags in ten kaleidoscopic colours, inspired by Chinese monochrome ceramics made during the Ming and Qing dynasties. The brand's iconic puzzle, hammock, goya, bracelet pouch, luna and flamenco bags are reimagined with the exquisite monochrome shades including pale augbergine glaze, lime green glaze, tea dust glaze and pale celadon glaze.
We earn a commission when you follow the link to make a purchase. Click here to learn more about how we make money.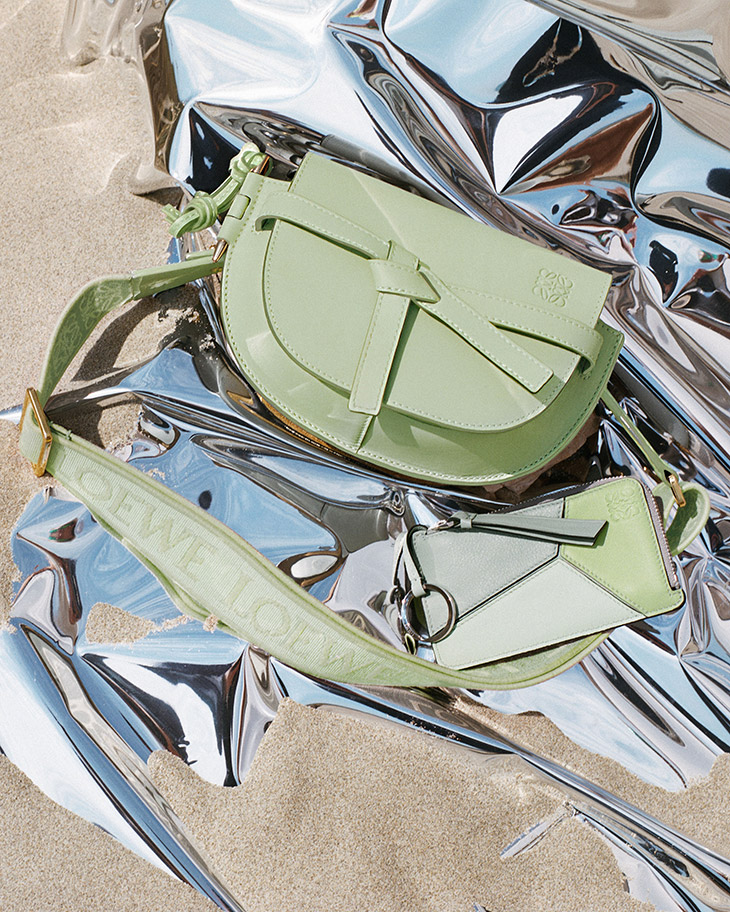 ©LOEWE, Photography by Lukas Wassmann
"The campaign unveils further virtuoso flourishes of craftsmanship: puffed-up Puffer Goya bags, Totes woven from hand-stuffed tubes, metallic Bracelet pouches. Shearling and calfskin intarsia bags are decorated with whimsical plant and animal motifs by ceramicist Bernard Leach (1887–1979), widely considered to be the 'father of British studio pottery'. A hand-chosen selection of cosy hand-knitted scarves, Anagram belts and jewellery, playful charms, perfumes, and botanical Home Scents complete the LOEWE Holiday campaign edit. Magical scenes include handcrafted wallets floating in the air above the salt formations, while an inflatable alligator wears a beanie on the rocks. There are castles in the sand, towers of sugar candy, ice sculptures of jumping fish and chilled-out snails— each adorned with gifts and stocking fillers in every flavour; with rich savoury colours, nature-inspired scents, and the soft touch of quality craftsmanship." – from Loewe.