Italian Luxury house PUCCI unveiled its Resort 2023 Collection, that celebrates family and a sense of belonging, with a lookbook captured by fashion photographer Thue Nørgaard. In charge of styling was Imruh Asha, with casting direction from Piergiorgio Del Moro, and beauty by hair stylist Olivier Schawalder, and makeup artist Min Kim. Stars of the session are Amar Akway, Beauise Ferwerda, Freek Iven, Jan Baiboon, Kayako Higuchi, and Malgosia Bela. The La Famiglia collection brings a mixed wardrobe that is flexible, festive, and rich with inclusive style, it includes outerwear, swimwear, activewear and eveningwear. Designer Camille Miceli celebrates togetherness with trippy chic looks for all occasions, from the winter weekends, holiday destinations, and celebrations, to dressing up for every day. For the season the brand's ski heritage is reimagined with the reworked Marmo print. A snowboard-inspired outfit in shades of aquatic blue connects winter with summer. The collection also reinterprets the classics with a Pucci twist: Tweed is traced with print, a double-face Mackintosh features an exaggerated, colourful collar, a '70s style suit is made from purple suede.
I love the idea that people see Pucci and feel like they belong here. That's what family is all about. -Camille Miceli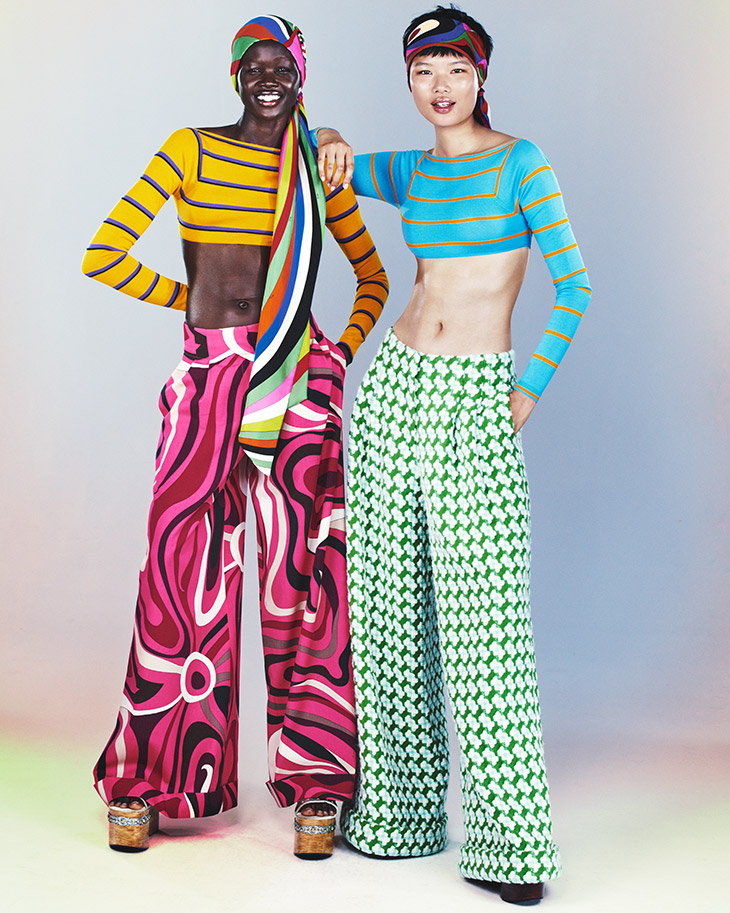 "Black gabardine bring balance, with wide trousers anchoring a silk cady blouse. or else worn with a jacket for a polished total look. Striped knits have emerged from the archives freshly cropped and juxtaposed with emblematic motifs. Also from archives, a tiered skirt skating outfit and boule skirt that boast hand-painted prints by founder, Emilio, in the' 50s. There are even more statement skirts, youthfully lounced and A-line or sleekly fitted. A multitude of blouses define the silhouettes, those with balloon sleeves the most dramatic. Proposed in other House prints, caftans offer airy volume, while smocked pieces fit close to the body. Dimensional decoration appears throughout: artful embroidery and sequins, recycled multicoloured fringes and bold gold accents.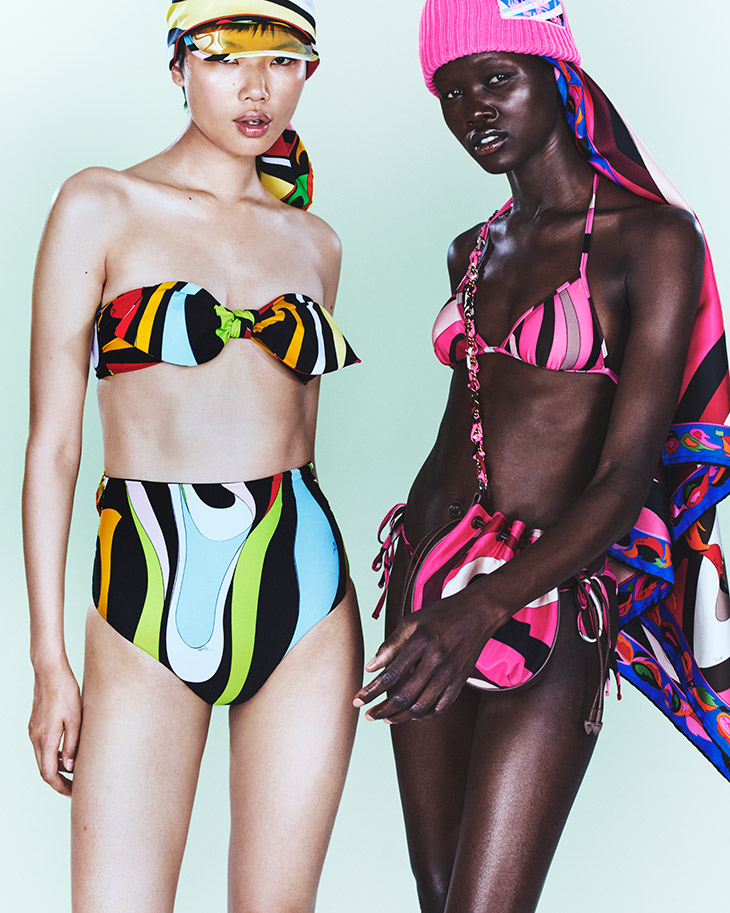 The new Pucci monogram becomes an instant classic, whether on fine silk or spongy beachside jacquard. Gold leather – a lustrous trench or motocross bolero – and metallic cable-knit emerge in time for the holidays. As a crisp counterpoint, several looks are awash in white: a dress spliced with fringes; soft feminine tailoring; and sporty separates. Here, colour pops up in small ornamental ways, such as buttons in leftover silk, to subtly signal the Pucci touch." – from Pucci