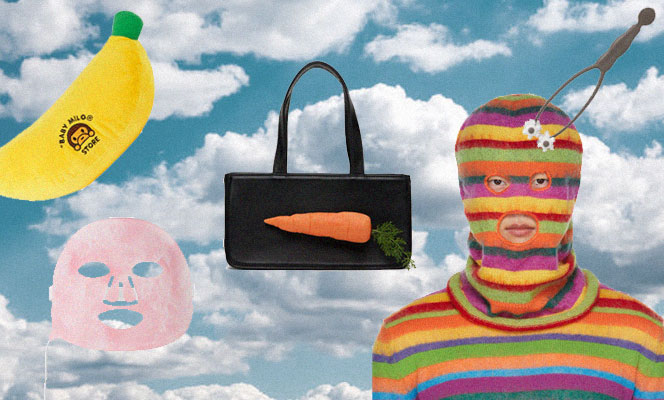 When we think about gifts, fog machine and poodle shaped bag are not really the first things that come to mind. Remember – love the giver, not the gift.
From BAPE banana cushion to Sticky Glass flycatcher, we wrapped up the list of 15 things you didn't know you need – until now! 
We earn a commission when you follow the link to make a purchase. Click here to learn more about how we make money.
PUPPETS AND PUPPETS
Black Carrot Top Handle Bag
Fresh out of the farmers market, this top handle bag from New York based fashion label Puppets and Puppets comes in a black nappa leather and features a perfect replica of the carrot stitched on the front. You definitely can't go unnoticed with this one!
BLUMARINE
Pink Hello Kitty Embroidered Sequins
Perfect for themed party, this Hello Kitty sequined top from Blumarine will make sure you stand out from the crowd. For total look pair it with Hello Kitty pants and belt.
NODRESS
White Poodle Top Handle Bag and Minidress
Love pets, but your lifestyle doesn't allow you to have one – Nodress got you covered! Pair it with Nodress poodle dress and you're ready to go!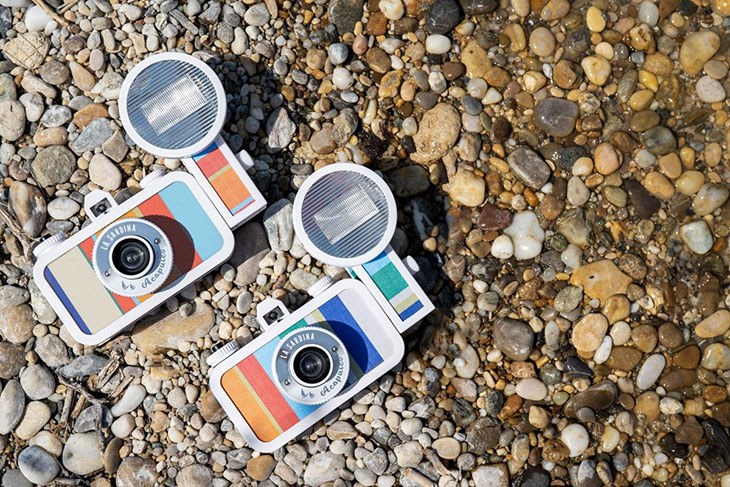 LOMOGRAPHY
La Sardina Camera
Film photography is not dead! Using analog camera in the digital age sounds crazy, but we tried it, and it's so much fun! One of the biggest brands in creative film photography, Lomography has introduced La Sardina camera with ultra-wide-angle for awesome landscapes, cityscapes or even squeezing into selfies with all your friends. Featuring a unique playful striped fabric, each camera is different.
Lomography La Sardina is available on shop.lomography.com.
CURVES BY SEAN BROWN
Multicolor London Throw Blanket
Who doesn't like to snuggle up in a warm blanket during the cold winter months? This rectangular cotton-blend throw blanket features a printed sports car graphic and it's a great addition to your weird décor collection.
ANGELA CAGLIA
CrystalLED LED Face Mask
Skin care Patrick Bateman style, this silicone face mask in pink comes with an integrated LED lamps and it is perfect for toning, soothing, and reducing the appearance of fine lines and wrinkles.
TEENAGE ENGINEERING
White OP–1 field Synthesizer
No it's not a computer keyboard! Have fun making music everywhere you go with this cool synthesizer with drum kit packs and 20 preset synth packs..
NODRESS
White Beaded Keychain
Keychain but make it weird, courtesy of Nodress.
MARNI
Striped Balaclava
Hate winter, loves fashion – this Marni striped balaclava is made for you. Pair it with a matching jumper, and you can not be more of a weirdo.
SARAH CHAPMAN
Facialift Massage Roller
Tone, release tension, and reduce puffiness with this facial massage roller from London's most sought-after skincare expert Sarah Chapman.
RICK OWENS
Gold Fog Machine
In search for a perfect designer fog machine? Rick Owens got you covered! It comes with a stainless steel case, so you can take it with you wherever you go.
IROHA BY TENGA
Ukidama Vibrating Light
Learn to have a deeper understanding of your body with this vibrating light from luxury vibrator brand Iroha by Tenga.
STICKY GLASS
Green Glass Flycatcher
Who doesn't need a luxury handcrafted glass flycatcher?
JIU JIE
SSENSE Exclusive Green Velour Tree Skirt
Just in time for Christmas season, Jiu Jie and SSENSE have partnered up for a circular velour tree skirt. It's handmade in New York's East Village.

BAPE
Yellow Banana Cushion
Sleep like a baby on this yellow banana cushion from favorite streetwear brand BAPE.
RIZZOLI
Fairy Tales
This collection of weird photographs and stories by the renowned Canadian artist Petra Collins featuring  actress Alexa Demie is a must have.