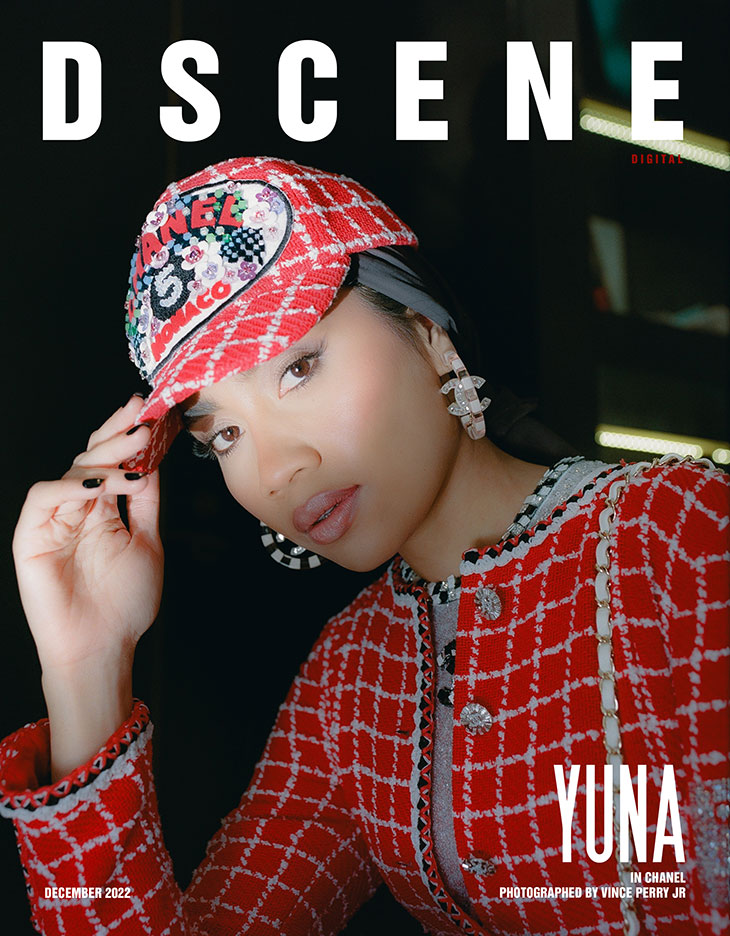 Malaysian singer and songwriter YUNA is reinventing what it means to be a music and fashion icon. She's released multiple critically acclaimed albums and has collaborated with a range of world renowned artists such as Usher, Tyler, the Creator, G-Eazy Jhené Aiko, Little Simz, and more. Using her platform to talk about biased beauty standards, Yuna's been a trendsetter on hijab style, while mixing the high fashion pieces with thrift finds. This November, Yuna has released her latest studio album Y5, with 17 new tracks featuring hits such as "Pantone 17 13 30" and "Risk It All" with millions of stream counts.
DSCENE Magazine teams up with Yuna for December digital cover story shot in a glamorous all-suite hotel The London West Hollywood at Beverly Hills. In charge of photography was Vince Perry Jr., with styling by Ariel Kochbarski and beauty by makeup artist Michelle Delorenzo.
DSCENE Contributing Editor Nikola Bajovic sits down for an exclusive interview with Yuna to talk about her beginnings, hijab and thrifting, as well as the new music and plans for the future.
Hello Yuna, nice to have you at DSCENE! How did your career get started?
I started making music just in my bedroom. I was 19 and in law school, and I had just bought an acoustic guitar and I learned how to play it from a friend. As soon as I learned how to play some chords, I wrote my first song. Everything changed after that! I continued writing more songs, learned a little bit of music production and uploaded my songs online. From there I started getting some fans and got booked for local gigs. After graduating I decided to focus on my music because I was getting a lot of success from being active in the Malaysian music industry. 3 years later I got an opportunity to move to LA to work on music and I just went for it, you know. It was just a dream come true for me – that was 10 years ago! I just couldn't believe how I made it this far!
How do you handle traveling and being away from your home for an extended time period while you are on tour?
It's always good to be able to tour and play my new music for the fans. I feel like I tour a lot and I'm kinda used to being away from home. But this time I think it's a bit different for me, I adopted 2 cats now and I always miss them!!
The years of the pandemic and quarantine are slowly, but surely behind us… How did it all affect you?
It was definitely a setback career wise but I like to see things in a positive light – I really appreciated the break from work and having the opportunity to spend some time with my family. I got to be home in Malaysia which was very nice, and I don't know, I learned a lot from that break you know. I see things differently now and I don't have that hustle state of mind anymore where I'm just working all the time because I was afraid I might lose out on something. Now its like, if I don't get job, or if I don't get that feature, if I don't get to be on that magazine cover, if I don't get nominated for something, it doesn't affect me as much. As long as I'm healthy, my family is doing good, my cats are doing good, that's the most important.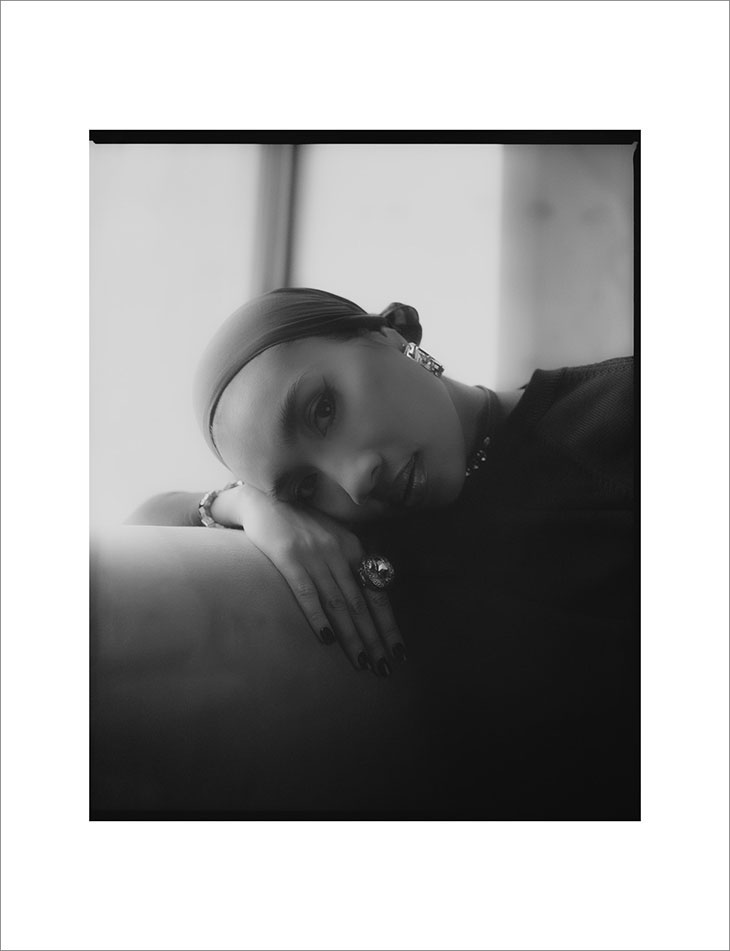 Are there any musicians who inspire you and if you could choose someone to collaborate with who would it be?
I would love to write with Frank Ocean and see what I can make. I love his music so much!
You said in an interview recently that you could write a song within five minutes, but the challenging part is saying something meaningful. Can you describe to us your creative process when songwriting?
I like to work with someone who's like a musical genius. You know, someone who can just sit and play something beautiful on the piano or the guitar. But my process is always this – I will spend the first day just talking and getting to know them. That connection is important. It's very rare that I will write something good with someone I barely know. Those sessions are tiring because you're trying to guess what this other person can bring to the table, and same for them with me too. So my process is always that, working with someone I trust, and then coming up with the music together.
Do you follow a process or ritual before a performance to get rid of nerves or performance anxiety?
I do vocal warm-ups, drink some tea. I sometimes call my mom and then do jumping jacks! The anxiety is always gonna be there no matter what. I think I just learned to embrace it. It is what it is, if the audience sees that, it's OK. I learned to just embrace nervousness and then I'll get over it eventually as the show goes on.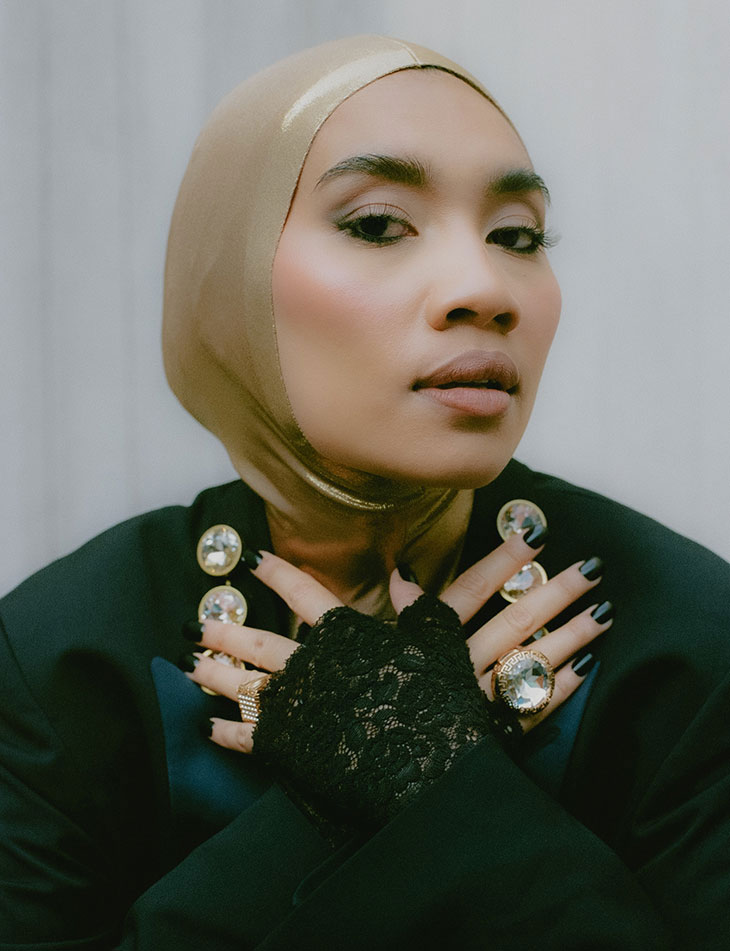 Could you share with us more about the new sound and image?
It's basically just music I love and music I grew up listening to. I feel like there's a lot in there that sounds like Janet, Lauryn Hill, TLC, everything from the early 2000s. It's my first independent record so I just decided to freestyle and see what I can come up with rather than having a moodboard and being rigid with my creative process. Same with my image too! I feel like I've learned to let go and just go with the flow and see what I can come up with.
You are one of the few artists who have a very unique style and I love it! How would you describe your personal style?
I love colours, I love shapes. I think my personal style has always been edgy, feminine, and comfy. I love chunky boots. It has always been my style since I was a kid, and that's like the punk rock side of me you know. So yea!
I saw you're into thrifting. Could you give us some tips on how to thrift? Do you agree with the statement 'Good style and taste have nothing to do with money?
Agree 100% now that I'm older and I can afford nice designer stuff. But I have to say sometimes your mind is tricked into thinking, for example, wearing ANYTHING from designer brands is cool. It's just a status thing, you know? So thrifting to me is always gonna be something I love because that is the way you develop your personal style and really be honest with what you like without the pressures of social status. And it's the best way to save clothes from landfills too.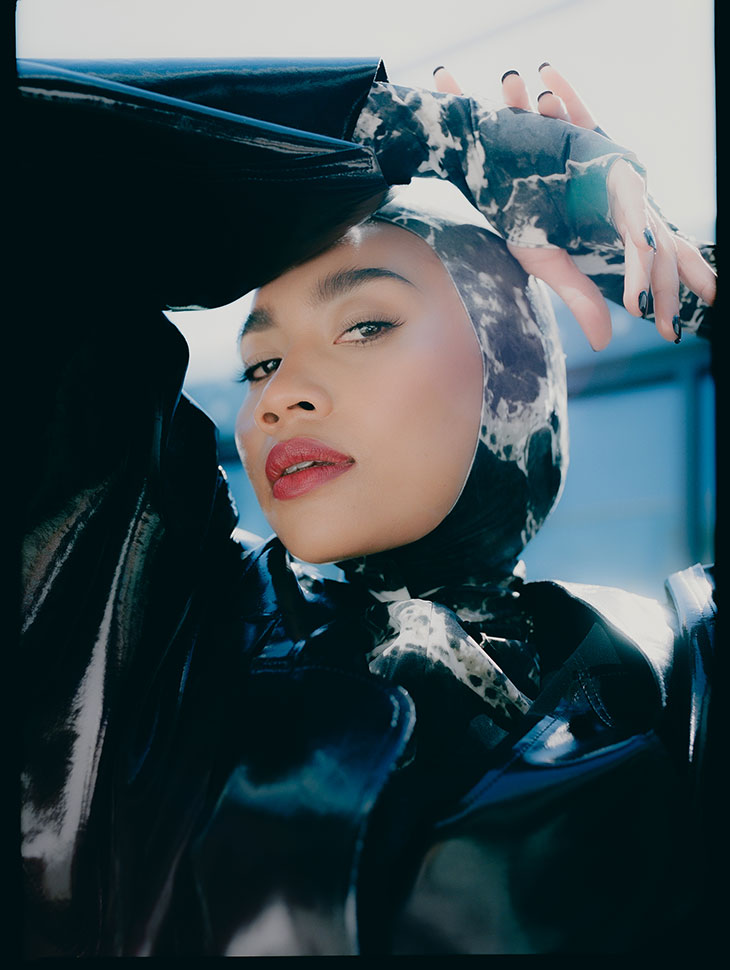 You come from a Muslim Southeast Asian family. Hijab is one of the parts of your culture, and I must say, you present it in the best possible way! How do you incorporate it in your on-stage style?
Thank you! I've to say I'm always so happy to hear people say that about my hijab. It has been a part of my life for 15 years and I still love it. It's a personal choice, and I've protected it from the beginning of my career. My hijab and I have been through it all! We've come a long way! I like wearing them in different styles but my favorite has always been just the plain black hijab and style it as the turban or wear it under my favourite hat.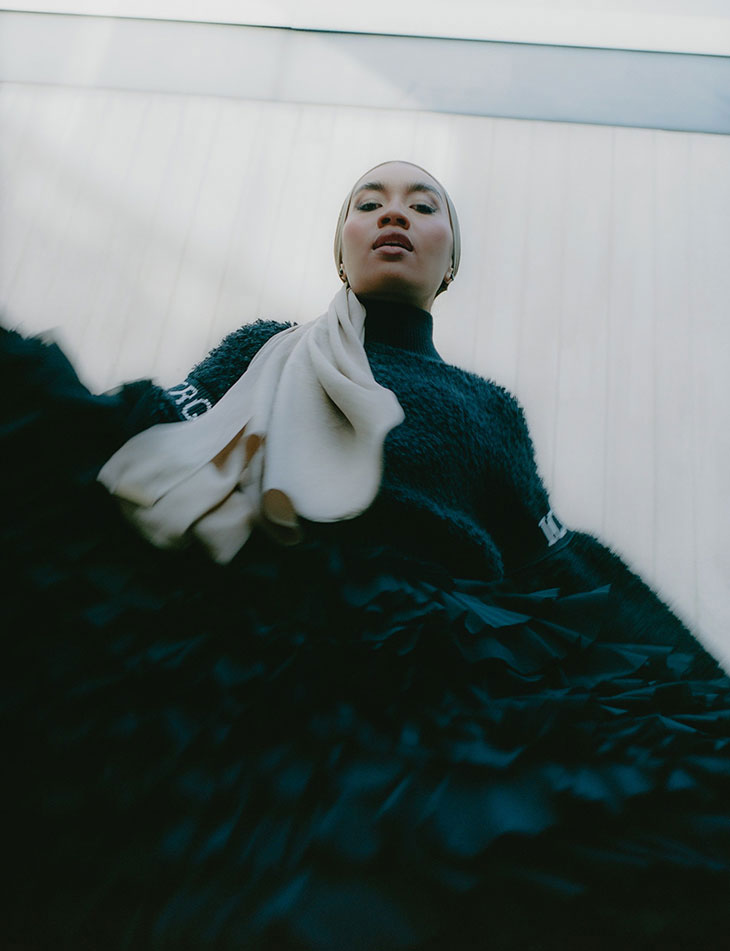 Were you ever pressured by the industry to change your style and how do you feel about it?
Never! I think since the very beginning I was very adamant about keeping the hijab on. Removing it for any glamourous or status reason is out of the question. I turned down many record deals at the beginning of my career where executives had told me that maybe it's better for my career if I had my hijab removed. But sometimes, I meet people who were like 'Oh you're only successful because you kept the hijab on, if not you wouldn't be here' which is also a jab to my career, to make me feel like it wasn't my talent or my hard work that got me here today. Which is weird too! Maybe they're trying to get me to see if it's still the same if I remove the hijab? People are weird but people are also unhappy with their lives so they say these things sometimes so I think maybe that's why I was never fully pressured because people can be flaky and just say anything. I honestly am content with my life and just keep on going.
There are no shortcuts to success and growth, these things take time and include hard work, gaining the trust of your peers, facing your fears, fighting for your craft, and learning from your mistakes.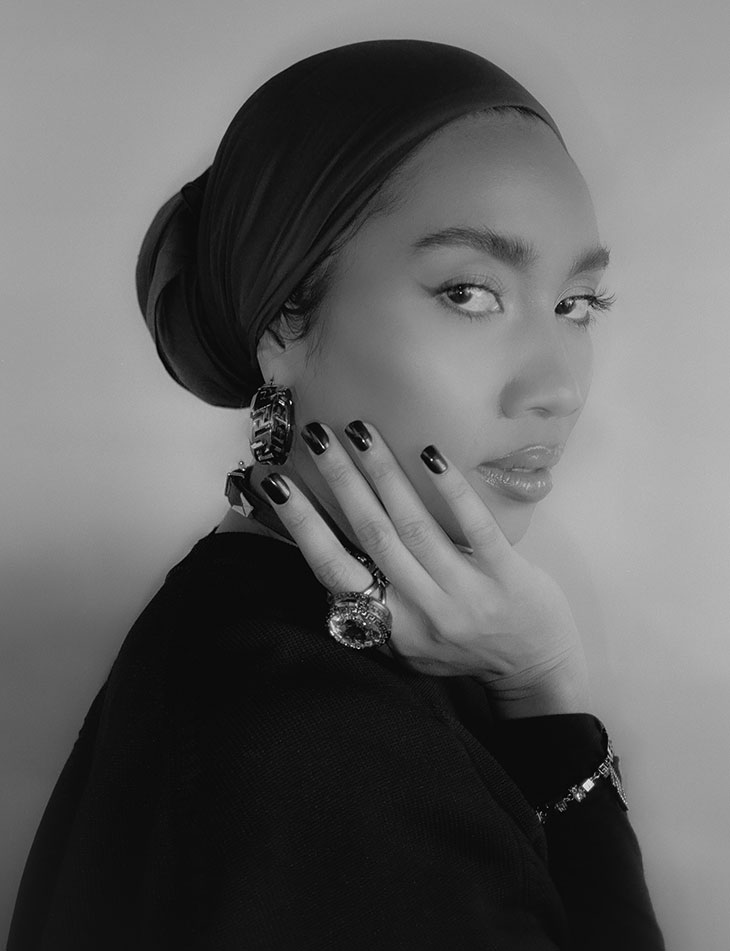 What is the best advice you could give to artists beginning their music career?
Be persistent, but also be humble and respectful. I sometimes see people so early in their career to quickly self-proclaim something and when things don't pan out, or when they fail, they get so defeated and quit. This is because there are no shortcuts to success and growth, these things take time and include hard work, gaining the trust of your peers, facing your fears, fighting for your craft, and learning from your mistakes. And last but not least, have fun. You get to create, which is life's greatest gift – so enjoy it!
What are your dreams for the future?
To have a happy, healthy, fulfilling and balanced life. That's all.
Photographer & Filmmaker Vince Perry Jr. – @vincentperryjr
Stylist Ariel Kochbarski – @ofthemomnt
Makeup Artist Michelle Delorenzo – @michelledelorenzo
Photographer Assistant Alizabeth Bean – @alizabethbean
Stylist Assistant Valentina Bisco – @valentinabisco
Location The London West Hollywood – @thelondonweho
Interview by Nikola Bajovic – @nikolabajovic
Yuna's new album Y5 is out now. Listen to "Can't Get Over You" below: