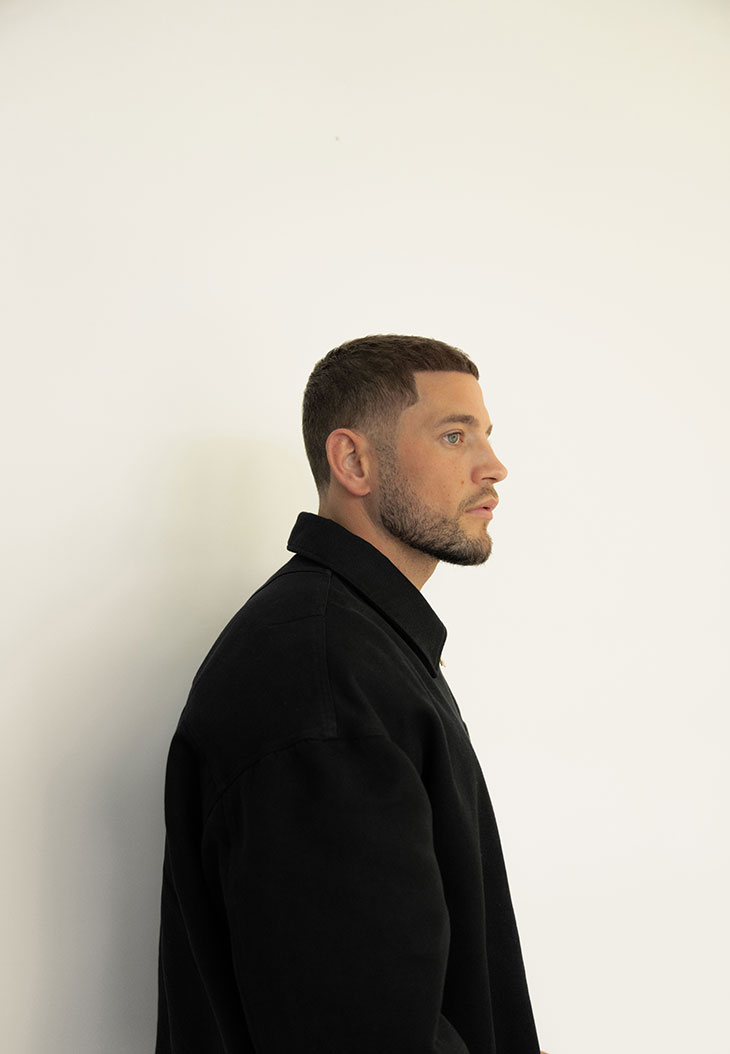 Back in 2011, the young British designer and entrepreneur GEORGE HEATON started the luxury streetwear label REPRESENT alongside his brother Mike with a mission to create "the best brand in the world". After more than a decade of hard work and dedication, Represent grew into the established fashion label as we know it today, with the significant following among the A-listers and a comunity that counts millions of fans. (George's portrait Courtesy of © Represent)
DSCENE Magazine's Fashion Director KATARINA DORIC sists down with George to talk about Represent's story of success, new collection, collaborations and future plans.
From a college project to a successful fashion brand – What do you think is the seed of your success? – Consistent evolution through brand, product and content throughout the upcoming of the brand, as we develop, learn and build as a team.
Can you tell us a story behind your brand's name? – There's many stories that represent the brand's dna since initiation (no pun intended) but the story of how the name came about was picked from a list of words that meant how I could create my own designs, that expressed myself.
What was the original vision for REPRESENT, and has it changed much since you started? – The mission has always been to craft my perfect wardrobe, a uniform of great shapes and silhouettes, which can be dressed head to toe, whatever the occasion. This concept is still true to our values. As a designer / creative director, the brand's focus has been on how I like garments to fit, feel, and look. Attention to detail, and quality has always been the forefront of the brand, whilst maintaining attainability.
The mission has always been to craft my perfect wardrobe, a uniform of great shapes and silhouettes, which can be dressed head to toe, whatever the occasion.
Tell us about your SS23 "Storms in Heaven" collection. What's the inspiration? – Storms in Heaven is a concept created to display juxtaposition of pop colours and exquisite tones whilst maintaining our core dark, subtle and monochromatic essence. As a brand, we started to put some highlights into the collections through vibrant tones that proved successful and created a new light for us, so Spring Summer really works into that format.
Can you highlight some of the specific pieces you have created? Are there any new silhouettes being added to the Represent uniform? – We add newness into Represent every season, as we're always testing, improving and opening ourselves up by crafting pieces we hadn't done in the past. For Spring Summer 23, a drapes wide leg pant with a hybrid waistband comes in as a new pant silhouette, which was created to accompany the Bully, a sneaker shape we introduced inspired by our 90's skate era upbringing.
Are there any new logos or graphics used throughout this collection? – Always, a stronghold for the brand is graphics. We don't like to narrow our abilities by sticking to exact branding which most do. We're always open to iteration and development, and our graphic evolution plays a major role in the brand's distinctive look.
View this post on Instagram
What's the idea behind your Owners' Club range? – The Owners Club collection came naturally through our love for motorsports, British heritage, luxury and race are a great reference point for us as designers, and have been pulled into the branding, palettes, designs and campaigns since the beginning. The Owners Club is a phrase used for motorcar meet ups, so we wanted to envision that group feeling within fashion, and the little sign off 'for enthusiasts, by enthusiasts,' creates the nostalgia of these meet ups.
One of your best selling ranges is the Blank collection. What are the differences compared to the seasonal collection? – These are our core jersey silhouettes, which we've developed over a long period of time, perfecting fit, f fabric and detail to the point of our consumer really asking us so oftenly to create blank versions, as we believe and they believe these products are so well received that we're all so loyal to the fits, we built this collection.
In 2019 you switched from the official fashion calendar to the See-now-buy-now model. Does it work for you better and why? – It does. We're able to be more pro-active, working on our own schedule and timeline, whilst still maintaining seasonal showrooms for buyers and stores. We run both methodologies side by side, and this for us creates a consistent stream of talking points.
The brand is really a story of the constant progression we are on, and I believe this is one of our keys to success, staying relevant by not staying still.
Your collaborations with brands such as Motorhead and Ozzy Osborne were very popular among the fans, as well as your Machine Gun Kelly capsule collection. What can we expect next in terms of collaborations? – We do these collaborations with artists/bands that inspire us, and where we feel we can come together to create the best rock tees on the earth. We are about to launch the news of our next band collaboration, Motley Crue, where we'll host an event on the Sunset Strip in West Hollywood, LA very soon.
We've seen hip-hop legends such as Meek Mill and 21 Savage wearing Represent, as well as our cover star Luke Hemmings. Who would you like to dress next? – I don't think about this, but it's amazing to see artists, influencers and inspirational people wearing the brand. It's great that we're able to see some of the biggest stars choose to wear Represent over other labels.
With more and more brands on the market, you need real creativity to stay relevant. Do you find it hard to reach your audience? – We love to mix up our content strategies and ways we approach the market all the time. Though consistency works, launching a campaign or product that is completely new and different to what our consumers are used to seeing really increases awareness. For us in this moment, it's about finding the fine line between both aspects.
Do you think that luxury fashion is still embracing streetwear the way it has in recent years or are we seeing a shift? – Every article posted over the past few years is trying to split streetwear and luxury fashion apart, but these garments are engrained into each other so much now that it's really not so much two different dimensions in the industry. If the brand is luxury, what makes an oversize graphic t-shirt created by them not streetwear?
How do you feel that your brand and your perspective as a designer has evolved since 2011? – The brand is an evolution of myself, my brother and my teams perspective, knowledge, trial and error, and development as people. We see our customers stay with us from teens, through their 20s and 30s. The brand is really a story of the constant progression we are on, and I believe this is one of our keys to success, staying relevant by not staying still.
What's next for REPRESENT? – We have a great amount of projects going on for 2023 and 2024, but one thing I'm most excited about is our HQ build, which has around 12 weeks remaining. This will hold up to 150 team members, a chefs kitchen, a functional gym for the team and a much bigger, better, brighter working space.
Keep up with George on Instagram – @georgeheaton @representclo