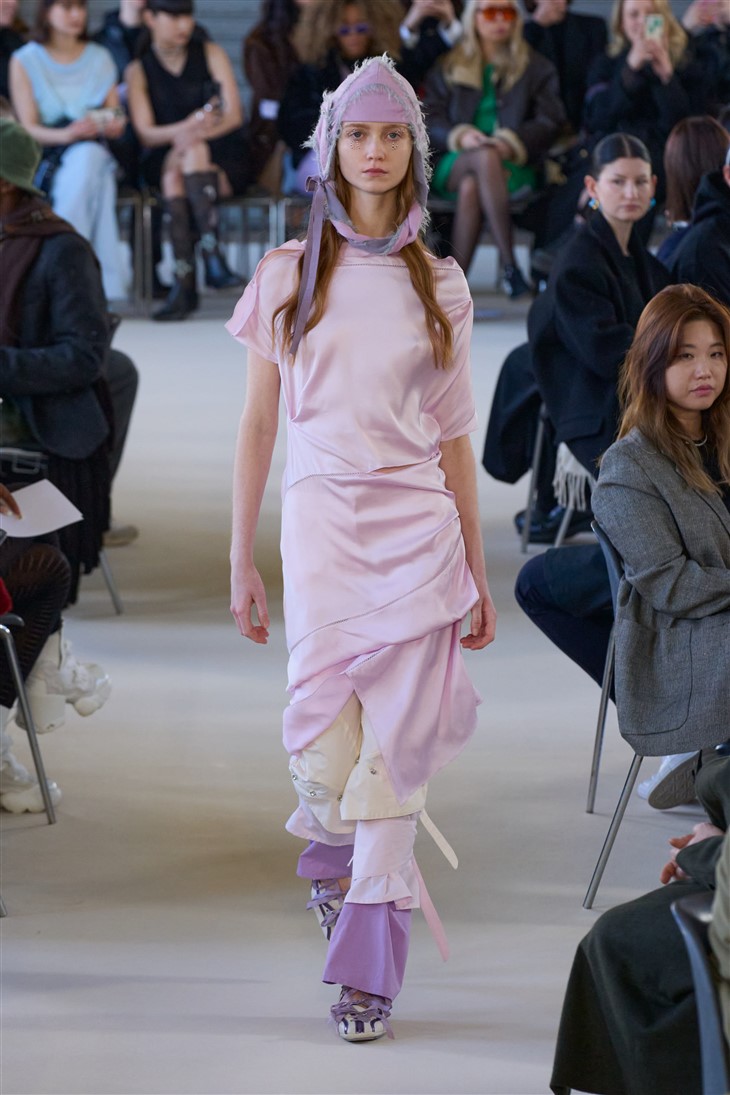 Fashion house KIKO KOSTADINOV presented the Fall Winter 2023.24 Collection, with a show held during the ongoing Paris Fashion Week. The collection is a testament to the constant questioning of dress and historical research inherent to the highly gestural designs of Laura and Deanna Fanning. A fervent curiosity feeds their creative process, one piqued this season by the forms and functionality of antique lingerie: the hidden layers of undershirts, knickerbockers and petticoats of yore that created a support system for women below their heavy gowns and mantles. Today, comparing and contrasting these phenomena with the language of the street gives birth to a veritable florilège of the unfamiliar, both tough and tender, that interrogates the many facets of feminine expression that swirl throughout the zeitgeist.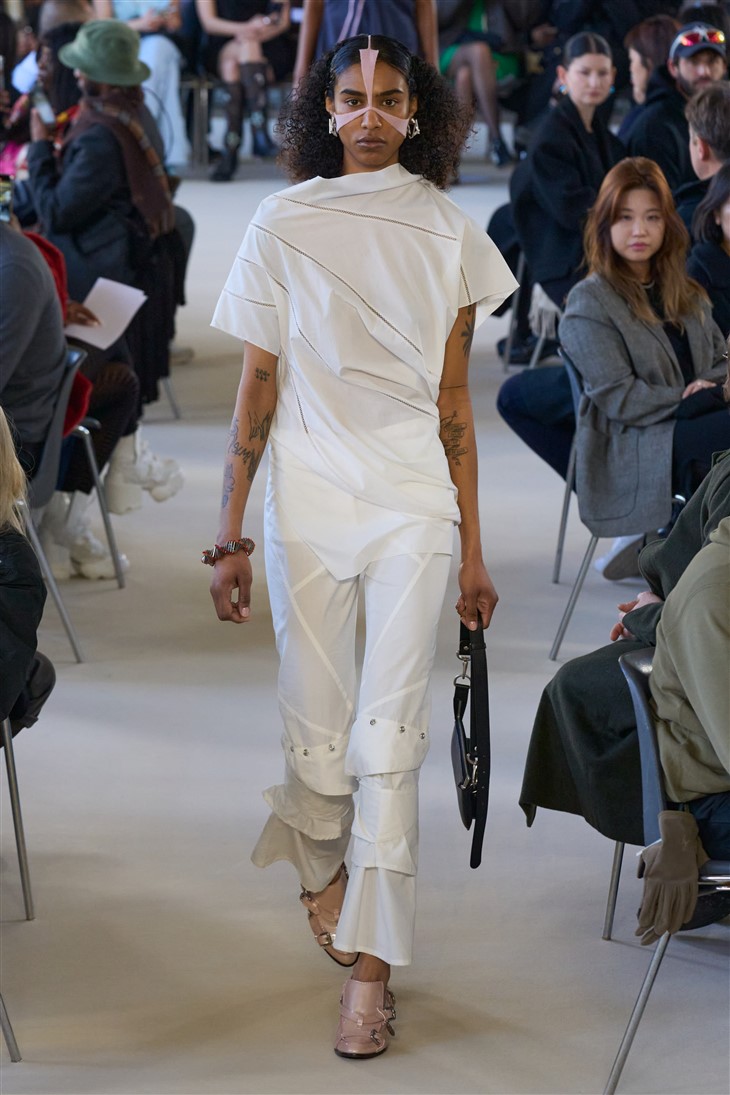 Ruched, bubbled, caped, pleated, spliced, furled and unfurled, the collection is an exercise in garment construction and fabric techniques that gently scoop, shroud, and deflect off the body to create uncanny proportions, romantic expressions, and clothes with an unapologetic verve. The Kiko Kostadinov signature of two-tone ensembles is omnipresent, from striped triangular knitting to the bubbled linings that burst from below canvas bubble skirts. Layers of tulle shift in diagonal plissé midi-skirts or jut fin-like from the seams of stovepipe flares, fragile against a flared riding coat, zipped storm jackets and a quilted peplum blazer. Grosgrain tape demarcates the complex patternmaking of enveloping coats and wide canvas trousers, echoing the contrast piping and trims of knitted bed socks and bonnets. – from Kiko Kostadinov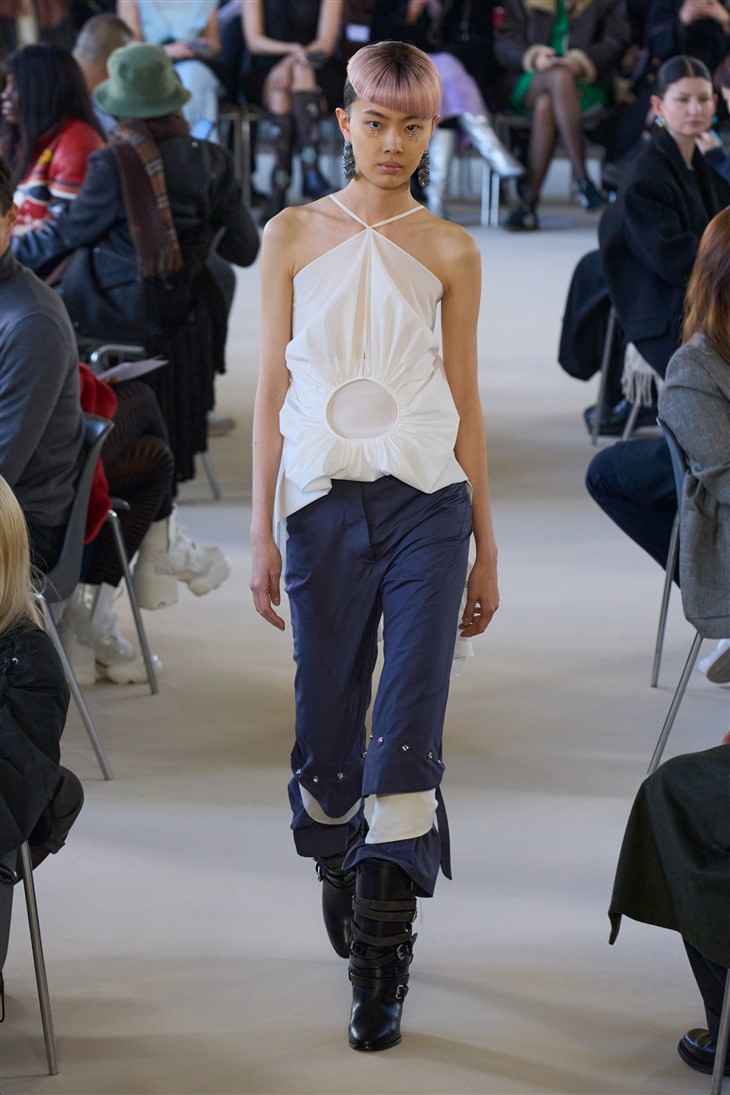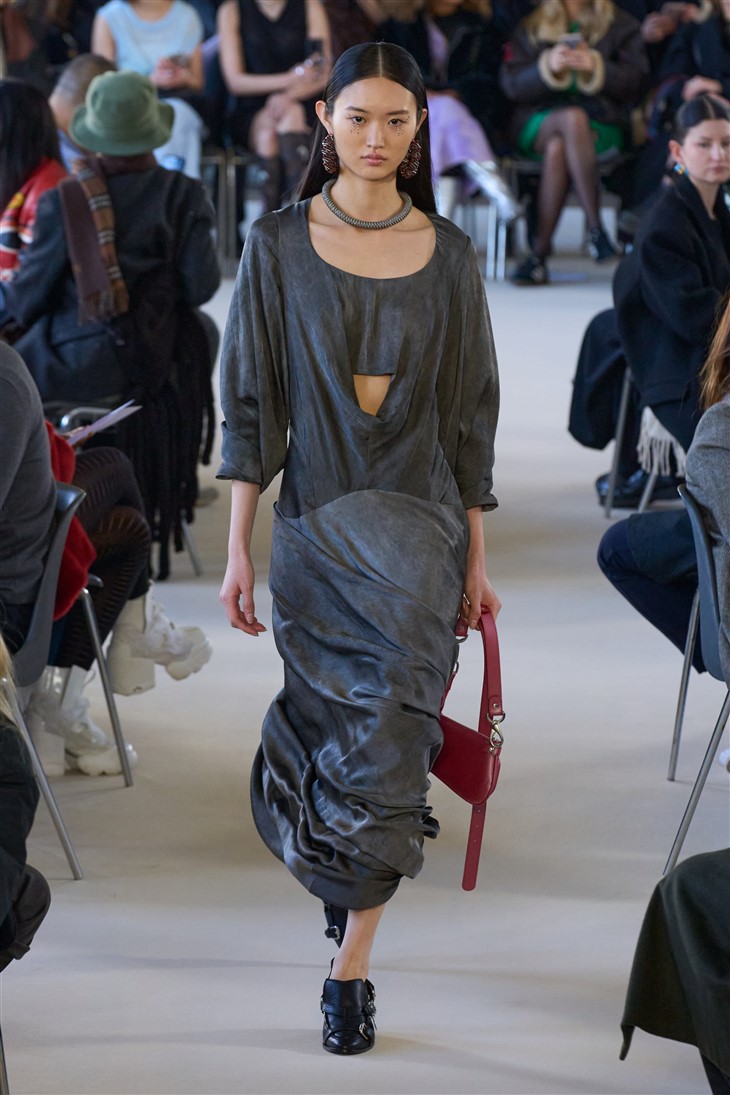 Accessories collage: a bowling/driving/ballet shoe pastiche is an ode to Formula One driver Lella Lombardi, pearlescent multi-buckled boots sit on squat kitten heels, and stainless steel spirals layer with hand-beaded double-helix chokers. The ergonomic lines of the Trivia bag are scaled up as a new chain shoulder bag and down as a charm wallet, whilst new exploration of fabric bag styles augment the silhouette in tulle-sheathed volumes.