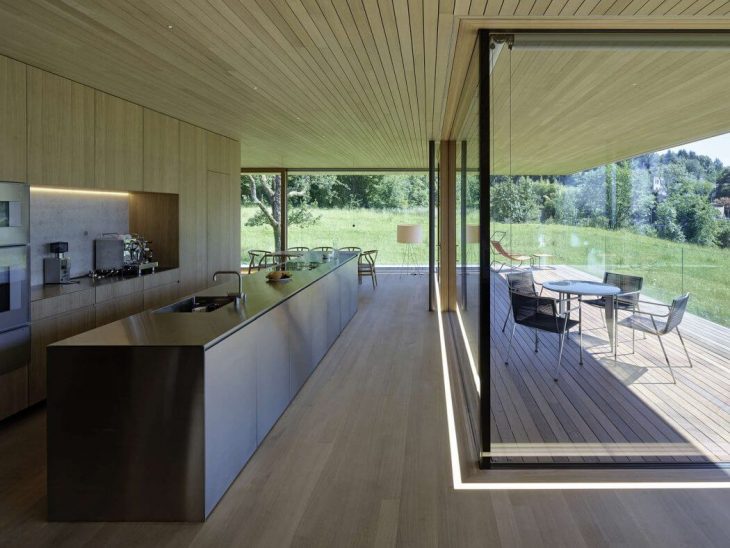 Choosing the right materials is crucial for creating a durable, functional, and visually appealing outdoor space when building a deck. The selection of deck materials has expanded significantly in recent years, offering homeowners a wide range of options to suit their preferences, budgets, and maintenance requirements.
However, each material comes with its advantages and disadvantages, making it essential to understand the pros and cons before deciding. In this article, we will explore three of the best materials for building a deck.
1. Pressured-Treated Wood
Pressure-treated wood is a type of lumber infused with chemicals to enhance its durability and resistance to decay, insects, and moisture. Reputable deck builders will choose to use this material over others due to its benefits.
Pros of Using Pressure-Treated Wood
Durability: Pressure-treated wood is highly resistant to rot, decay, and insect infestation, which extends its lifespan compared to untreated wood.
Affordability: Pressure-treated wood is generally more affordable than alternative decking materials like composite or tropical hardwoods, making it a popular choice for budget-conscious homeowners.
Versatility: It can be easily cut, shaped, and installed, allowing for various design options and customizations.
Natural appearance: Pressure-treated wood has a traditional and natural look, which appeals to many homeowners who prefer the aesthetic of wood
Cons of Using Pressure-Treated Wood
Chemical treatment: The chemicals used in pressure treatment, such as copper-based compounds, may concern some individuals. Although modern treatments have reduced the use of harmful chemicals, there is still a small risk of exposure. Therefore, following safety guidelines during installation and taking precautions when working with treated wood is essential.
Maintenance: While pressure-treated wood resists decay and insects, it still requires regular maintenance. This includes periodic cleaning, staining, or sealing to maintain its appearance and prevent water damage.
Warping and splitting: Pressure-treated wood can be prone to warping, twisting, and splitting, especially if not properly installed and maintained. Regular inspection and repair of damaged or warped boards are necessary to ensure the deck's stability and safety.

2. Cedar
Cedar is a type of wood commonly used in construction due to its natural beauty and durability. It is known for its distinct reddish-brown color, pleasant aroma, and natural resistance to decay and insect infestation.
Pros of Using Cedar:
Durability: Cedarwood is naturally resistant to rot, decay, and insect damage. It contains natural oils and compounds that act as preservatives, making it a durable choice for outdoor structures.
Dimensional stability: Cedar has good dimensional stability, which resists warping, twisting, and splitting. It can maintain its shape and structural integrity, even when exposed to moisture and changing weather conditions.
Low maintenance: Cedar requires less maintenance compared to other types of wood. It naturally resists decay and insect damage, reducing the need for frequent treatments or sealants. However, regular cleaning and periodic sealing can help prolong its lifespan and maintain its appearance.
Cons of Using Cedar:
Cost: Cedar wood tends to be more expensive compared to other decking materials, such as pressure-treated lumber. The cost can vary depending on the grade and quality of the cedar.
Susceptible to weathering: While cedar is naturally durable, it is still susceptible to weathering over time. Without proper maintenance, it can develop a weathered gray patina, which some people find appealing.
Softness: While the softness of cedar can be an advantage during installation, it is also more prone to dents and scratches compared to harder woods. Furniture, heavy objects, or sharp items can leave marks on the deck's surface.

3. Bluestone
Bluestone is a natural stone commonly used in construction and landscaping projects. It is a durable and versatile material popular for building decks, patios, walkways, and other outdoor features.
Pros of Using Bluestone:
Durability: Bluestone is known for its exceptional durability. It can withstand heavy foot traffic, extreme weather conditions, and regular exposure to sunlight without losing its structural integrity. This makes it suitable for outdoor applications where longevity is desired.
Aesthetic appeal: Bluestone offers a timeless and elegant look that can enhance the visual appeal of your deck. It is available in shades of blue-gray, providing a natural and sophisticated appearance that complements various architectural styles.
Slip-resistant: Bluestone is naturally slip-resistant, making it a safer choice for deck surfaces, especially in areas prone to moisture or where children and elderly individuals may be present. The textured surface of bluestone provides traction and helps prevent accidents caused by slipping.
Cons of Using Bluestone:
Cost: Bluestone tends to be more expensive compared to other decking materials. The price can vary depending on the quality, thickness, and size of the bluestone tiles or pavers. Therefore, the initial investment for a bluestone deck may be higher than alternatives like wood or composite decking.
Heat absorption: Bluestone absorbs and retains heat, especially in direct sunlight. This can make the deck surface uncomfortable to walk on during summer. Consider using shade structures or choosing lighter-colored bluestone varieties to mitigate this issue.
Weight: Bluestone is a dense and heavy material. This can make the installation process more challenging, especially if you are considering a DIY project. It may require professional expertise and specialized equipment for proper handling and installation.
Limited color options: While bluestone is prized for its distinctive blue-gray hues, its color range is relatively limited compared to other decking materials. If you have specific color preferences or a different aesthetic vision for your deck, bluestone may not offer as many options.
Which Material Are You Choosing for Your Deck?
When it comes to building a deck, several materials are available, each with its own pros and cons. Understanding these advantages and disadvantages can help you make an informed decision based on your preferences, budget, and the specific requirements of your project. So, look into every aspect of the materials before choosing which is right for your deck project.
Images from House D by Dietrich / Untertrifaller Architekten – See the full story on Archiscene