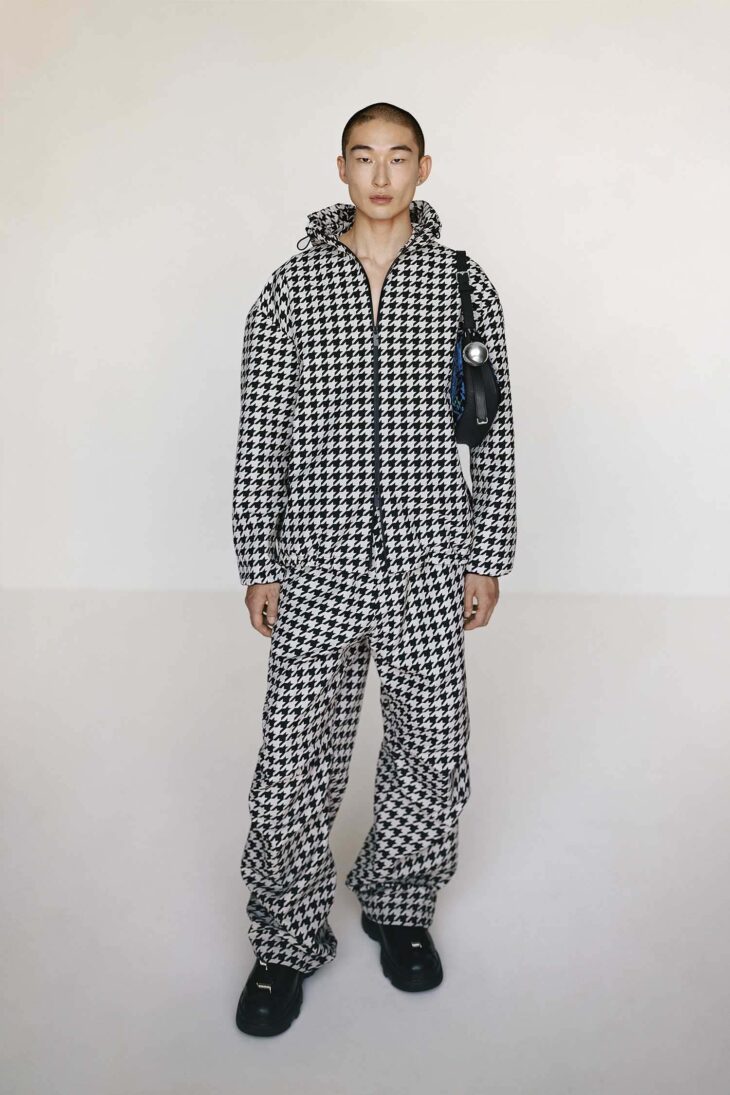 BURBERRY has unveiled the lookbook images for its Spring 2024 Collection. The second collection by designed Daniel Lee, still spotlights on the quintessential British wardrobe archetypes, meticulously tailored to accentuate the contours of the body, adorned with exquisite British motifs that pay homage to the enchanting allure of the great British outdoors.
The Check pattern, both new and reimagined from the archive, is celebrated. Happy scarves made of Burberry Check cashmere from Scotland feature fringed edges along each vertical side.
The key pieces in the collection include trench coats, car coats, duffle coats, blanket capes, quilts, parkas, field jackets, aviator jackets, and bomber jackets. These are complemented by kilts, tracksuits, and rugby jerseys. Puffer coats feature leather with Equestrian Knight Design (EKD) details.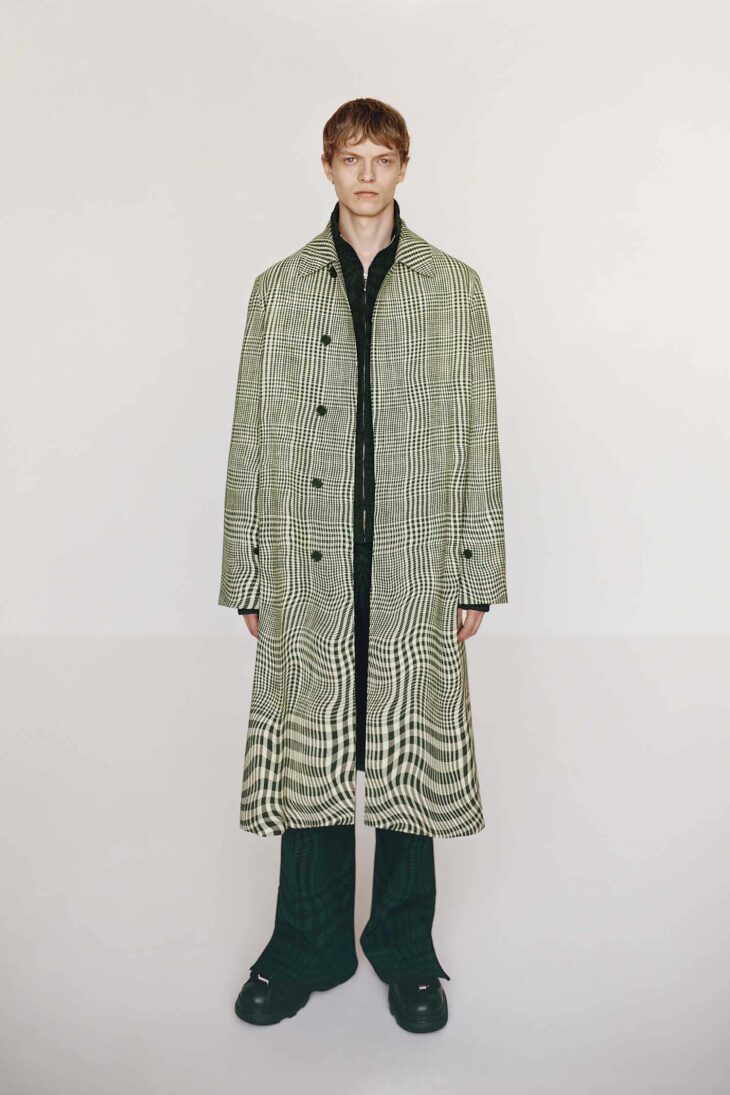 Refinement is achieved through functional elements and finishes. Silk chiffon dresses have attached hoods, silk scarves are looped through viscose rib-knits, and epaulettes are incorporated into shoulders. Zips and press studs allow for versatility of use and fit.
Knight blue accents are bright and appear on the piping of dandelion-print silk pyjamas, the fastenings of quilted jackets, and the taping seams of car coats.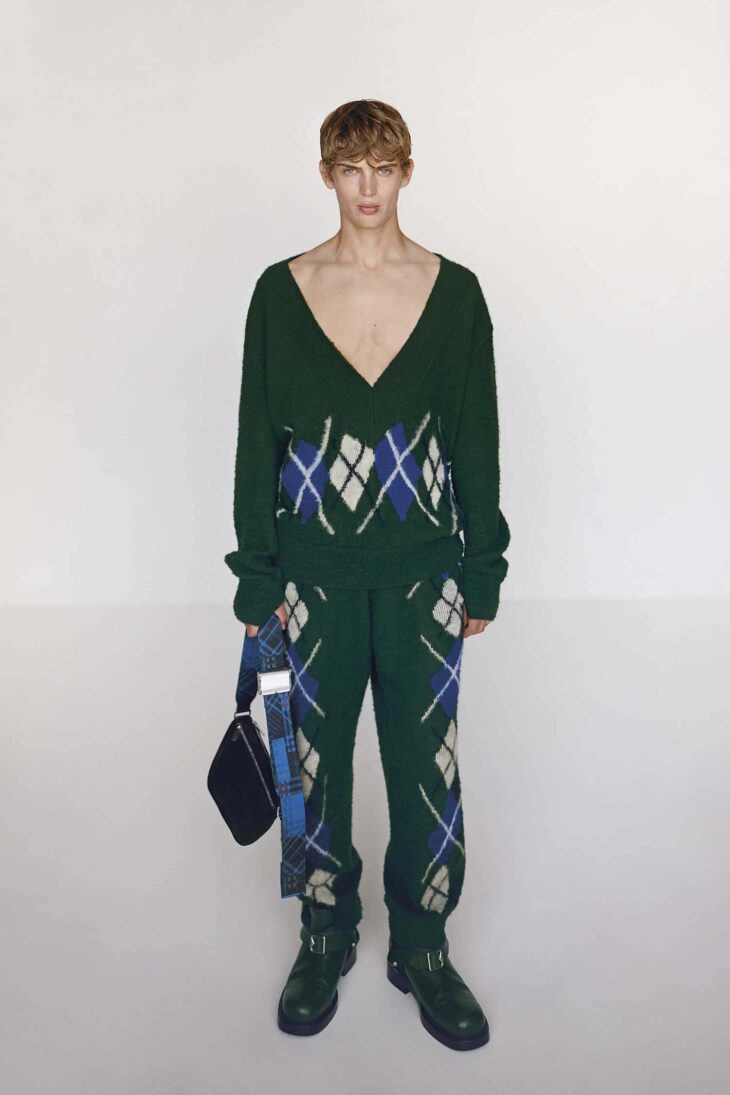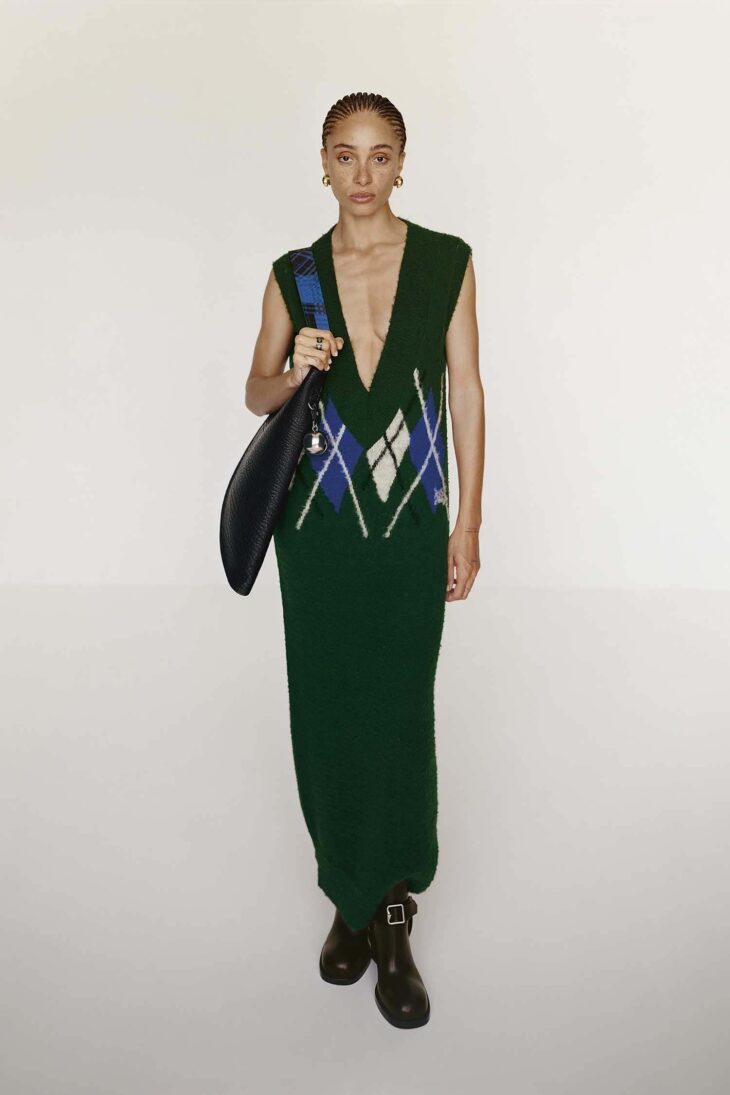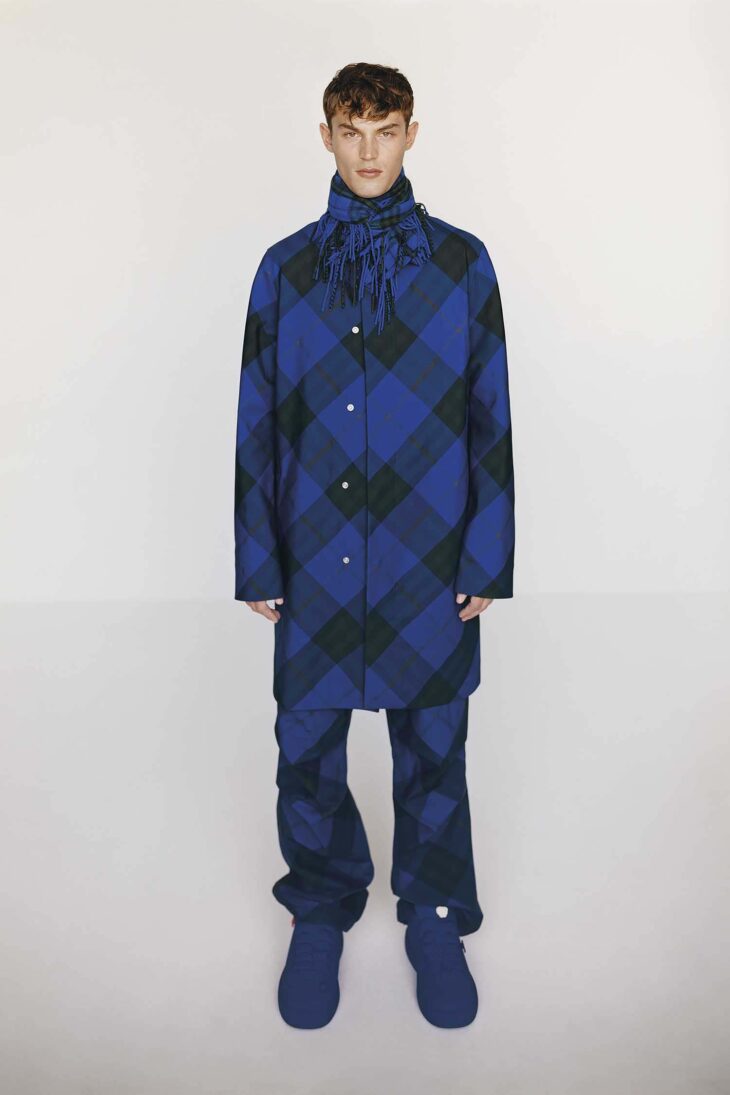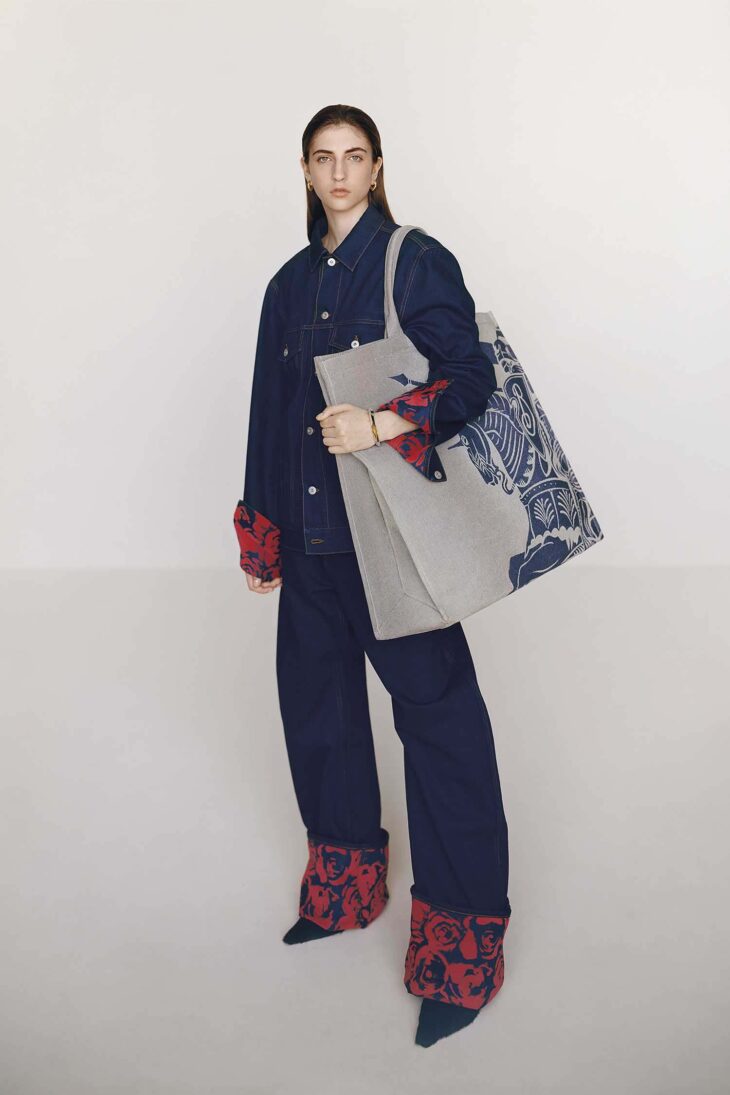 The color palette includes sherbet, cameo, ivy, rhubarb, khaki, trench, knight blue, black, and white. Prints are described as joyful.
The tailoring and tailoring fabrics draw inspiration from Savile Row. Jackets feature peak lapels and an hourglass waist. Prince of Wales and houndstooth check jacquards are reimagined, recolored, magnified, and warped.
The placement of zip pockets and openings on coats, jackets, and trousers references a 1920s women's archive ski suit. The positioning of zips on the thighs of trousers alludes to vintage flying suits.
Knitwear incorporates traditional patterns, such as Prince of Wales check and painterly argyle intarsia knits, cricket sweaters, and sweater dresses, which are refreshed and updated.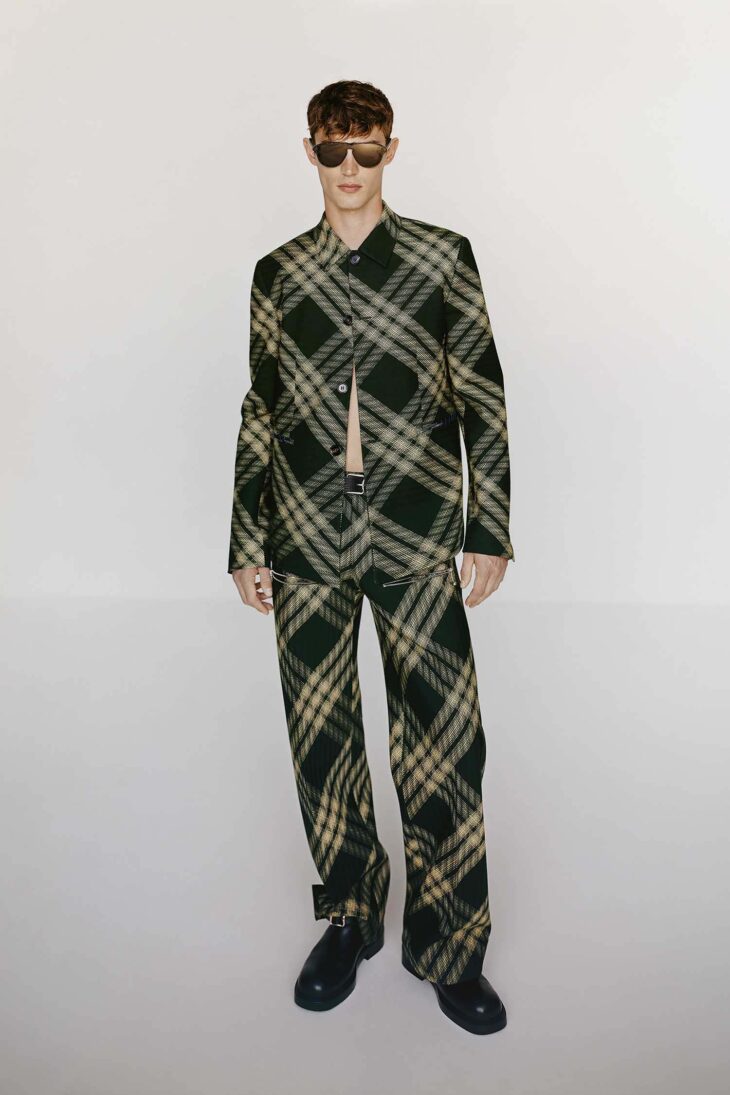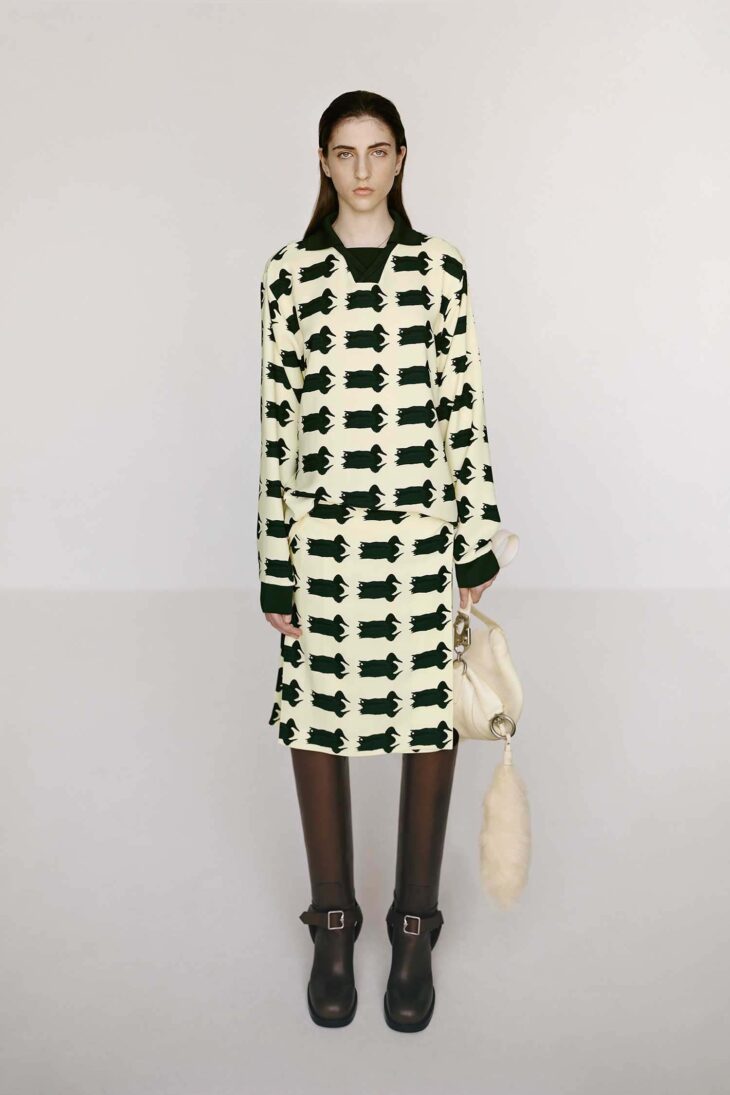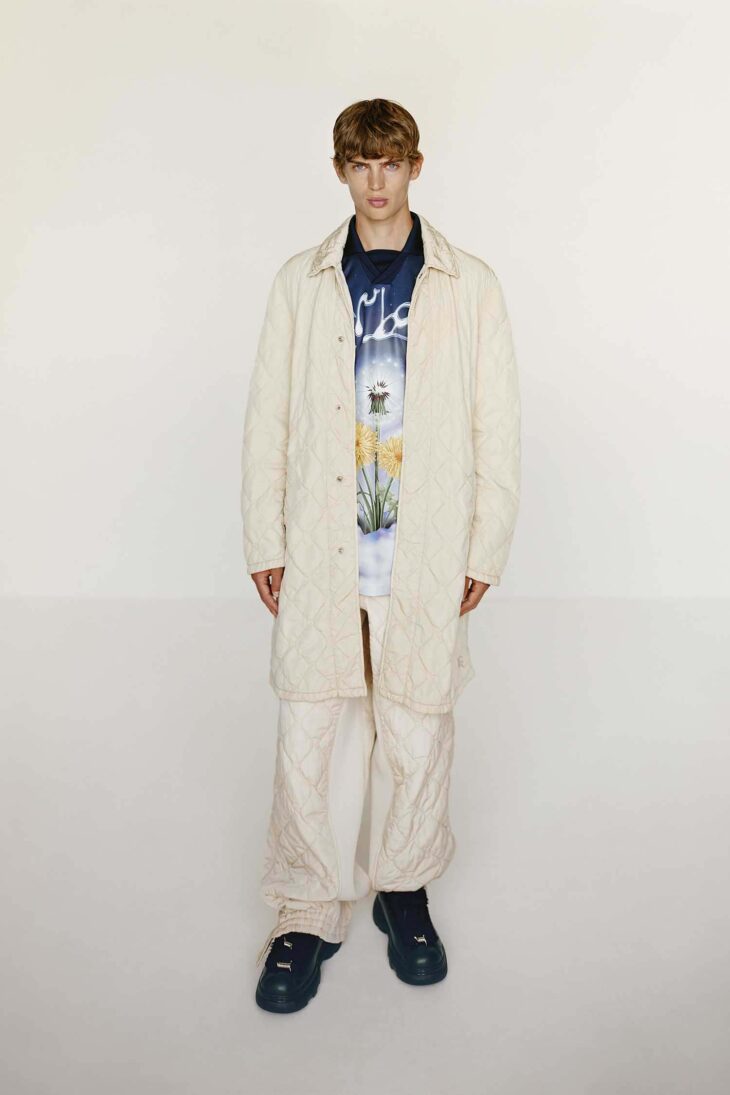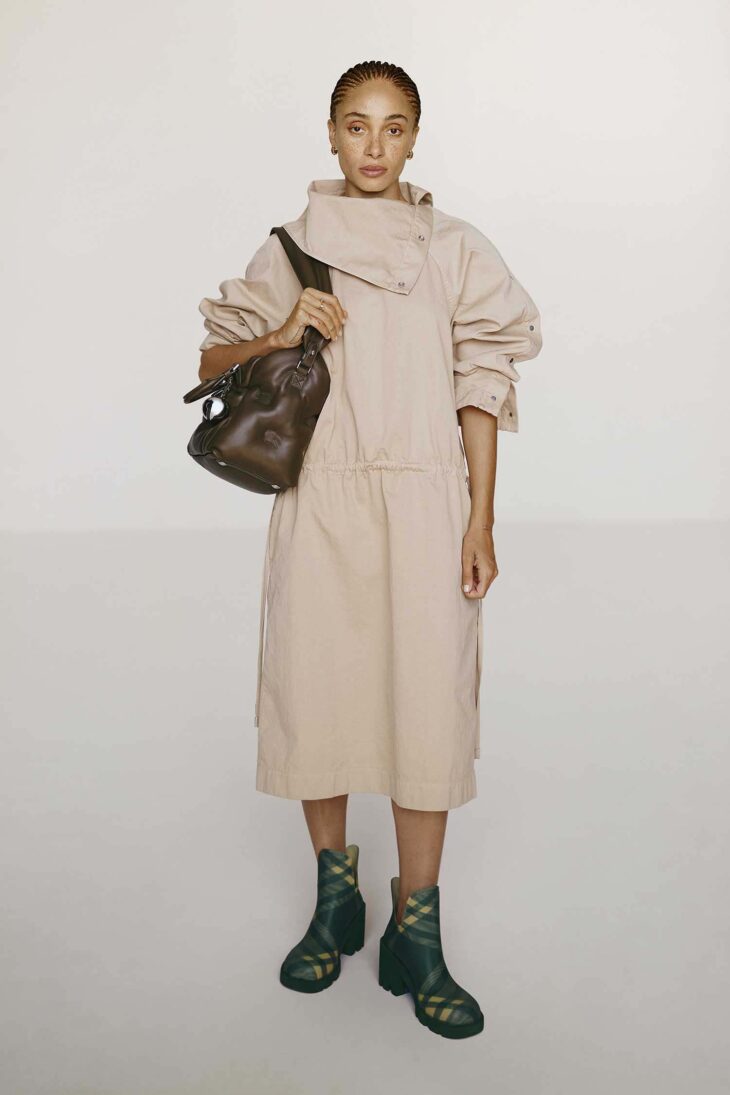 Denim jeans and jackets feature flocked rose turn-ups and cuffs.
The Equestrian Knight Design (EKD) is integrated into the backs of garments, inside hems, or punched into rubber mules in a split design, half on one shoe and half on the other.
Bags and shoe designs also undergo development. Check wool trims and overlays are featured on both bags and shoes.
The Knight bag family, distinguished by a bridled horse clip, expands to include various sizes, a puffy leather design, and a new bucket bag in shearling. The Shield Sling bag is now available in crinkled leather or jacquard-woven with Prince of Wales check. A Shield tote in quilted leather with EKD-embossed details is introduced. Additionally, new bags include the Muff bag in leather and the Peg bag knitted in Burberry Check with a clothes-peg closure.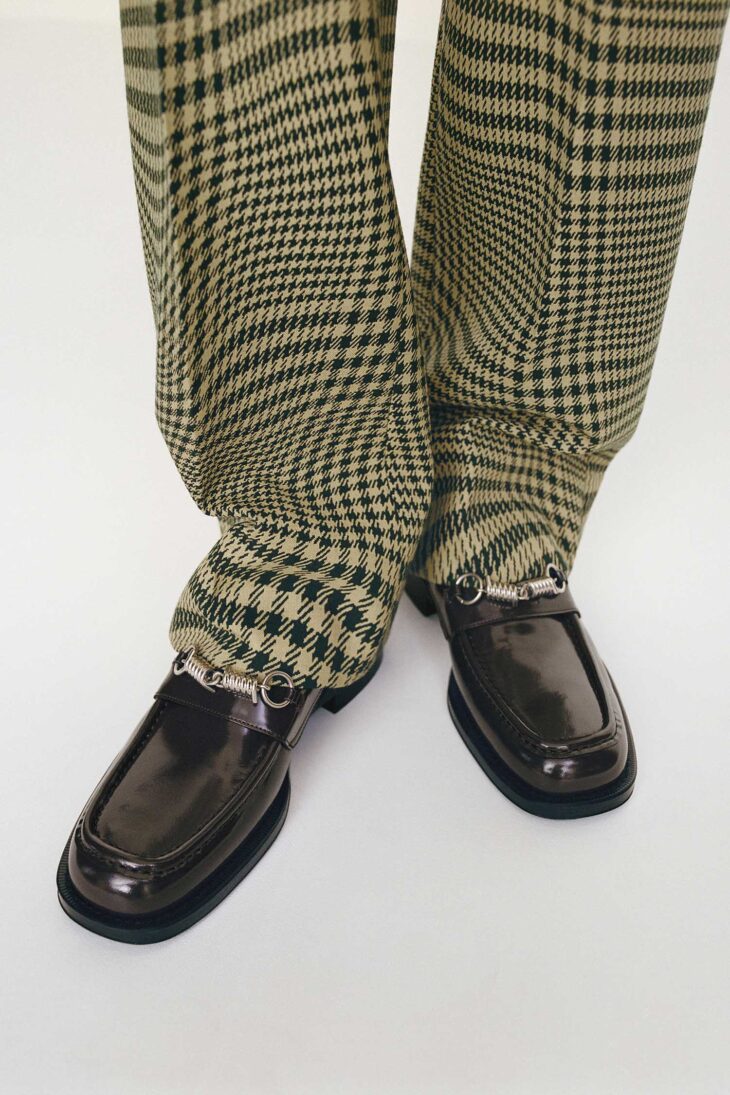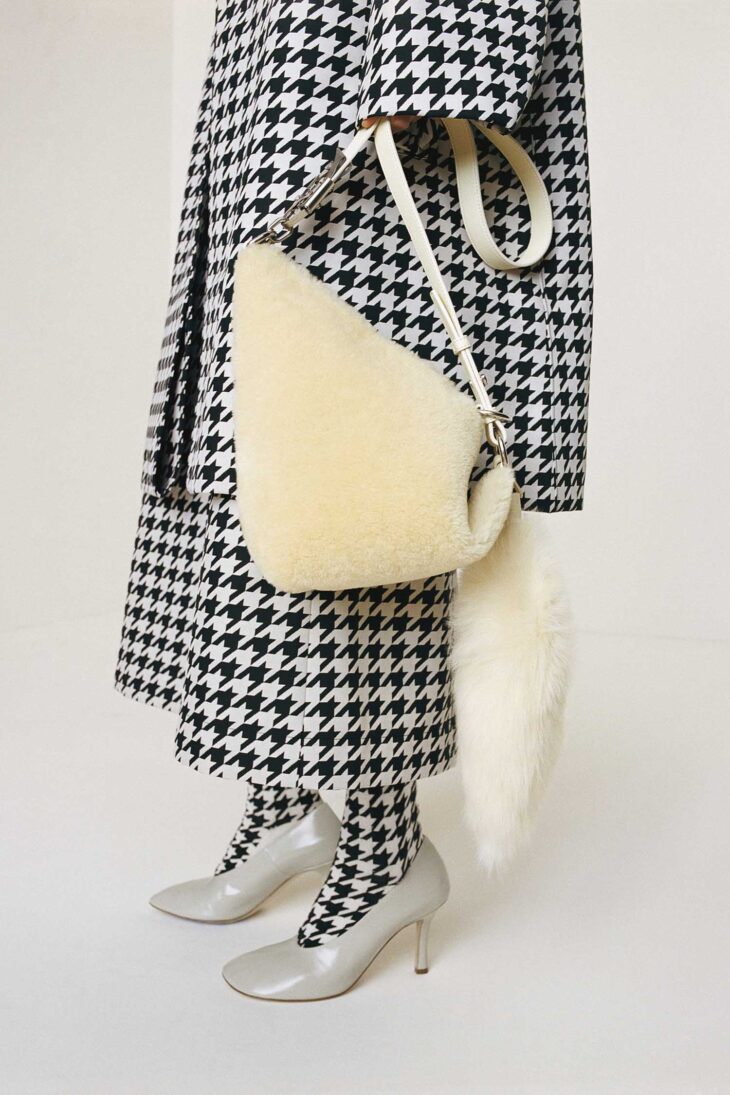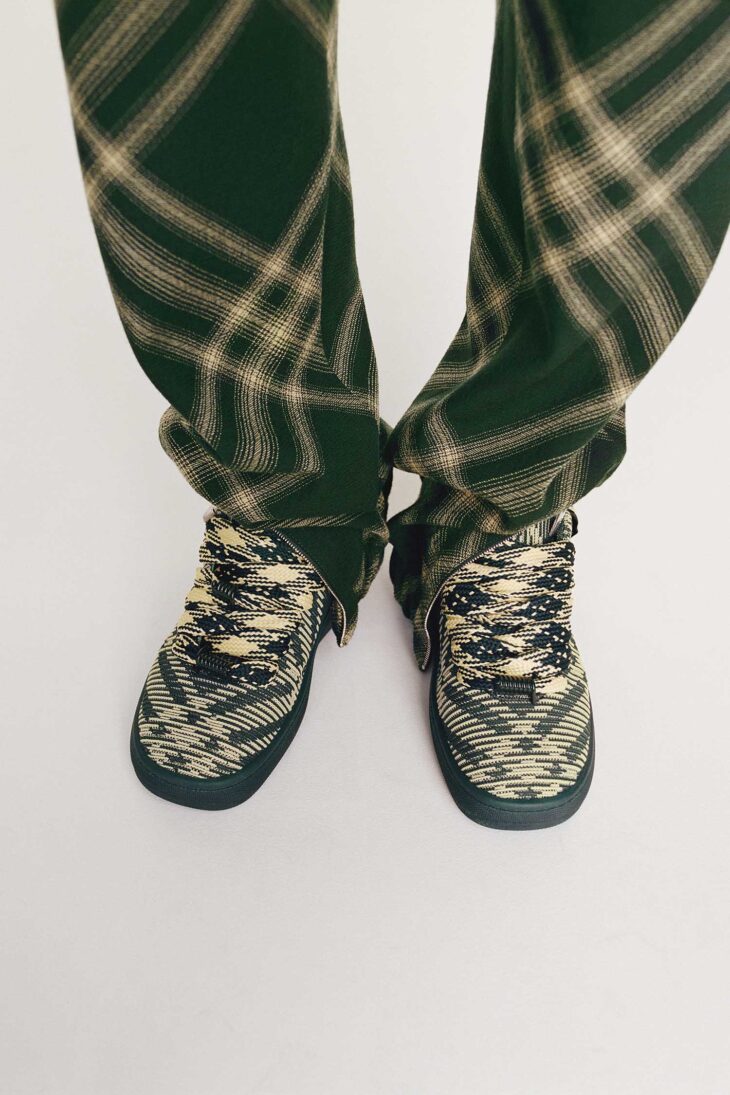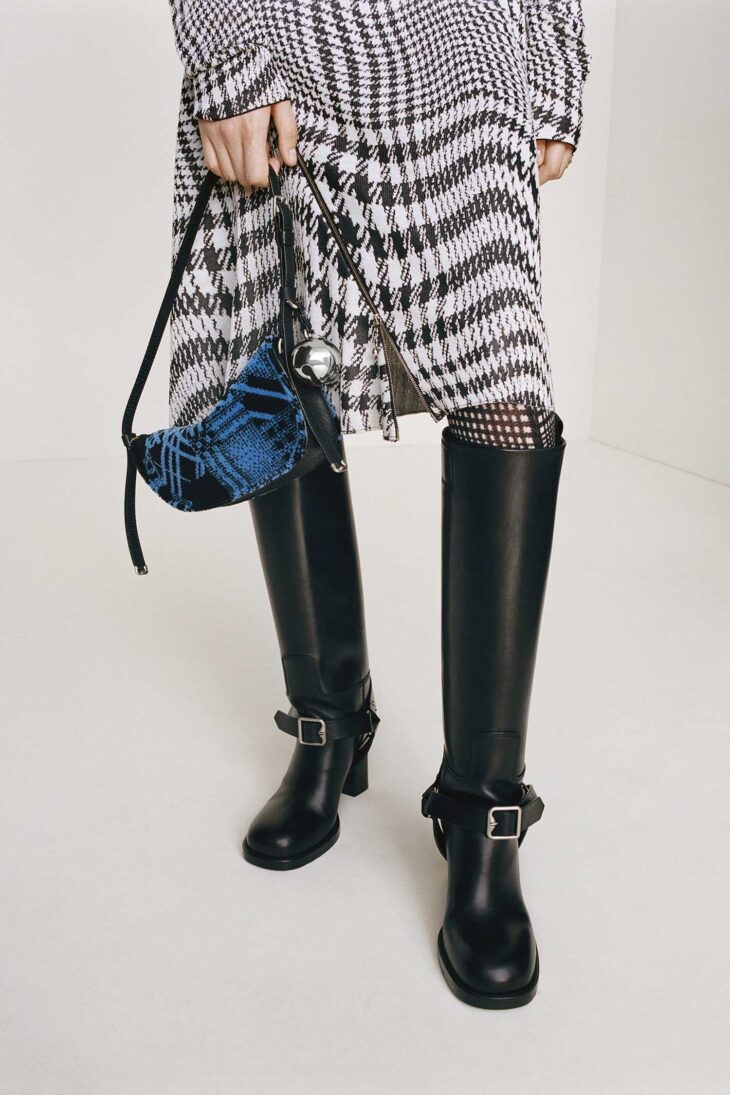 In terms of footwear, the Equestrian Stirrup tall boots have a higher heel, while Stride boots fit closely to the leg in stretch patent leather. Shiny leather Baby pumps feature rounded toes, and Peep sandals and boots have zip details. Sweep pumps have a knit trim, Ruff sandals have metallic-knit uppers, and Trainers and Creeper shoes have check-knit uppers. Bubble sneakers are fully molded in rubber, and Barbed loafers feature barbed wire hardware. Marsh boots in transparent rubber have visible check linings.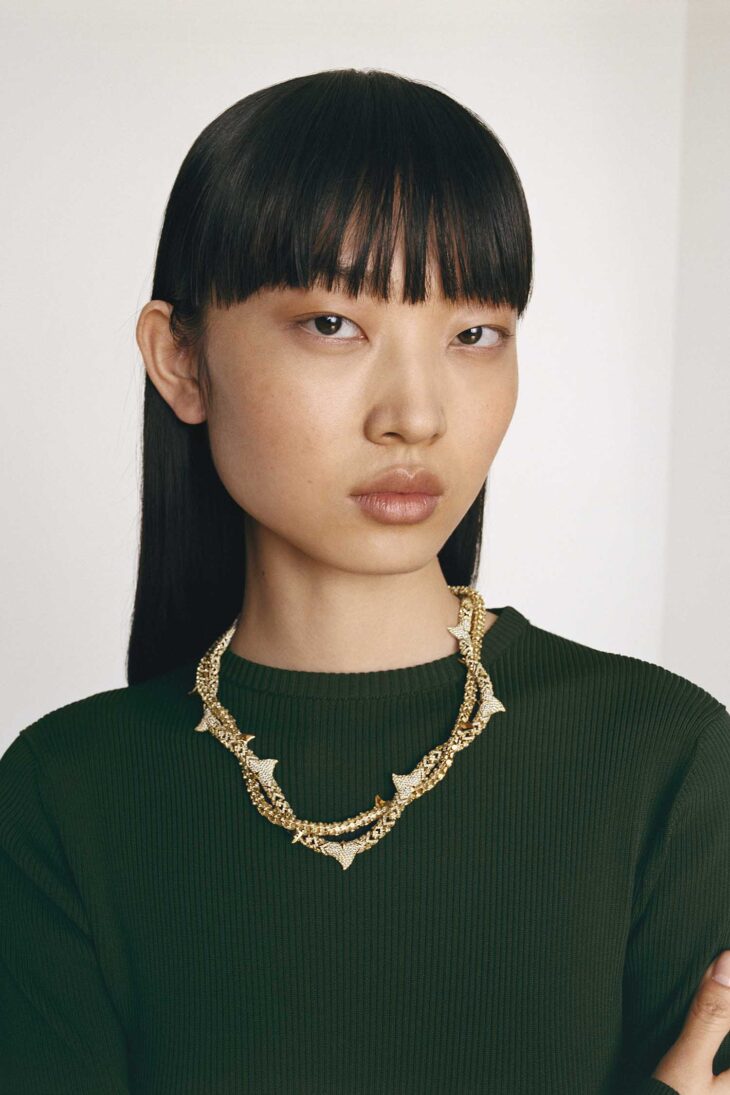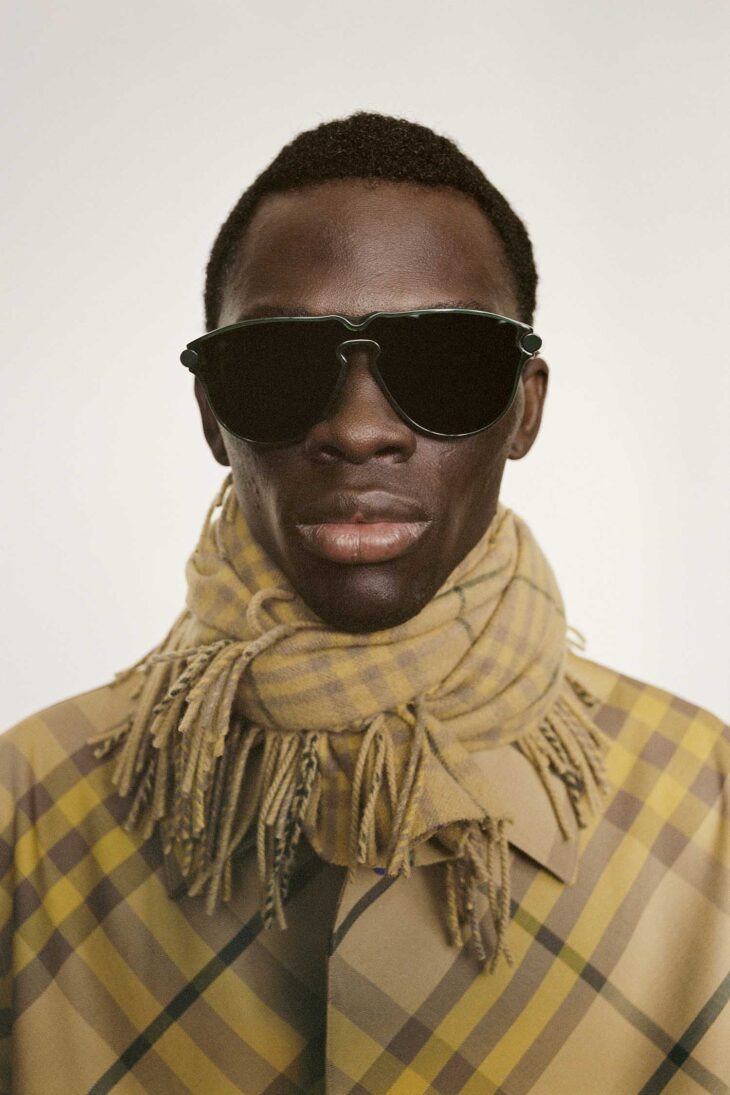 The jewelry collection includes pieces named Armour, Shield, Hollow, Spear, and Rose, while Pilot sunglasses offer an updated take on the classic aviator style.
The overall look is coordinated, with colors, prints, jacquards, and knits worn from head to toe, including hoods, bucket hats, tights, bags, and shoes. Water is a pivotal theme, represented by swan and duck prints, as well as the concept of water resistance and proofing.
Discover every look from Burberry's Spring 2024 Collection in the gallery below: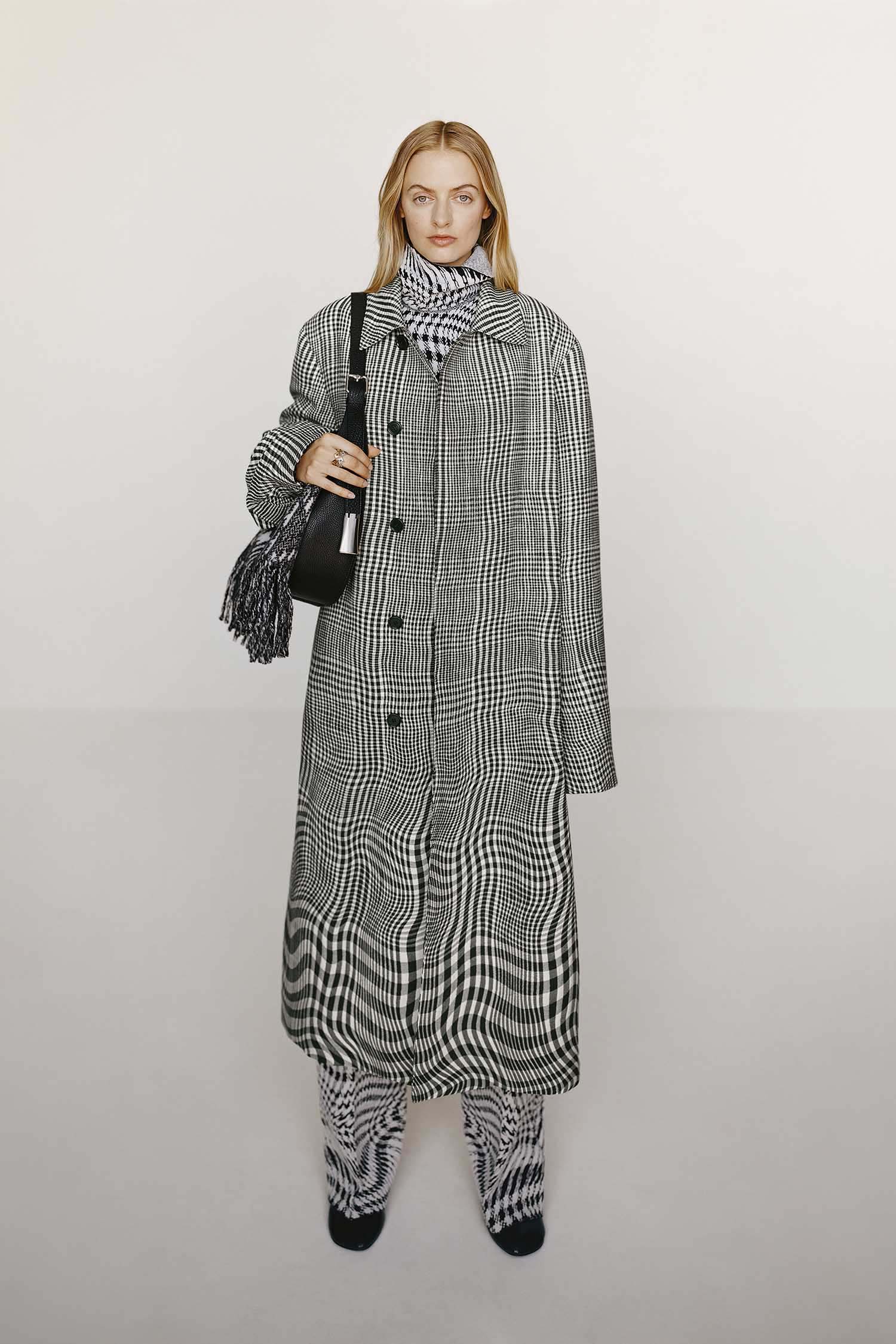 Discover the details from the collection in the gallery below: