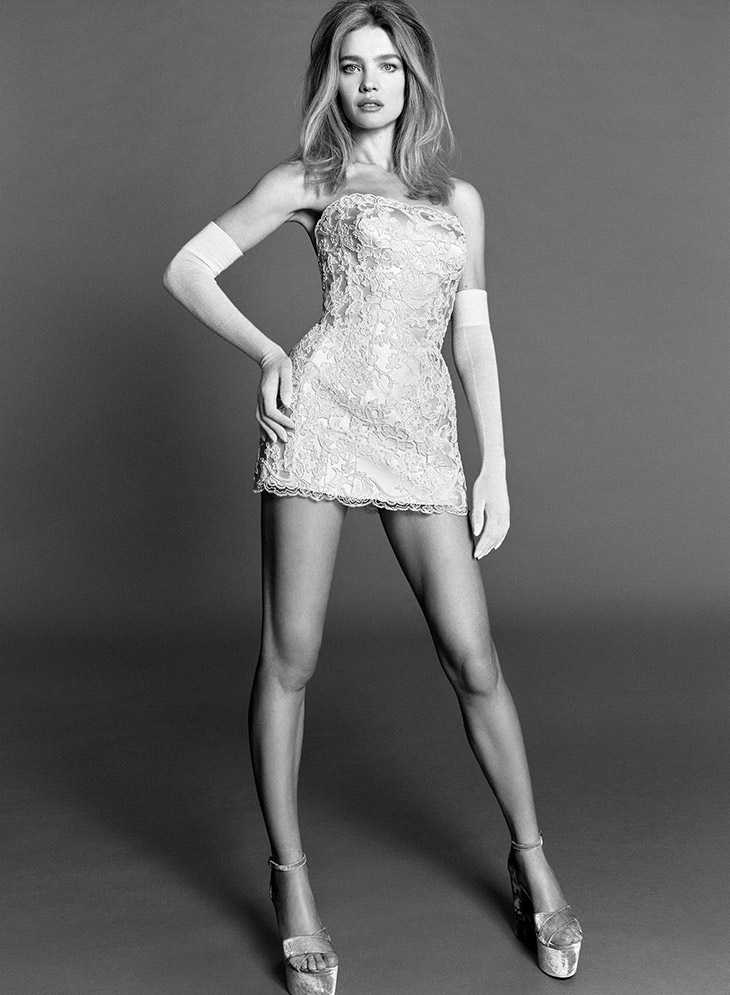 Fashion house ERMANNO SCERVINO unveiled its Fall Winter 2023 campaign featuring supermodel Natalia Vodianova captured by photography duo Luigi & Iango at 2b Management. In charge of styling was Sissy Vian, with beauty from hair stylist Stephen Beaver, and makeup artist Lloyd Simmonds. Russian supermodel has been entrusted with the theme of multifaceted femininity, including both strength and delicacy, assertion and letting go, for the campaign. The collection includes sculpted tiny dresses inspired by Ava Gardner's signature bullet bra. Vodianova wears the gowns with either statuesque posture or fluid flexibility of movement. The supermodel smoothly transitions from one appearance to the next, whether she is static and self-aware beneath a mannish coat or lively and flexible within a translucent dress embellished with crystals. She wraps herself in an Aran jumper, revealing an embroidered bra below. The campaign expertly captures the essence of motion, pause, and movement, creating images that tell a story. It blurs the lines between reality and fantasy, producing powerful pictures that highlight femininity's strength and delicacy.
For the fall Winter 2023 season, Ermanno Scervino sculpts clothing with the goal of creating the ideal silhouette, drawing inspiration from Ava Gardner's famous images. The collection mirrors the Hollywood star's transformational impact on the perception of the feminine body. Gardner exuded freedom, confidence, and self-assurance, proudly embracing her femininity while simultaneously exploring her masculine side without sacrificing her individuality or beauty. The collection revolves around undergarments, which capture a delicate sensuality and closeness. The legendary pointed bra, previously linked with Ava Gardner, takes center stage. Strapless minidresses made of double wool, lace, and satin showcase the fashion house's craftsmanship and expertise. The detailed construction of soft, comfortable, and flattering inner bras that augment and contour the female form is revealed in the designs. Sensuality emerges through the harmonic juxtaposition of opposites, such as masculinity and femininity, delicacy and strength. The collection's color palette, which includes charcoal grey, ivory white, and blush alongside vibrant shades of lime green, ruby red, and denim blue, adds to this appealing dissonance.
Topcoats with a strong structure layer over short lacy frocks, while cropped belted leather trenches are matched with feminine short shorts in the same material. Oversized hooded parkas are layered over gorgeous slipdresses in cinematic dove-grey colours and lined with fluffy and cocooning woven wool. For the season, shearling jackets and coats are embellished with dense woolen thread embroidery, while characteristic lace cascades over transparent designs that balance appeal and immaculacy. Loose satin shirts are worn unbuttoned over flowing sequined slacks, with the contrast of ruby red and lime green lending a unique touch. Overprinting gives velvet suits a worn-in look, giving a faded, color-changing appearance. Beauty, elegance, and glamour serve as the core characteristics of Ermanno Scervino's fashion lexicon throughout the collection, which is deeply rooted in a profound appreciation and love for women.