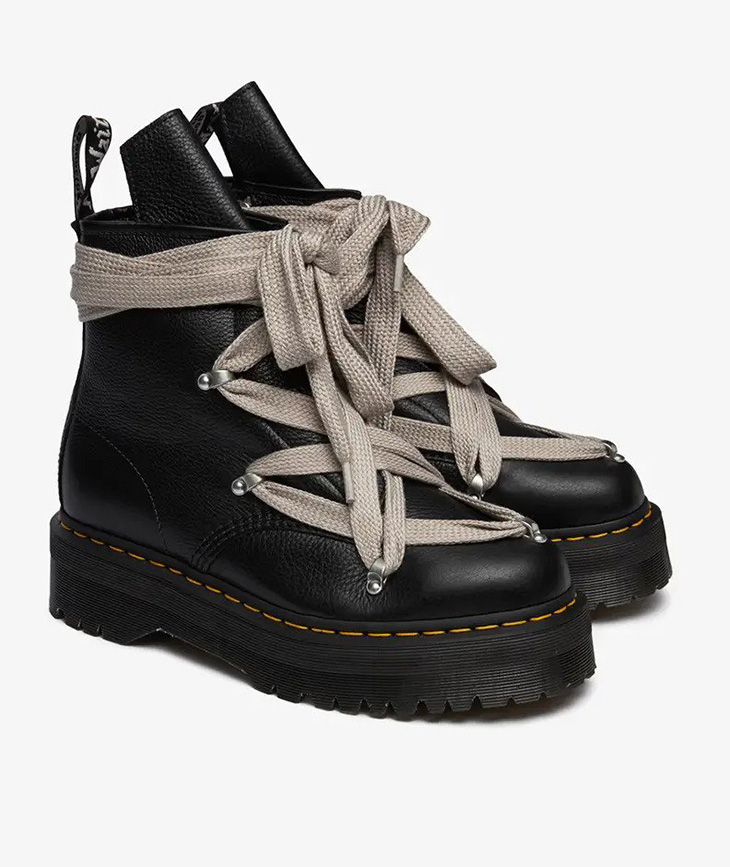 Rick Owens is one of the most prolific designers working in the fashion industry today. From imitating designer labels, to meeting Michèle Lamy, and later on persuading Anna Wintour, the chief-in-editor of Vogue, to notice his work, the path to success for Rick was a long one.
Owens' brand was well received in its formative years, and he achieved his first significant level of success in the year 2002, when he debuted a menswear collection for the first time in New York. Owens was catapulted into the limelight as a result of the collection, which included dark and edgy designs with a minimalist touch. The collection was praised for its innovative approach to menswear, and it attracted a lot of attention. This defining event solidified his standing as a pioneering thinker within the sector.
Today Rick Owens shoes and sneakers are some of the designer's most sought after pieces. With his multiple high-street sportswear brand collaboration Owens is continuously feeding into obsession of legions of sneaker fans. The expansion of the footwear design within Owens' label has allowed a continuous growth of the brand. DSCENE editors are discussing his best collaboration lines and more:
RICK OWENS and COLLABORATIONS
Collaborations have been extremely important to the development of the Rick Owens as an eponymous brand over the course of its history. Owens has worked with a wide variety of designers, artists, and musicians, which has further pushed the limits of what is considered to be acceptable in the fashion industry. Owens has always been interested in broadening his creative boundaries and challenging the norms of the fashion business. He has collaborated with Converse on the reinterpretation of some of their most iconic sneaker  styles.
The work that Owens has done in the field of footwear, particularly sneakers and shoes, has been the focus of his collaborations. His collaboration with Adidas began in 2013 and continued until 2017, and during that time, the two companies produced footwear designs that combined his dark style with Adidas's technological prowess. Owens' one-of-a-kind design language, combined with Adidas' unparalleled know-how in the field of athletic footwear, resulting in the production of works that blurred the barriers between high fashion and athletic wear. Rick Owens was able to further develop his footwear and shoe lines thanks to the success of his partnership with Adidas, which also opened the door to other opportunities for collaborative projects.
Today, Rick Owens as a brand is one of the most recognizable names in the fashion industry. However, from a business standpoint what drives the brand forward are also the incredibly successful sneakers lines. The brand is continuously working on prestige collaborations, Rick Owens worked with Adidas, Champion, Veja, Birkenstock, Dr. Martens and most notably Converse. For Rick, fashion is art and his collaborations draw from the same. "I wanted to be an artist at the beginning, but then I didn't think I had it in me. I didn't think I had the intellectual stamina for it, so I decided to be a fashion designer, because that was frivolous and easy," shared Owens famously with New York Times, profiled back in 2017 for the newspaper.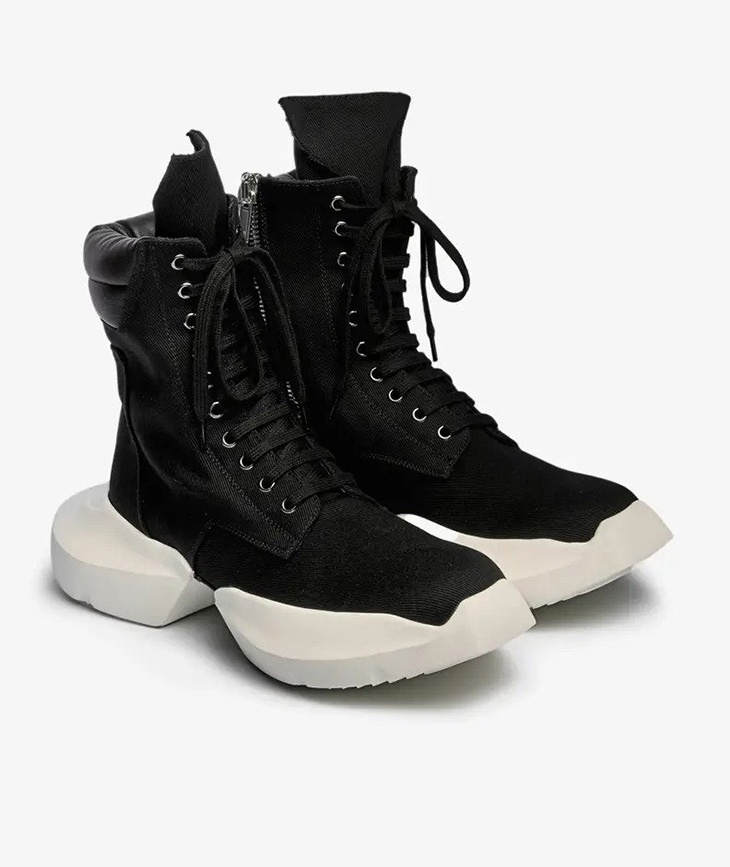 RICK OWENS DRKSHDW
In 2005, Rick Owens introduced his diffusion line known as DRKSHDW to the market. DRKSHDW is an offshoot of Rick Owens' primary label that is intended to be more approachable and laid-back, and foremost affordable. While Rick Owens is known for his experimental and high-fashion designs, DRKSHDW is known for its laid-back and streetwear-inspired aesthetic.
Rick Owens' distinctive dark and minimalist sentiment is carried over into DRKSHDW. This can be seen in the use of components like as elongated shapes, asymmetric cuts, and a color palette that is predominately monochromatic. The collection frequently includes faded detailing, large proportions, and a focus on the use of high-quality materials, such as cotton and denim. Additionally, the brand places an emphasis on the use of high-quality textiles.
For the DRKSHDW brand, Rick Owens and his team's primary goal is to design pieces that are wearable, everyday garments but still have a modern edge. This particular brand provides a wide selection of ready-to-wear items of clothes, such as t-shirts, sweatshirts, jackets, jeans, and footwear. The designs are well-known for their urban appeal because they combine comfort and utility with the distinctive appearance that Rick Owens is recognized for.
Overall, DRKSHDW acts as a more approachable entrance point to the design philosophy of Rick Owens, appealing to a larger audience while yet keeping the distinctive style and quality of the brand.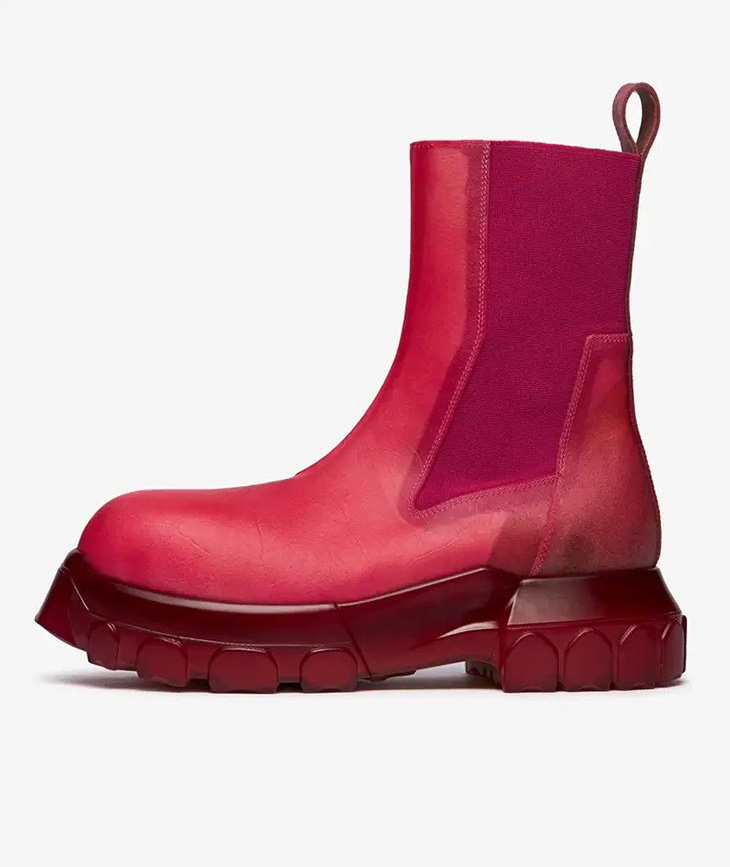 RICK OWENS SHOES, SNEAKERS and DRKSHDW
The forward-thinking fashion designer Rick Owens broadened his creative horizons by introducing the DRKSHDW footwear line. This collection, which highlights Owens' one-of-a-kind design language and minimalist style, has earned a great amount of attention and recognition due to its innovative design.
The year 2005 marks the beginning of Owens' foray into the realm of footwear, which is when the DRKSHDW sneaker line was first conceived of and developed. Owens transferred his design office and manufacturing to Italy, where he worked closely with leather tanneries and local shoe manufacturers in order to develop shoes that matched his dark and edgy style. Today Rick lives and works and lives close to Venice, where his design studio and workspace are located. His goal was to make footwear that reflected the look of his clothing line. The shoes that emerged from this collaboration displayed Owens' unique architectural inspirations in a variety of ways, including slick lines, avant-garde forms, and a color palette that was monochromatic.
The DRKSHDW shoes line soon became famous, connecting with fashion fans who desired an unorthodox and avant-garde footwear alternative. This led to the collection's rapid rise to prominence. Owens' shoes quickly gained notoriety for their innovative combination of high-fashion features with streetwear sensibility. They provided a novel alternative to conventional sports footwear and were extremely popular as a result.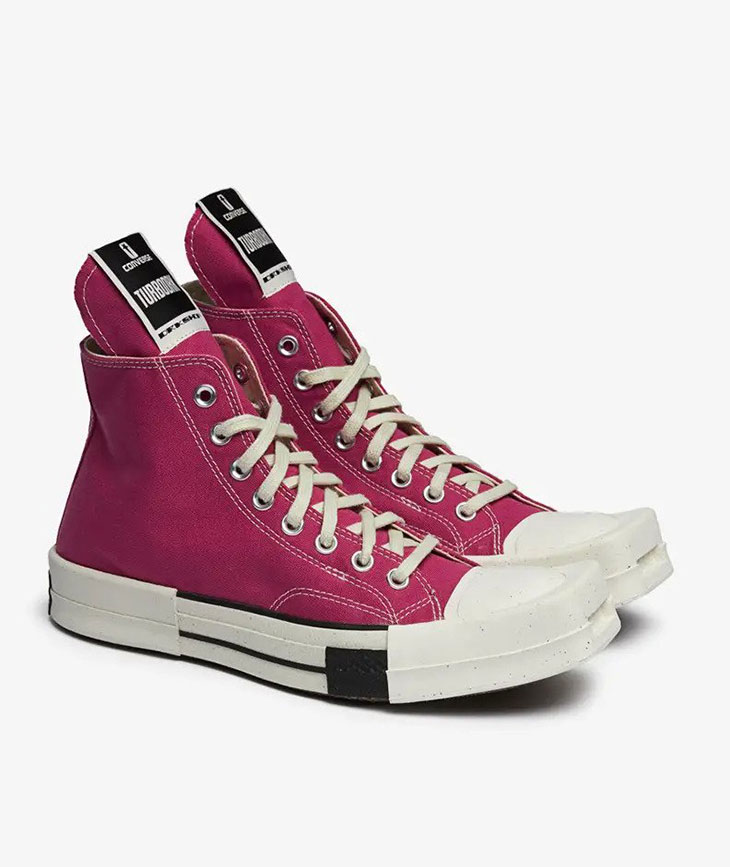 DRKSHDW x CONVERSE
Owens's work with Converse was a major turning point in his career at the time of their cooperation. In 2019, Owens collaborated with the legendary American shoe company Converse to design a limited-edition capsule collection that reinterpreted the brand's famous Chuck Taylor All Star and Chuck 70 designs. The collaboration highlighted a number of Owens' characteristic design aspects, including oversized proportions, enlarged toe caps, and unconventional material combinations.
The partnership between Converse and Rick Owens reimagined some of the brand's most iconic shoe models by imbuing them with Owens' signature gloomy and cutting-edge aesthetic sensibilities. The collection was characterized by its use of monochrome color palettes, premium materials such as leather and canvas, and unique design features. The end result was a pair of sneakers that combined the classic good looks of Converse with the forward-thinking design philosophy of Owens.
The cooperation between Owens and Converse not only won over his already-established fan following, but it also brought Owens' singular design vocabulary to the attention of a more general public. The ongoing projects between the two companies serve as an excellent example of the potential of collaboration. It combined the tradition of Converse with the avant-garde sensibility of Owens to produce a collection that blurred the barriers between high fashion and streetwear.
Rick Owens is able to push the frontiers of design and captivate the imagination of fashion fans as seen by the success of the DRKSHDW, and Rick Owens shoes line and collaborations. Owens continues to reinvent the landscape of the sneaker industry and make a lasting impact on the fashion industry as he does so by merging the distinct style he has developed over the years with the experience and history of well-known footwear manufacturers.