As part of its 80th-anniversary celebration, IKEA is reviving select iconic products in the Nytillverkad collection, paying homage to the vibrant and daring vibe of the late '70s and early '80s. This second drop of the collection will be available globally at IKEA stores starting October 2023.
The Nytillverkad collection beautifully bridges the past's iconic designs with the aspirations and needs of the present and future. "At IKEA, we're proud of our heritage and want to celebrate it by bringing back some of our most iconic designs while integrating the latest technology and materials. The Nytillverkad collection blends classic designs with modern standards, and it is all about simplicity, functionality, bold expression, and playfulness – just like IKEA!" says Johan Ejdemo, Global Design Manager, IKEA of Sweden.
Embracing the vibrant essence of the '70s and '80s, the October release of the Nytillverkad collection showcases vivid colors, inventive designs, and bold shapes that defined these decades.
This launch encourages self-expression through its eye-catching sculptural designs and vibrant fabrics, making it the perfect choice for anyone looking to make a statement or add touches of vibrancy to their homes. "I wanted the products to stand on their own, like sculptures that stand out in any room," explains Karin Gustavsson, Range Identity Leader, IKEA of Sweden, and the creative mind behind the Nytillverkad collection.
The upcoming release features patterns and products from esteemed designers such as Niels Gammelgaard, Bent Gantzel-Boysen, Sven Fristedt, and Inez Svensson. These designs have been updated to meet modern material and production standards while preserving the colorful and radical atmosphere that defined the late '70s and early '80s.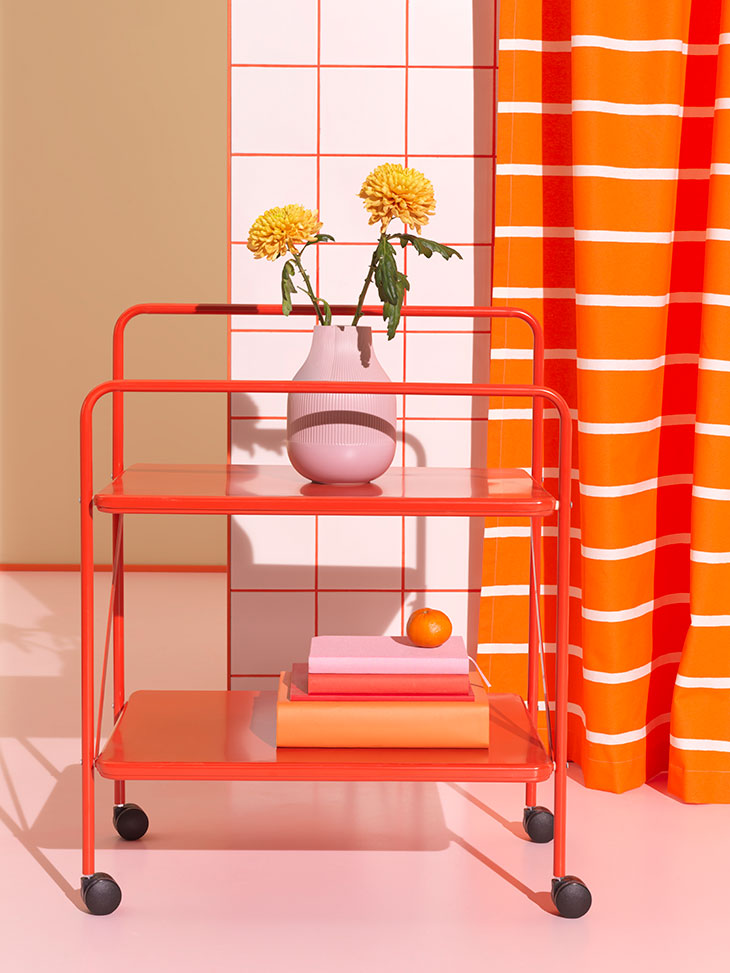 Some standout pieces in this second drop include the SKÅLBODA armchair and the JÄRLÅSA side table by Niels Gammelgaard. The JÄRLÅSA side table, originally introduced in the IKEA catalog in 1984 as HOFF, now comes with a reinforced foldable construction. The SKÅLBODA armchair draws inspiration from the JÄRPEN armchair, designed by Gammelgaard for IKEA in the early '80s. With innovative design features, such as larger holes to reduce material, the JÄRPEN chair offered great comfort and style at an affordable price, making it popular among teenagers. "If the design is good and the next generation still finds it trendy, then we have succeeded. I think we have succeeded with this chair. And I'm very proud, forty years later," expresses Niels Gammelgaard, designer.
Additionally, the Nytillverkad collection reintroduces SVEDJENÄVA, a striking paw-like pattern by Sven Fristedt, and the iconic NICKFIBBLA pattern by Inez Svensson, offering cushion covers and pre-cut fabric in vibrant orange and white stripes.