YSL Beauty announced Elvis star Austin Butler as the the brand's global ambassador and the face of their innovative new fragrance MYSLF, which embodies a contemporary take on masculinity. Fashion photographer Gray Sorrenti captured the YSL Beauty MYSLF fragrance campaign.
I was honored to be asked to join the YSL Beauty family. Over the last few years, I've spoken with people who knew M. Saint Laurent. He broke through labels. He was a rebel, and I love that about him. I feel privileged to be a part of the heritage he set in motion. – Austin Butler
Austin Butler, a renowned American actor and standout among his contemporaries, has collaborated with renowned directors such as Quentin Tarantino, Baz Luhrmann, Jim Jarmusch, and recently with  Jeff Nichols, and Denis Villeneuve for the upcoming films Bikeriders and Dune: Part Two, respectively. Elvis, for which he was nominated for an Academy Award, exemplified his exceptional ability to portray multidimensional and intriguing characters, both as individuals and as symbols. After three years of hard work, he has been nominated for an Academy Award and awarded both the Golden Globe and the BAFTA for Best Actor.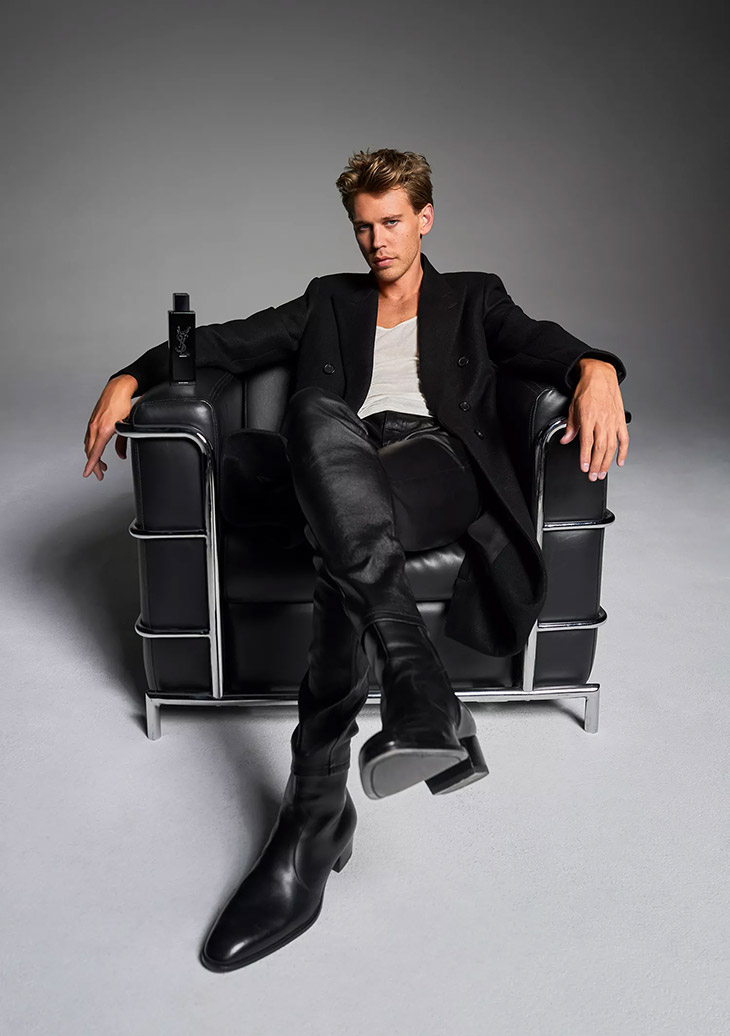 In seeking out a figure to embody YSL Beauty's vision of the new masculinity, there could have been no better choice for us than Austin Butler. Both as an artist and as a human being, he embodies the values expressed by our brand through MYSLF, a modern representation of what it means to be a man. Embracing his many facets. Owning up to his individuality, generously, unapologetically. This is why we are proud to welcome Austin Butler as the newest YSL Beauty's fragrance Ambassador. – Stephan Bezy, International General Manager, YSL Beauty
Austin exemplifies numerous contradictory personality traits. He is sensitive and genuine, self-assured and approachable, and effortless despite his complexity. There is no one more authentically suited to represent MYSLF fragrance, nor more convincing as the spokesperson for YSL Beauty's expression of contemporary masculinity.
MYSLF is a refillable men's scent that combines the effervescence of bergamot and the richness of orange blossom absolute with warm timber tones like as patchouli and the musky element Ambrofix™ to create a long-lasting aroma. This woody floral aroma blends with your skin to create a one-of-a-kind personal fragrance.
The fragrance is a contemporary rendition of the classic woody scent with floral overtones. It's a powerful statement of modern masculinity that allows you to accept your true self without reservations or apologies. To be tall and proud.
The fragrance's bottle design is both opulent and timeless, resembling a YSL silhouette. It's a hallmark of elegance, with clean lines, a stylish black lacquer finish, and the famed Yves Saint Laurent Cassandre insignia carved into the glass.
YSL Beauty prioritizes environmental responsibility. The glass container contains recycled glass, and the packaging is certified FSCTM MIX. All formats of MYSLF are refillable by using the 5 oz./150 mL refill bottle, allowing for less packaging material.