Luxury house FERRAGAMO unveiled its Fall Winter 2023 campaign titled New Renaissance starring top models Vittoria Ceretti, Anok Yai, Lina Zhang, Jessica Stam, Mona Tougaard, Paul Hameline, Iván de Pineda, Malick Bodian, and Taemin Park, joined by creative consultant and strategist Zainab Jama, singer and songwriter Kelela, sound artist Yasmina Dexter, and photographer Tyler Mitchell. In charge of photography and video direction was Tyler Mitchell, with creative direction from Ferdinando Verderi.
Ferragamo ushers in a new era, a new approach that honors Florence and its rich tradition of craftsmanship, elegance, and innovation. The brand's tale goes beyond what its creator called "the story of the small, barefoot, unlettered boy who became a famous shoemaker." It represents a story of perpetual rebirth and progress. Salvatore Ferragamo, born as the 11th child of 14 in the village of Bonito, and who had been manufacturing exquisite footwear since the age of 12, experienced a rebirth in the United States, emerging as a young Italian artisan who intuitively grasped Hollywood's needs. This was Ferragamo's first Renaissance.
This metamorphosis was made possible by a daring mix of Italian heritage and adventurous talent. His store at 6683 Hollywood Boulevard was a true Italian Renaissance masterpiece, with walls covered in batik simulating 14th-century tapestries, elaborately hand-carved sofas, and luxurious curtains complementing classical columns. Despite his roots in the Avellino region near Naples, Salvatore Ferragamo, being an Italian, was drawn to Florence, the "Jewel of the Renaissance." He was imbued with the spirit of the time and place, understanding its impact and resonance. When he later chose to return to Italy, there was only one place he could go: Florence. A new age of Ferragamo's Renaissance has begun.
The Italian Renaissance was a period marked by tremendous creativity and novel ideas. It emphasized craftsmanship and innovation by fusing art with artisan excellence. These characteristics were prominently displayed in Palazzo Spini Feroni, the house Salvatore left to Ferragamo in Florence in 1927. This sumptuous mansion, which now serves as Ferragamo's headquarters, exemplified the Florentine bottega – a workshop or studio of great painters and craftsmen – dating back to the 13th century. This area promoted dialogue and the sharing of ideas and knowledge, enabling Renaissance thinkers, intellectuals, and artists to turn local philosophy and skills into a global phenomenon.
Throughout the journey – after the Great Depression, after World War II – creativity triumphed, and Salvatore, now known as the "shoemaker to the stars," charmed the world in the same way that his Renaissance forefathers had.
Throughout this time, the brand's founder's imagination was nourished and his Florence-inspired collections were presented by a creative community. This group included not only Salvatore's fellow artists, but also his illustrious clients, which included Audrey Hepburn, Greta Garbo, Sophia Loren, Lauren Bacall, Marilyn Monroe, and Eva Perón (Madonna would later wear Ferragamo while portraying Perón in Evita).
The Uffizi Gallery was at the heart of the Florentine experience that inspired Ferragamo's inventiveness. The Uffizi, designed by Giorgio Vasari in 1569 as offices for Cosimo I de' Medici, Grand Duke of Tuscany, was one of the first modern museums, opening to the public in 1769 and becoming a full-fledged museum just under a century later. Throughout Ferragamo's history in Florence, the Uffizi served as a beacon, promoting the importance of new ideas, art, beauty, and creativity.
Today, Ferragamo is undertaking a modern Renaissance, collaborating with the Uffizi to present Creative Director Maximilian Davis' Autumn Winter 2023 collection. Davis mixes his sensual, elegant, and sophisticated ready-to-wear, shoes, and bags into a tapestry of classic artworks from the 15th and 16th centuries, creating an enthralling dialogue between the past and the present. This contrast emphasizes both the spirit of the Renaissance and the opulence of the twenty-first century.
Similarly to how the brand's creator Salvatore cooperated with an artistic community, Davis has assembled a group of creatives for a series of photos. The The Ferragamo Fall Winter 2023 campaign depicts a developing society, with a cast of characters portraying models, musicians, and producers, giving life into an art-infused set through a modern viewpoint.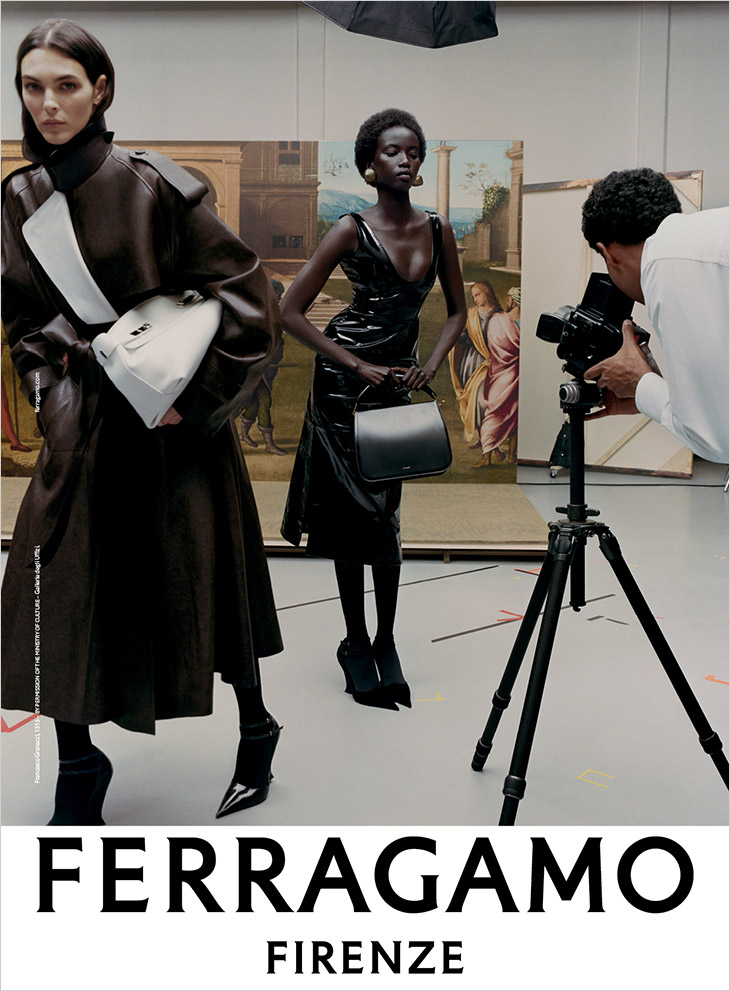 The Renaissance is hardwired into Florence, and Florence is hardwired into Ferragamo. At this time of a new beginning at the house, it made perfect sense to reclaim the cradle of the Renaissance as our spiritual home, and to harness the deep, artistic spirit of this city to showcase the new collection. – Maximilian Davis
Parallel to these photographs, Tyler Mitchell catches the interconnection of Maximilian Davis' group of models, even stepping out from behind the camera to engage in the tableau himself. These visual views into a contemporary artist's studio are evocative of photos from Tintoretto's bottega, Gustav Courbet's iconic "The Artist's Studio," and Richard Avedon's representation of Andy Warhol and The Factory. Mitchell's depiction of the new Ferragamo community emphasizes the importance of involvement and collaboration in leading to self-expression.
Ferragamo is shaping its future through the skilled hands of its artisans, the study and evolution of its heritage, the integration of fresh creative talents, and the establishment of its community, much like the Renaissance masters of craftsmanship and art from Florence who came to be revered worldwide for their creative accomplishments.
Artworks featured in the FERRAGAMO Fall Winter 2023 campaign: Alesso Baldovinetti, Annunciation (1457), Giovanni Bellini, Holy Allegory (1490-1500), Paolo Veronese, Annunciation (1570-75), Francesco Granacci, Joseph Going to Prison (1515), Giorgio Vasari, Portrait of Alessandro de Medici (1534), Botticelli, Portrait of a Man with a Medal of Cosimo the Elder (1475), Botticelli, The Annunciation of San Martino alla Scala (1481), Piero della Francesca, Diptych of Federico da Montefeltro and Battista Sforza (1467-1472)