Officine Générale has unveiled its Fall-Winter 23 campaign captured in Paris by Laurence Ellis. In the bylanes of Paris, beside the untouched workshop near rue Campagne-Première, a narrative unfolds. A couple, potentially artists, exude an effortless charm.
Their demeanor whispers tales of Parisian romance, while their surroundings hint at a city, familiar yet intriguingly distant. It's Paris, ever-present, yet taking a step back to let the story shine.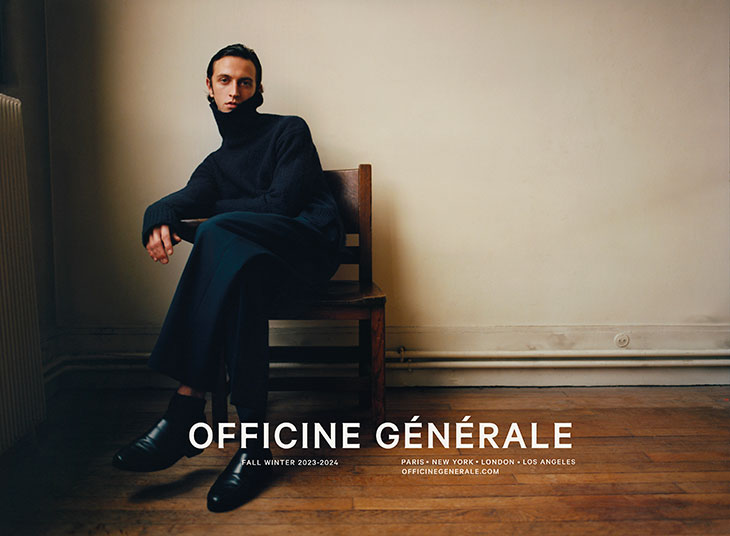 Nina Mahéo directed the imagery, while Laurence Ellis, the English photographer, beautifully captured it on film. The Parisian aura was styled by Giovanni Dario Laudicina, an Italian stylist based in Paris, with models Maggie Maurer and Niels Trispel breathing life into the garments. The finishing touches were provided by hair stylist Ed Moelands and makeup artist Janeen Witherspoon, crafting a look that is unmistakably Officine Générale.
Nina Mahéo, the Image Director, says, "Following our Monochromania Fall Winter 2023 show, I wanted to capture Pierre's "obsession" with his two favorite colors, Navy and Grey. Repositioning tailoring in an urban environment was a natural choice, and so was Paris, our beloved city."
In Officine Générale's latest Fall-Winter 2023-2024 collection, the fashion world's relentless pursuit of the new is gracefully questioned. The designer Pierre Maheo, rather than constantly seeking the uncharted, celebrates continuity with passion. A timeworn peacoat, a signature sweater style maintained for over a decade, and the classic touch of white jeans worn since adolescence all underscore the collection's theme.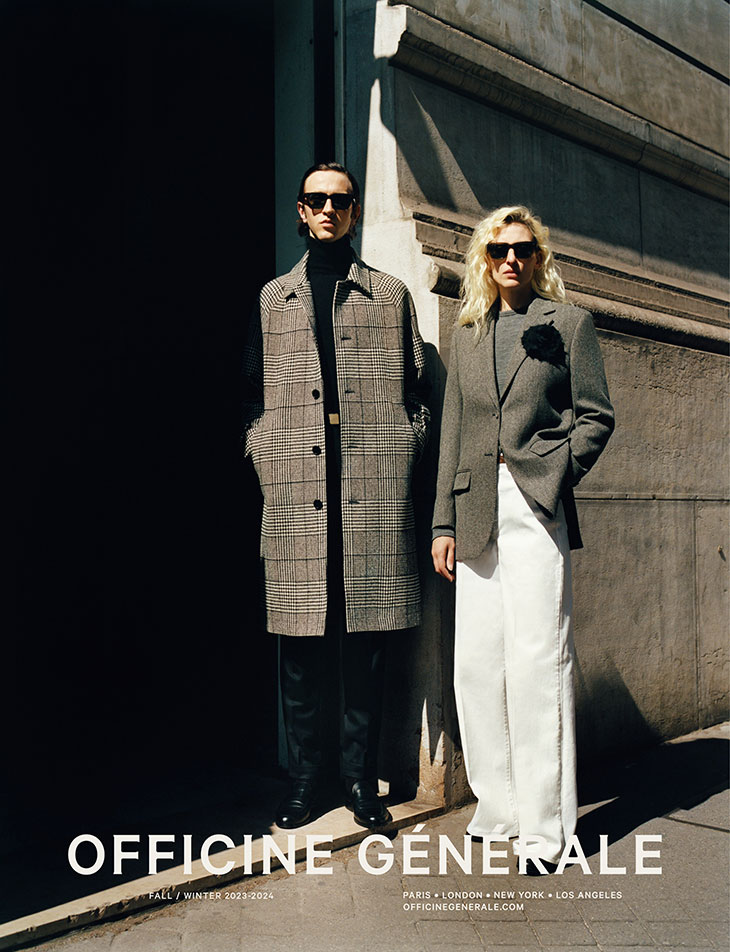 This focus on enduring style over fleeting trends culminated in "Monochro-Mania," a masterclass in minimalism with two signature colors, exemplifying the designer's commitment to both consistency and elegance. Drawing from a vocabulary refined since 2012, Officine Générale boldly champions a fashion narrative that seeks reinvention without abandonment