In a world craving balance, the Brunello Cucinelli Spring Summer 2024 Collection, aptly named "Natural Aequilibrium," serves as a testament to the harmonization of opposing elements. Straddling the line between minimalistic and ornate, additive and subtractive, aesthetic and functional, the collection embodies a new kind of contemporary luxury that is as dynamic as it is balanced.
SPRING SUMMER 2024 COLLECTIONS
Two design philosophies coexist within the collection – pure, simple garments stand alongside pieces that are special, unique, and irreplaceable. The unifying force among these contrasting styles is the pursuit of timeless fashion, which lies at the heart of Brunello Cucinelli's design ethos.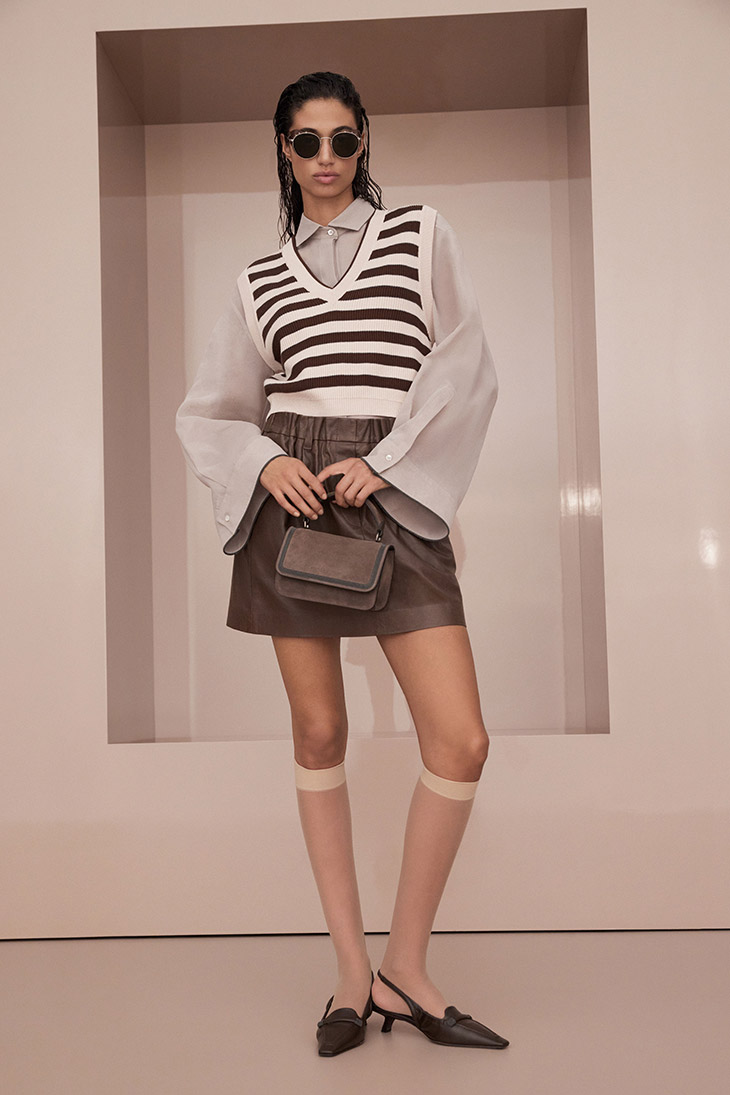 Quality craftsmanship serves as a cornerstone, achieving an effortless elegance through meticulous construction. Each outfit, each piece, reflects a renewed aspiration for authentic, restrained dressing – satisfying the modern urge for cleanliness and order.
The color scheme evokes a sense of ethereal tranquility, with neutral tones drawing inspiration from natural elements like sea salt. Accents of silver and oyster laminates add a touch of brilliance to a subdued palette of milky whites, sandy hues, and shades of gray and brown. Whites are pivotal, spanning from brilliant to creamy, while earthy colors ground the collection.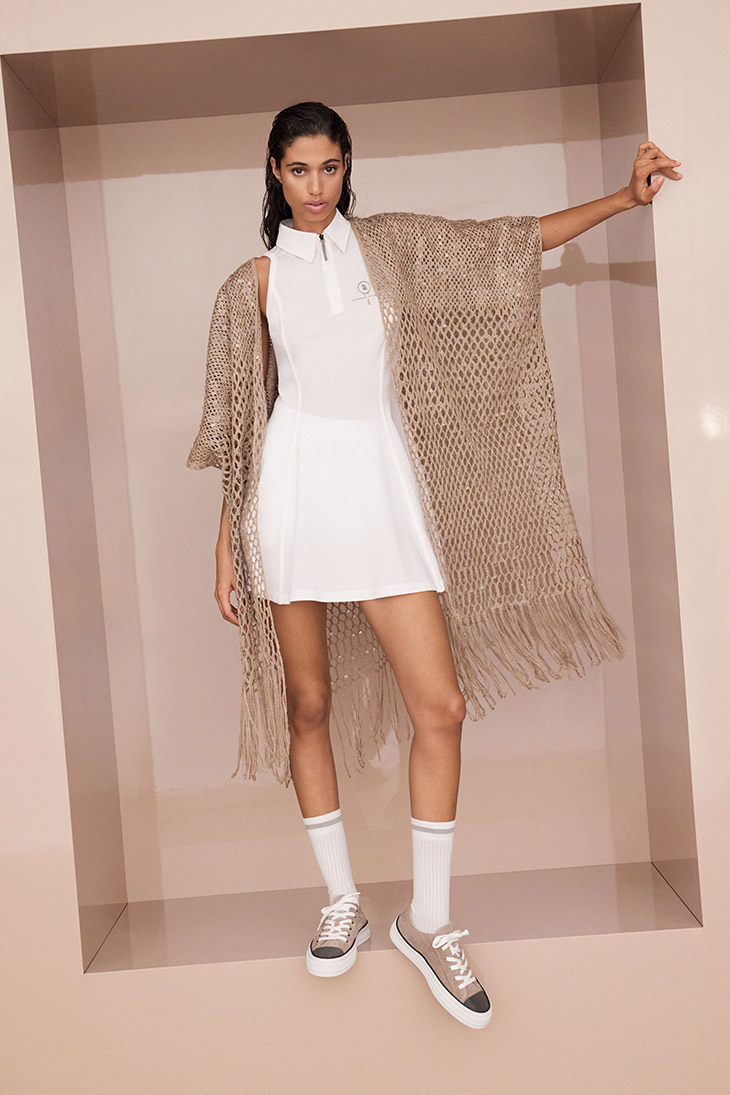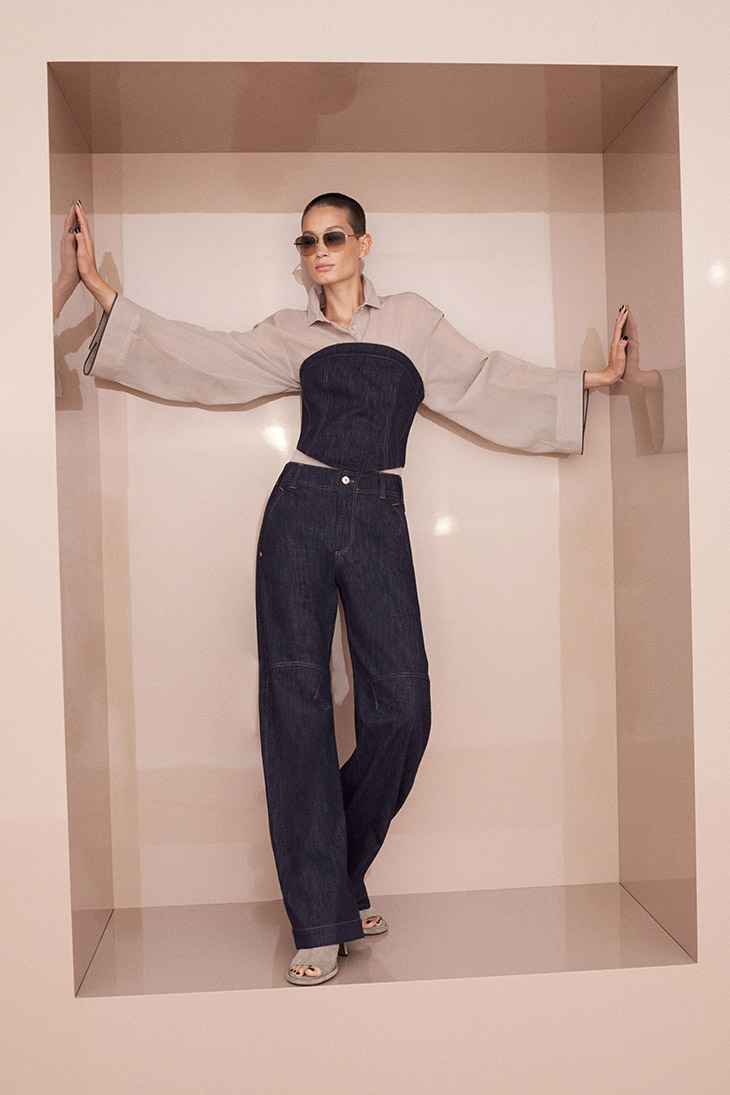 Far from casual, the fabrics employed are rich in character – ranging from smooth and compact to airy and textured. Linen and denim, often reserved for casual attire, are elevated through intricate textural treatments. The designs transcend mere decoration to become vital compositional elements, imbuing each garment with a three-dimensional quality.
The Brunello Cucinelli Spring Summer 2024 collection plays with lines and proportions to redefine traditional silhouettes. Broad shoulders become the new focal points, oversized blazers evoke an unconventional femininity, and waists are highlighted or cinched for effect. This restructuring is further emphasized through clever combinations – long paired with short, loose with fitted, creating a balanced yet compelling aesthetic.
Knitwear becomes a playground for innovation, experimenting with stitch variations and yarn blends to create unique surfaces and volumes. From seemingly simple mesh motifs to intricate embroideries, the garments are enriched through a couture approach using natural fibers and techno raffia.
Trousers come in relaxed forms with masculine details or are cinched at the waist for a more defined silhouette. Column skirts lean towards contemporary midi and maxi lengths, while iconic denim is elevated beyond its streetwear origins to serve as a versatile fabric suitable for both day and night.
Completing the philosophy of balance, the accessories are designed to accentuate form over embellishment. This focus on proportion and craftsmanship exudes an authentic sense of luxury, making the collection a balanced symphony of contrasting elements united in harmonious equilibrium.