Fashion house Chloé unveiled its Spring Summer 2024 Collection, that emphases consciousness as a critical ingredient for climate success. Gabriela Hearst, the Creative Director of Chloé, explores the power of individual actions as a form of environmental advocacy, wrapping up her anthology at the Maison with a celebration of her transformational time at Chloé. The collection, showcased on Thursday, September 28th, reflects the convergence of head and heart, underscoring the importance of purposeful responses over habitual reactions in addressing climate issues.
SPRING SUMMER 2024 COLLECTIONS
The Chloé Spring Summer 2024 collection is inspired by the symbolism of flowers, which represent consciousness, spiritual enlightenment, and purity. It resonates with the theme of harmony, featuring botanical-inspired silhouettes and a focused color palette, representing clarity, with bursts of marigold, coral, and silver symbolizing enlightenment. The collection explores the beauty of the sacred geometry of flowers, translating it into exquisite designs and intricate details. A white strapless ottoman knit dress unravels into strands of sequins and wool fringing resembling roots; a sleeveless turtleneck dress is adorned with thousands of shimmering bugle beads reminiscent of stamens, further celebrating the beauty and complexity of floral structures.
The collection's refined and elegant designs emphasize the union of structure and fluidity, blending various textures and materials to create a harmonious and balanced look. The pieces echo the themes of consciousness and the importance of individual and collective action in fostering positive environmental change. Leather and ceramic flower embellishments, architectural ruffles, heart-shaped tops, and abstract patterns that simulate the disc florets of a giant daisy are all elements that adorn the garments, showcasing Chloé's commitment to craftsmanship and innovative design. The collection's bags and footwear further complement the overall theme, with designs inspired by horticulture, and featuring details reminiscent of flowers and plants.
In tribute to the Maison's founder Gaby Aghion, Gabriela Hearst has also designed a reinterpretation of Gaby's favorite Chloé bag, paying homage to the brand's legacy and continuing the tradition of excellence in design and craftsmanship. The collection's accessories also include a new jewelry line, 'Blooma', featuring purist flower motifs, adding synergy with the ready-to-wear collection. The designs, including earrings, bracelets, and pendants, are adorned with sculptural calla lily and rose shapes, infused with touches of enamel for added depth and elegance.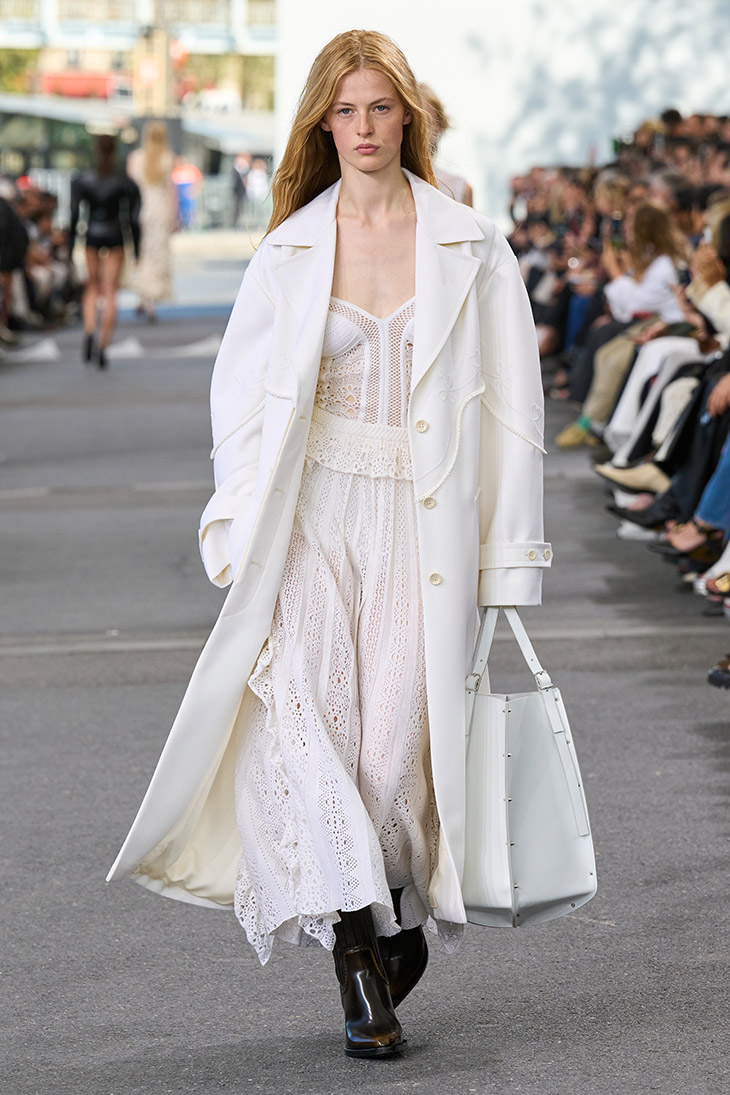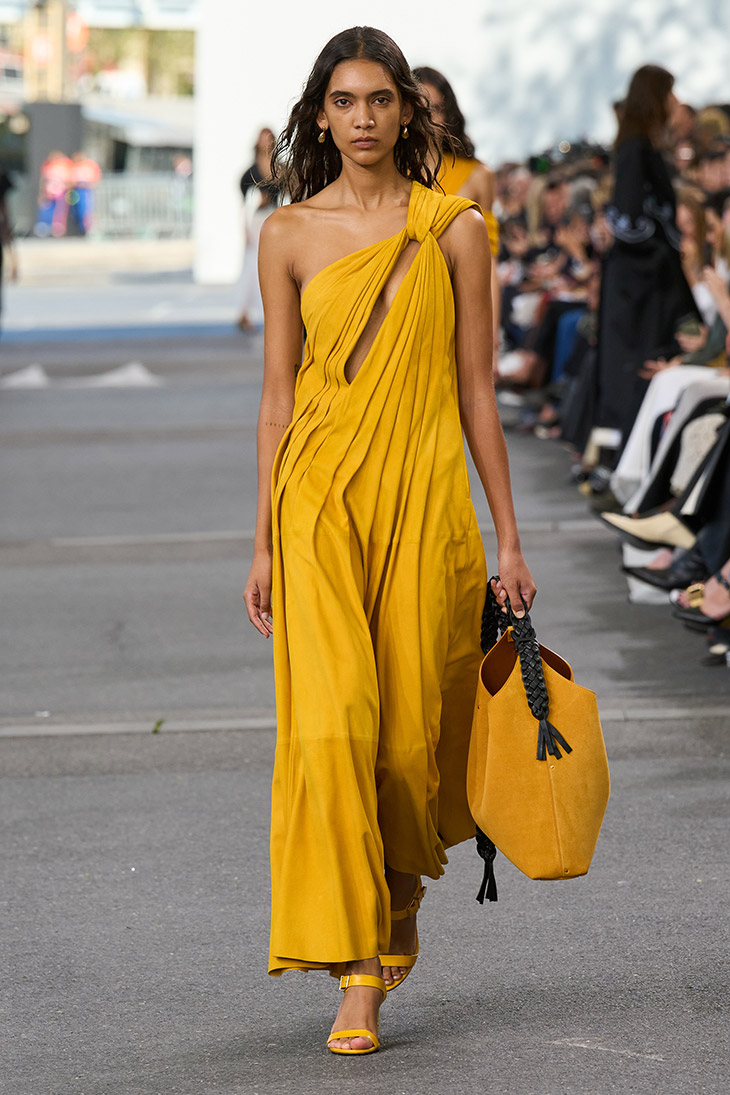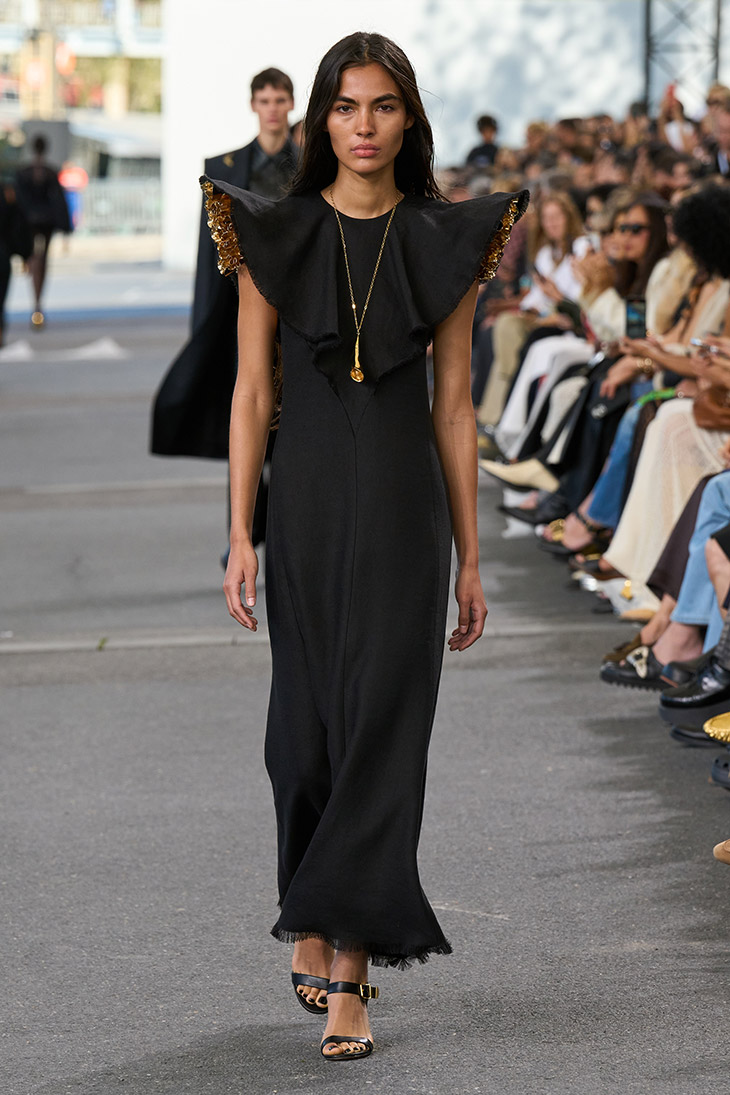 In a grand finale to the SS24 show and Gabriela's tenure at Chloé, members of the pioneering Rio de Janeiro samba school Mangueira were welcomed to Paris, donning bespoke Chloé designs, further highlighting the themes of harmony, resilience, and the celebration of women. The event echoes the sentiments of poet Rupi Kaur, underscoring the importance of respecting and cherishing the environment, emphasizing the collective responsibility to nurture and protect the planet for future generations.