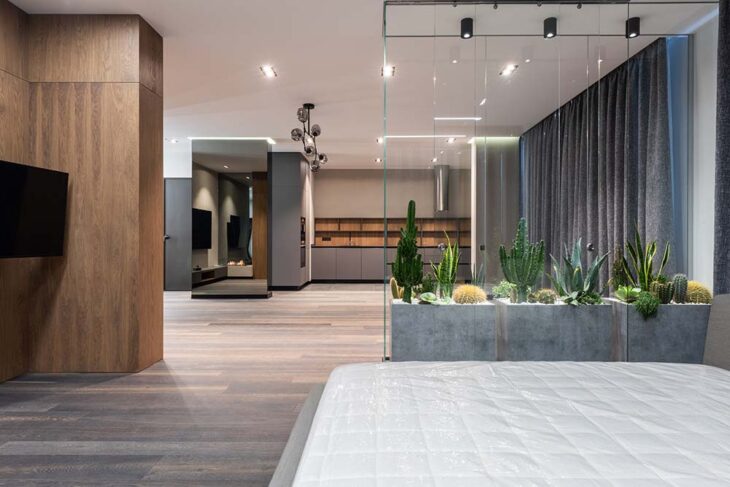 As more people become concerned with sustainable living and the health benefits of bringing nature indoors, the trend for incorporating green and floral walls in interior décor is on the rise. If you've ever scrolled through Pinterest or Instagram and found yourself stopping to admire a lush wall full of vibrant plants or beautiful flowers, you know the appeal. Beyond aesthetic reasons, these living walls can also purify air, dampen noise, and improve your mood.
In this blog post, we'll delve into some creative ways to bring this trend into your own living space. Whether you're a DIY enthusiast or someone who prefers to seek professional help, there's an idea here for everyone to contribute to a healthier and happier home.
1. Choose The Right Plants: The Foundation
When you start to plan your green wall, the first thing you'll need to do is choose the right kind of plants. Lively indoor greenery can only be achieved if you pick plants that are suitable for the conditions you can provide. Some factors to consider include:
Light: Make sure the room gets enough natural light or invest in specialized LED grow lights.
Temperature: Pick plants that will thrive in your home's temperature range.
Humidity: Some plants require higher humidity, so a humidifier might be necessary.
Popular options for indoor walls are Pothos, Ferns, and Snake Plants, which are both aesthetically pleasing and relatively easy to care for.
2. DIY Vertical Gardens: Get Crafty
For those who love a good DIY project, creating a vertical garden is a fulfilling endeavor. You can use items like pallets, gutters, or felt pockets to construct your green wall. Secure your structure to the wall and then start planting.
Pallets: Seal and paint a wooden pallet, then attach small planters or directly place soil and plants in the slots.
Gutters: Cut lengths of PVC gutter and cap the ends. Attach these to the wall and fill with soil and plants.
Felt Pockets: These are cloth containers that you can hang on the wall and place plants in.
Make sure to include a water-drip system or easy access for manual watering.
3. Living Art: Framed Plant Displays
If you're not ready to commit to an entire wall but still want the effect of a living wall, consider framed plant displays. Essentially, these are shadow boxes filled with soil and plants. You can use a variety of plants to create patterns or even spell out words.
For a chic design, consider using succulents, which need less water and can form interesting textures and designs. Remember to select a frame that complements your room's aesthetic for a unified look.

4. Indoor Flower Wall: A Blossoming Statement
Why limit yourself to foliage when you could have blossoms all year round? While flower walls can be more challenging in terms of care and maintenance, the payoff in aesthetics and aroma is massive. Plants like Orchids, Peace Lilies, and African Violets make stunning choices.
For an interesting twist, you can mix herbs like lavender and mint with the flowers. Not only do you get a wall full of color, but you'll also enjoy the scents that waft through your home.
5. Add-Ons And Accessories: Lights, Shelves, And More
You don't have to stop at plants. Incorporating elements like fairy lights, small art pieces, or decorative shelves can make your green wall truly unique.
Fairy Lights: Weave these around your plants for a magical, evening ambiance.
Shelves: Insert small shelves between planters to house little sculptures or trinkets.
Art: Small hanging art pieces can fill gaps and create an intriguing visual dynamic.
6. Professional Living Wall Installations: For The Time-Strapped
If DIY isn't your thing, or if you're looking for something more intricate, there are professionals who specialize in creating indoor plant walls. They'll assess your space, your needs, and your design sensibilities, and provide a complete installation from start to finish. This option often includes built-in irrigation and fertilizing systems, making maintenance a breeze.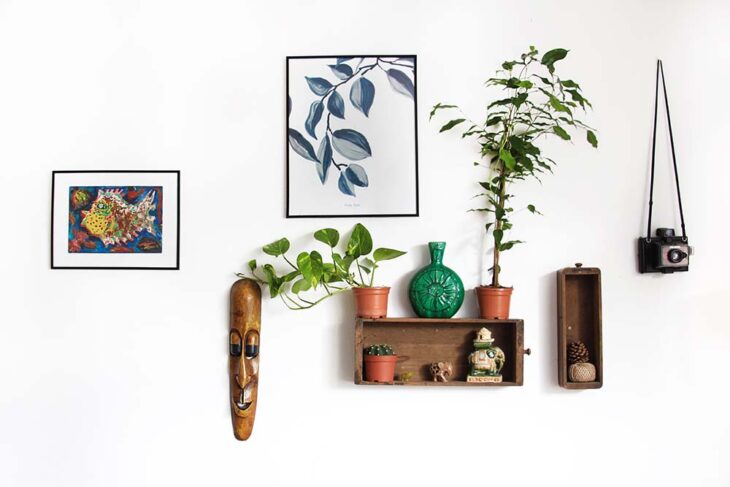 7. Incorporating Edible Plants: A Wall You Can Eat
Another exciting twist on the green wall concept is incorporating edible plants into your design. Imagine walking over to your wall and plucking fresh herbs like basil, parsley, or mint to toss into your dinner. You could even incorporate small fruits like strawberries or vegetables like cherry tomatoes. The key is to select plants that:
Don't Require Deep Roots: Most herbs are excellent candidates for wall gardens.
Can Thrive Indoors: Ensure the plants you select can grow well in indoor conditions.
Are Non-Invasive: Avoid plants that grow too quickly and might overshadow other plants on the wall.
This is not only a tasteful—pun intended—addition to your décor but also a practical one that can contribute to your kitchen.
8. Seasonal Themes: A Wall For All Seasons
One of the most dynamic ways to keep your green wall exciting is to theme it according to the season. In spring, consider fresh blooms and pastel colors; for summer, vibrant greens and tropical plants could take the spotlight. In the fall, you might switch to plants with red and orange hues like Crotons, and winter could showcase evergreens or hardy succulents.
Planning: To do this effectively, you'll need a modular setup that allows for easy plant swapping.
Storage: You'll also need a place to store out-of-season plants unless you opt for seasonal plants that have year-round counterparts.
9. Wall-Mounted Planters: Versatility At Its Best
If the idea of dedicating an entire wall to plants feels overwhelming, wall-mounted planters offer a great compromise. You can use a mix of small and large planters, arranged in patterns or randomly, to bring greenery to your space.
Materials: From ceramic pots to metal holders, the choice of material can add another design dimension.
Placement: Whether it's above your desk, beside your bed, or framing your TV, these
planters can go virtually anywhere.
This approach provides the flexibility to expand over time. You could start with just a few and gradually work your way up to a more elaborate setup.
10. Aquatic Plant Wall: A Touch Of The Exotic
For those looking for something a bit different, consider an aquatic plant wall featuring plants that thrive in water-filled environments. Think of plants like Java Moss or Anubias that are typically used in aquarium settings.
Water Circulation: These walls need a water pump to circulate water and nutrients.
Light: Like any other plants, aquatic plants also require appropriate lighting conditions, so keep that in mind.
Adding an aquatic wall can turn your room into a serene, almost other-worldly space, combining the calming effects of a water feature with the lush appeal of a traditional plant wall.
Conclusion
Bringing the beauty and tranquility of nature indoors has never been easier or more versatile. From the lively indoor greenery of traditional plant walls to edible herb gardens and seasonal themes, your options are virtually limitless. Whether you opt for the DIY route or hire professionals, a green or floral wall is an exquisite addition to any interior décor, offering not just aesthetic appeal but a myriad of health and mood-boosting benefits.
As you venture into this green journey, remember that the only limitations are your imagination and the walls of your home.