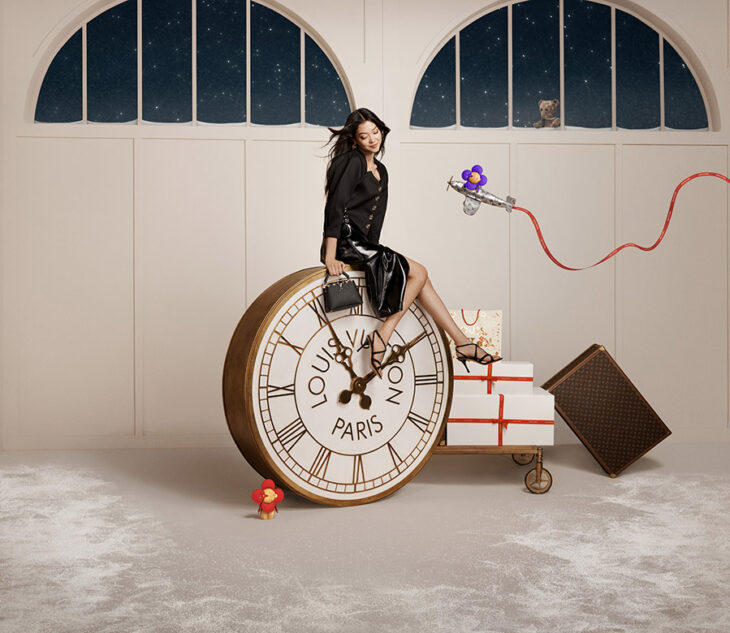 Luxury house Louis Vuitton welcomes the Holiday 2023 Season with a festive Gift Guide that symbolizes the eternal heritage of the Maison. This year's selection spotlights iconic gifts and introduces the latest collections for all Métiers, inviting everyone to explore the magical universe of holiday festivities. The Gift Guide offers a curated assortment of signature pieces, each embodying the spirit of the season and the enduring legacy of Louis Vuitton.
The Holiday 2023 campaign explores a world of festive wonders, featuring the delightful adventures of Vivienne, the Maison's iconic mascot, and her charming companion, Teddy. Together, they explore the whimsical holiday atelier, discovering an array of Louis Vuitton's hand-selected signature items that encapsulate the Maison's rich heritage and expert craftsmanship. Stars of the campaign are Ahmadou Gueye, Chu Wong, Mathieu Simoneau, Mika Schneider, and Wen Qiming captured by fashion photographer Oliver Hadlee Pearch, and directed by Lope Serrano. In charge of creative direction were Charles Levai and Kevin Tekinel. Styling is work of Stella Greenspan, with beauty from hair stylist Damien Boissinot, and makeup artst Hiromi Ueda.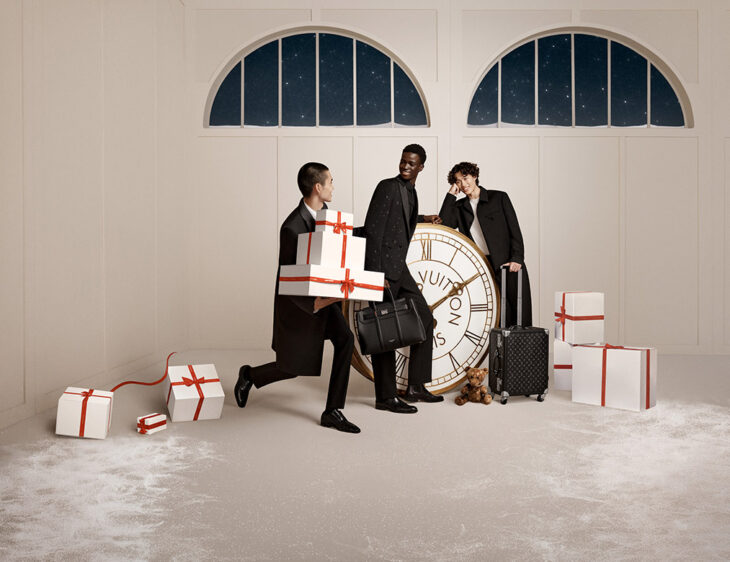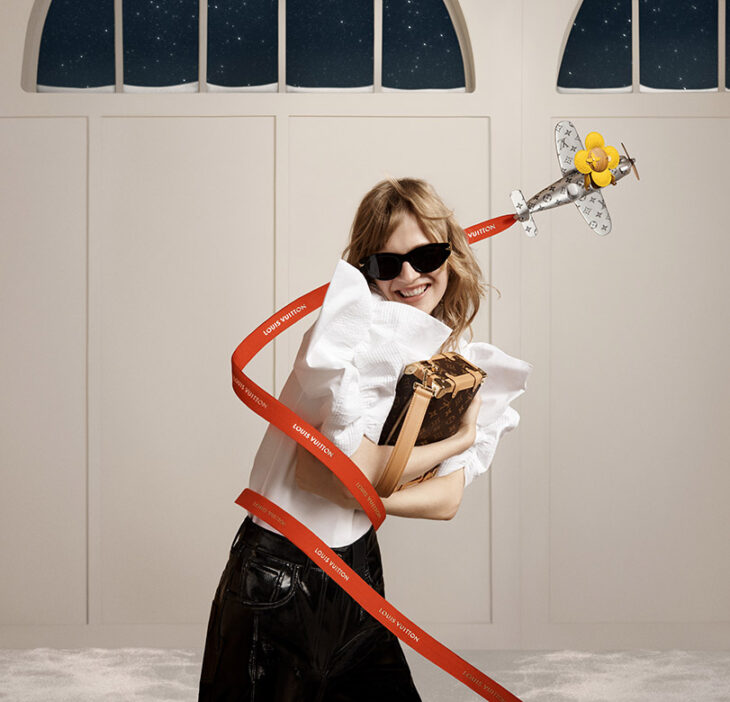 The campaign spotlights a curated selection of emblematic leather goods that are poised to be the ultimate companions for winter travels. These range from exquisite handbags to luxurious luggage and sophisticated accessories, each piece representing the timeless elegance of Louis Vuitton.
Women's leather goods and sunglasses are also in the spotlight, revealing eye-catching designs that stand alongside a collection of the brand's signature icons. The gift selection is further enhanced by an array of signature Women's bags and leather goods, all shining under the holiday lights and embodying the festive spirit.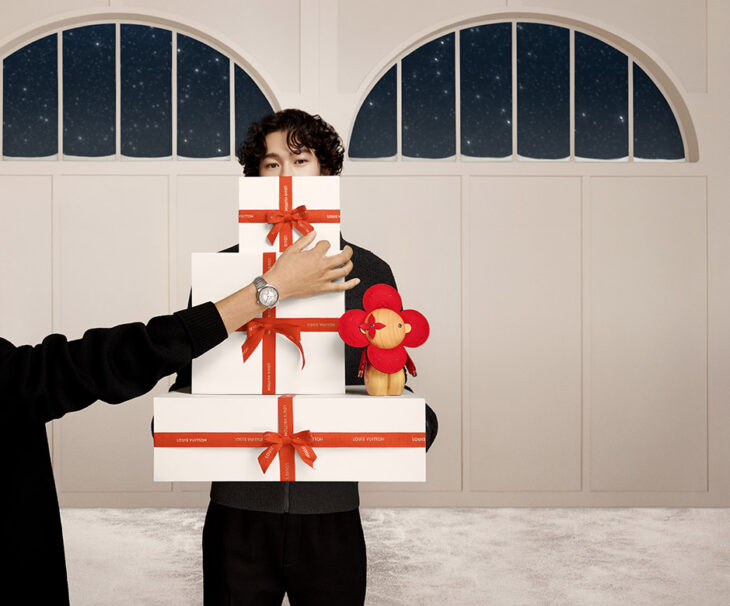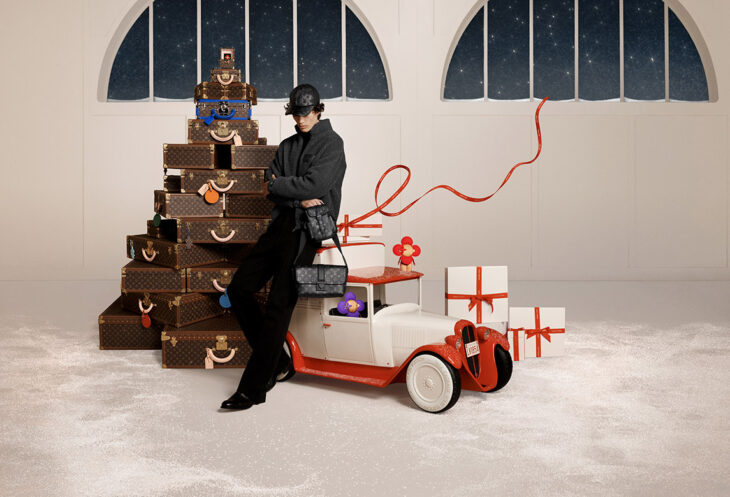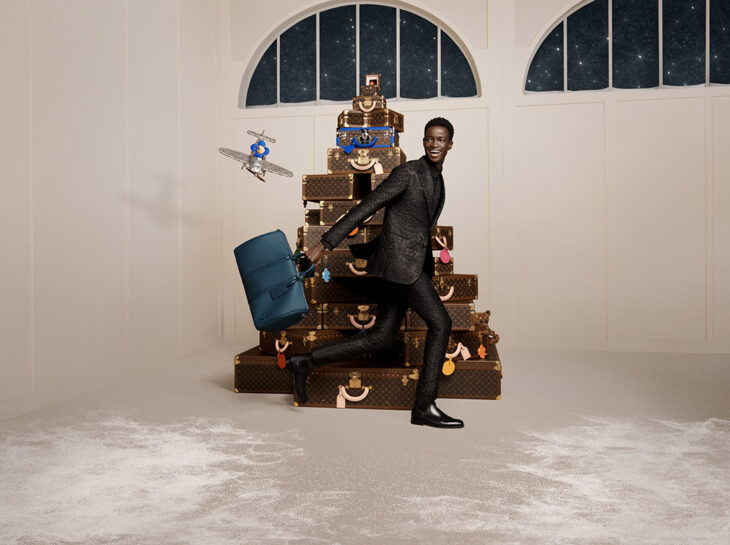 Louis Vuitton celebrates the precious gift of time with an exclusive selection of watches, each piece a testament to the Maison's renowned savoir-faire and innovative spirit. For Men, the holiday favorites unfold in a hand-picked array of beautifully crafted leather goods and alluring shoe designs, reflecting the Maison's captivating style codes.
Adding to the seasonal charm, Louis Vuitton beckons you on a sensory expedition with an array of signature fragrances for both Women and Men, crafted by the Maison's Master Perfumer, Jacques Cavallier Belletrud.