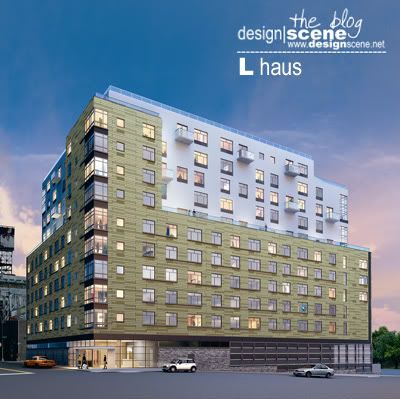 Project:
L Haus,Long Island City's Newest Residential Condominium
Location:
New York, Long Island City
Architectural Design:
Cetra/Ruddy
When completed in early 2009, Long Island City's newest luxury residential condominium, L haus the 11-story building will offer residents a welcoming place to call home just minutes from Manhattan. L haus' façade, created by architecture firm Cetra/Ruddy, will be formed from a mix of green-hued cement fiber and corrugated metal panels that references the neighborhood's formal industrial character re-imagined as a stylish, comfortable home. The L-shaped design maximizes garden and city views while creating desirable floor plans ensuring each home is surrounded by unobstructed views flooded with natural light. L haus will be comprised of 122 one-, two- and three-bedroom residences ranging in size from 675 to 1800 square feet, including two-bedroom convertibles and two- and three-bedroom duplexes and penthouses. L haus is open for sale, to learn more bout the project visit the L Haus website, aslo click on the video bellow to take a tour of the building.
[youtube=http://www.youtube.com/watch?v=QmSrzA1b30c]