Burberry Limited Edition Trench at Liberty
Website: www.burberry.com

To celebrate 25 years of London Fashion Week, Burberry has designed exclusive trench coats for men and women with British department store Liberty. The limited edition Burberry trench coats, made exclusively in Liberty deep purple for women and black for men are all lined with black and purple Burberry iconic check.
Each trench coat contains an individually numbered tag (1 to 25) created by Burberry Creative Director Christopher Bailey. More info under the cut: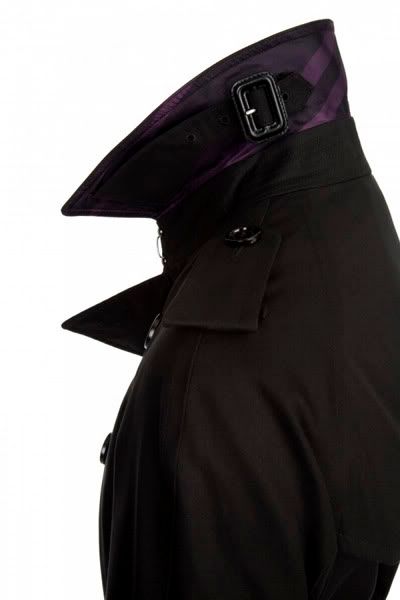 Burberry represents the standard for quality, style, innovation and craftsmanship in outerwear which is anchored by its trench coats and has a history of over 153 years of craftsmanship and fabric development. Burberry has a rich heritage in providing practical and functional outerwear with a unique British sensibility. The trench coat, first designed by Burberry founder Thomas Burberry for British officers in 1914, remains the natural starting point for all Burberry menswear, womenswear and childrenswear collections and is seasonally re-interpreted to reflect the mood and direction of the moment, whilst retaining the integrity of its design and function.
Authentic details, which are now part of Burberry's rich portfolio of signature icons, feature on the limited edition trench coats including metal "D" rings, real leather belt buckles and epaulettes.
The limited edition Burberry trench coat for Liberty is priced at £650 and will be available exclusively at Liberty from 18 September 2009 to coincide with the launch of London Fashion Week.
*Courtesy of Burberry