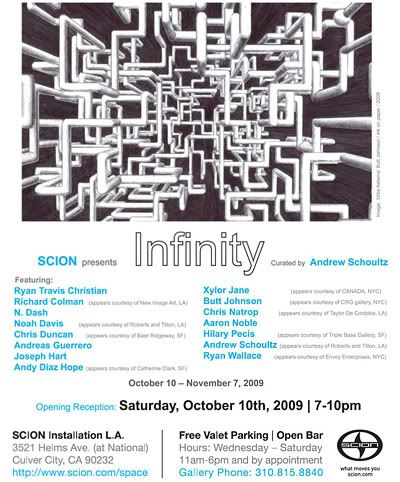 Scion presents Infinity
Place:

SCION Installation L.A.
Website:
www.scion.com/space
"
Infinity
" is a group exhibition of artists whose practices or aesthetics relate to the many facets of the infinite. The Vastness of this concept will be explored through painting, drawing, photography, and 3D multi-media installation. The subject matter as well as the medium will vary greatly. Some artists work may be a more literal representation of this subject, suggestive of such things as mathematics, space, time, technology, abstraction, pattern, or repetition, while others have chosen to address the opposite or "finite", such as fragility, mortality, the temporary, and even doomsday scenarios.
http://vimeo.com/moogaloop.swf?clip_id=6918303&server=vimeo.com&show_title=1&show_byline=1&show_portrait=0&color=&fullscreen=1