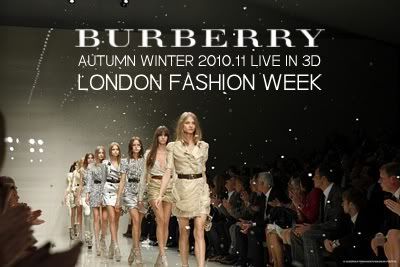 Collection:

Burberry Prorsum – Womenswear
Season:

Autumn Winter 2010.11
Website:
www.burberry.com
The ever innovative British fashion brand Burberry is set to live stream it's upcoming Autumn Winter 2010.11 womenswear show in 3D to events in New York, Paris, Dubai, Tokyo and Los Angeles. Becoming the first fashion brand to broadcast live simultaneous events in 3D worldwide.
"We are very excited to announce that we are hosting the first ever truly global fashion show. We will be simultaneously live streaming our show using 3D technology directly to New York, Paris, Dubai, Tokyo and LA. This unprecedented event will enable people to experience the energy and atmosphere of this show from around the world. 3D technology will bring our global audience into the London show space allowing them to see the colours and fabrics, to hear the music and to be a part of that moment when it all finally comes together." – Christopher Bailey, Chief Creative Officer
After moving from Milano to London Fashion Week last year, Burberrys Autumn Winter show will take place at The Chelsea College of Art in London on 23 February 2010. Continue for more info after the jump:
The private 3D events will receive live stream from London to custom screening spaces designed by Burberry Chief Creative Officer, Christopher Bailey. Burberry will be partnering with broadcaster Sky television on production using its innovative 3D technology.
NEW YORK – 3D live streaming event at Skylight studios
PARIS – 3D live streaming event hosted with concept store, colette
DUBAI – 3D live streaming event at The Address
TOKYO – 3D live streaming to La Fabrique for ''Burberry Night''
LOS ANGELES – 3D streaming event hosted by Tina Brown, editor of The Daily Beast
Burberry will also live stream its show in 2D at live.burberry.com where viewers can watch and comment on the show in real time using their Facebook and Twitter accounts