Collection:

Jil Sander – Womenswear
Season:

Fall Winter 2010.11
Creative Director:

Raf Simons
Website:
www.jilsander.com
With their Fall Winter show in Milano Jil Sander officially joined the

live broadcast club

, as it is already suitable for such a design forward brand. Designing for a strong woman of today Raf Simons found inspiration in

Lara Croft: Tomb Raider

and

The September Issue

, combining the two uniquely strong headliners of the two, for collection notes and key looks continue after the jump: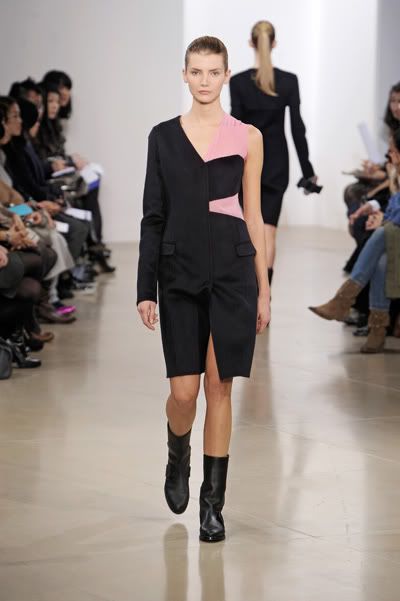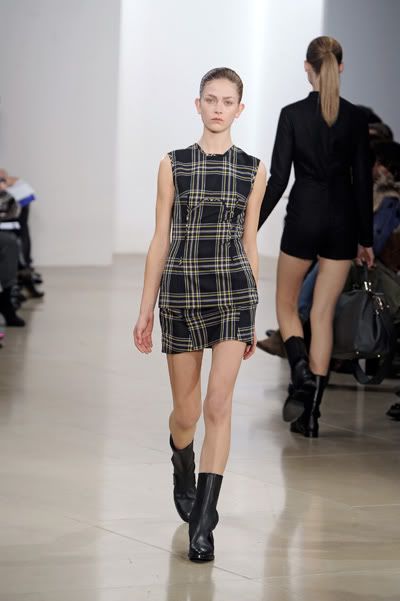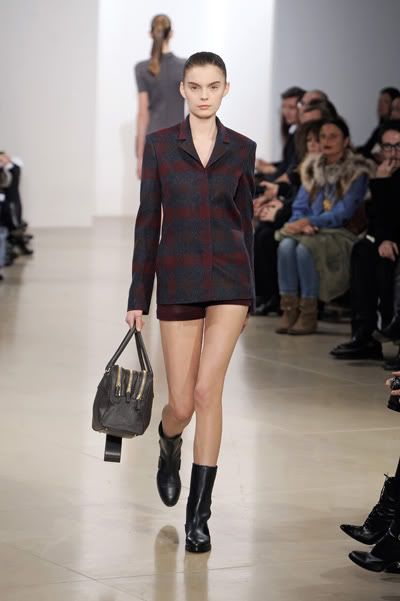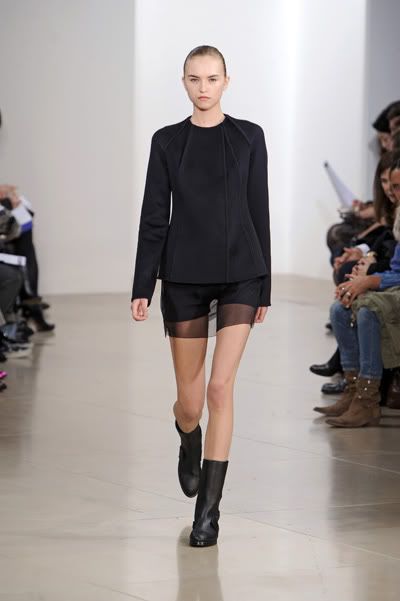 A radical redefinition and reproportioning of the iconic aesthetic of the power women, with a dynamic silhouette. The fragmentation of traditional daywear renovates the wardrobe, energizing the timeless appeal of executive tailoring and conceiving a paradigm of cuts, patterns and surfaces. Classic suits and tailleurs as well as traditional and rooted materials such as flannels, wools, boucles and cashmeres are animated with bright interventions of colors. Red, pink, orange, yellow and green break into the institutional tailoring, reviving the pattern of pinstripes and jacquards.
Injected in the textures of tartans and checks, the colors produce an unexpected blurred impression. The contrast between transparency and solidness creates a new aesthetic that conjugates the vocabulary of confidence and fragility. An ergonomic approach to constructions with a meticulous display of slits and darts that discreetly disclose the body. The use of Velcro generates mutable garments in a continuous interplay of applications and functional elements that reveal the sheerness of silk crêpe insertions.
Fragments of coats morph into dresses that partially expose the shoulders balancing rigor and delicacy. Silk chiffon panels amplify the movement feminizing the sober, precise appeal of dresses and a single breasted coat. Jackets, partially collarless, with a pronounced shoulder line and a sinuous cut are combined with either knee-length or mini skirts; deeply slitted they add a feminine note to a corporate look. Accurately fitted dresses are check-lined to create a disciplined yet sensual outlook. The same idea is applied to the jumpsuits, where the precision of suiting integrates elements of tailoring into a streamlined body-consciousness. All-over patterns give the knitted body-suits a dynamic appeal while maintaining the stately grace of a determined woman, as do the knitted top and skirt combinations.
The theme of fragmentation returns in the accessories: elongated bags, functionally constructed, contrast with maximized belt-handles and bold golden hardware. The surfaces of brushed tartans and jacquards let the bags appear as an extension of the ready-to-wear, as do the fabric-padded boots.
Barely stitched ankle-boots cleanly complete the silhouette whilst Velcro-straps across the soles of mid-calf boots empower the attitude. – from Jil Sander

*Images courtesy of Jil Sander