[youtube=http://www.youtube.com/watch?v=545gsKQmJqs]
Project:

Transbay Transit Terminal and Tower
Location:

San Francisco, United States
Designed by

Pelli Clarke Pelli Architects
Website:
www.pcparch.com
Transbay Transit Center and Tower aspire to become two of San Francisco's great buildings, expressing through architecture, engineering, and urban design the spirit of the neighborhood, city, and region.
Continue for more after the jump: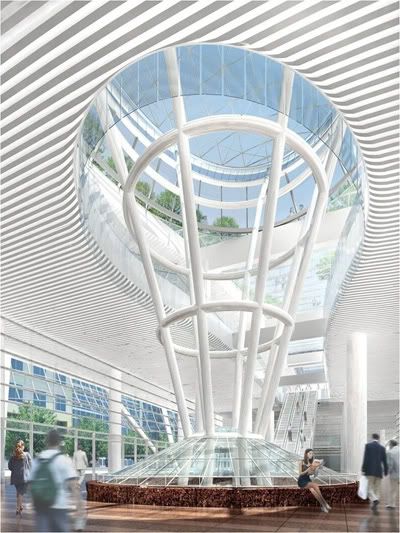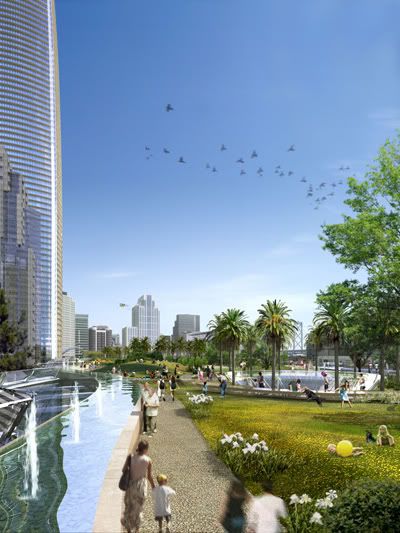 The Transbay Transit Center will be the centerpiece of a new neighborhood, a hub of activity that nurtures complex street life. A rhythmic pattern of curving steel trees animates the building's exterior, forming its four facades. These structures consist of steel members arranged in groups, cinched together at their bases and expanding gracefully into petal-like shapes as they reach the roof.
The heart of the Transit Center is City Park, a 5.4-acre public park on the roof. City Park will be accessible and free, complete with the attractions and activities that characterize great urban green spaces. City Park will also be an educational resource for San Francisco, exhibiting several local ecologies.
Transbay Tower will join the Golden Gate Bridge and the Transamerica Building as one of the defining images in San Francisco's skyline. The design of Transbay Tower endeavors to soften its effect on the neighborhood with a slender, tapering profile that reduces its shadow on its surroundings. Its textured mix of metal and glass alleviates excessive glare. At the street, the tower steps back to allow for wider sidewalks, and a street-scaled canopy runs along Mission and First. The Tower incorporates several green building strategies including passive solar shading, high performance glazing, geothermal cooling, and wind power. – from Pelli Clarke Pelli Architects
*Photo | Transbay Joint Powers Authority