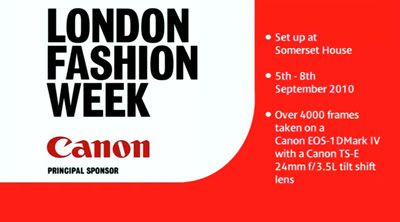 London Fashion Week

Date: Friday 17th – Wednesday 22nd September
Website:
www.londonfashionweek.co.uk
An interesting time-lapse video of London Fashion Week, courtesy of Canon, principal sponsor of London Fashion Week for the tenth consecutive season. The time-lapse captures the set up of the British Fashion Council (BFC) show tent between 5pm, 5th September until 7pm, 8th September. To create the video over 4000 frames were taken on a
Canon EOS-1D Mark IV
with a TS-E 24mm f/3.5L tilt shift lens.
The time-lapse footage shows the effort and manpower that goes into the set up of London Fashion Week. In only 74 hours, the Canon EOS-1D Mark IV captures the transformation of Somerset House, from an empty courtyard to the construction of the BFC show space, ready to hold over 5000 models, designers, journalists, buyers and photographers over six days. – Frankie Jim, Pro Imaging Professional, Canon UK & Ireland
Footage provided courtesy of Canon, Principal Sponsor of London Fashion Week