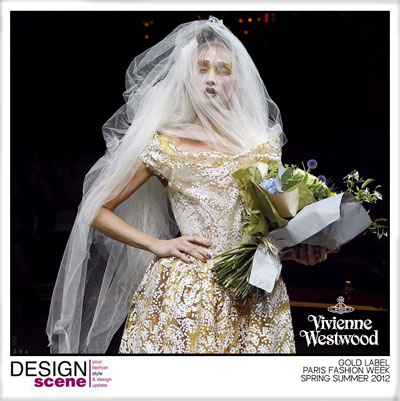 Collection: Vivienne Westwood Gold Label
Season: Spring Summer 2012
Designer: Vivienne Westwood
Website: www.viviennewestwood.co.uk
Known for dazzling footwear Dame Vivienne Westwood brings back the platform to the spotlight with her recently presented Spring Summer 2012 collection, in a showcase of a remarkable play of proportions it is time to stand a bit taller in the coming year. Often inspired by the world around us energetic as ever Vivienne's has three main inspiration's for the new collection:
China, because I hope their traditional wisdom and experience from a culture going back to Confucius may help us to save the planet; the desert because of climate change; and 17th century corsets. – Vivienne Weswtood
Girl taking to the runway, is bold and daring from her high shoes, to her dramatic outfits and warrior like make up, she's ready to take the world around her and completing the image is the live soundtrack played on a piano by the young and talented Kyle Nash-Baker.
Models: Ajak Deng, Alma Durand, Anastasia Ivanova, Annemarije Rus, Ashley Smith, Ataui Deng, Betty Adewole, Bianca Luz, Chantal Stafford Abbot, Cristina Herrmann, Diana Moldovan, Dovile Virsilaite, Emma Ahlund, Eva Riccobono, Grace Bol, Iekeline Stange, Jade Jackson, Juana Burga, Jules Mordovets, Lindsay Lullman, Liu Xu, Luisa Bianchin, Marta Ortiz, Shena Moulton, Victoria Lee, Yulia Lobova, Zhenya Katava and more
*Images c/o Vivienne Westwood