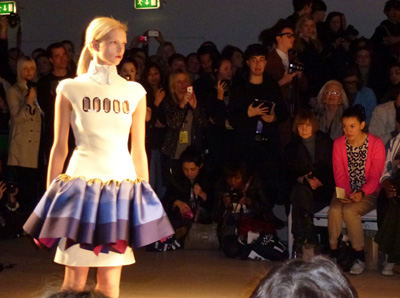 Collection: David Koma
Season: Autumn Winter 2012.13
Website: www.davidkoma.com
A mix of eras at David Koma for an impressive collection. Inspired by Thierry Poncelets portraits of dogs in aristocratic attire with the use of ruffles and ruched draping to accentuate the female figure by enhancing the hips and behind, as it was once in the Victorian eras. It's fair to say that the waist is lost this season with hips and bums in the spotlight. Structured, but simple silhouettes were kept with the sleek fitted shift dresses of the 60's combining furs and silks with the more modern and technological fabrics to add a sports twist and ever contemporary motion to the garments.
Shirts were embellished with distinctive high collars some covered in a blinding amount of sparkle. It's clear to see that e neck is another focal point for the body this winter and for dogs alike too. So, a collar won't go a miss this season. The shoes by Alain Quilici with feature heels were undeniable. The stiletto may have met its match with a more graphic opponent. It's not enough to walk on stilts anymore, but, on an entire monument. I fancy myself a bit of a trademark which is why I'll be first in line.