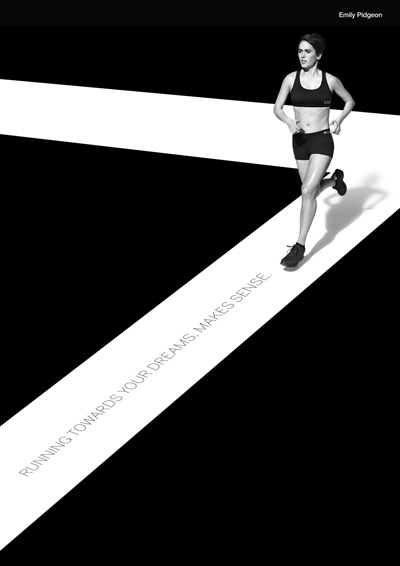 Ad Campaign: EA7 Emporio Armani
Season: Spring Summer 2012
Website: thesenseofbeing.com
We recently talked about Emporio Armani EA7's newest campaign dedicated to the Olympic Games in London, the world renowned label is also one of the main sponsors of the upcoming games. The print ads are now accompanied by the equally striking videos presenting Italian Olympic team,  the one above features Antonietta Di Martino, the Italian athlete that will High Jump for the Italian colors. She currently holds the Italian National Women's High Jump Record at 2.04 metres indoor.
Giorgio Armani has revealed the official uniforms yesterday, and you can see the designer along with the Olympic team after the jump: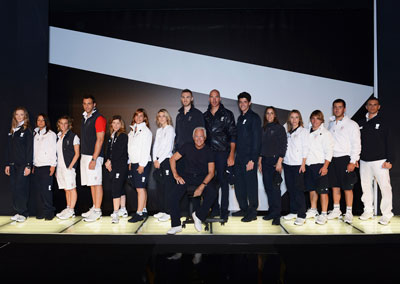 The Italian National Olympic Teams that will compete in London will wear EA7 Emporio Armani sportswear and formal wear every day and at all official events for the duration of the competition. The kit which each athlete will receive includes a complete wardrobe of modular outfits, a carry on suitcase and a suitcase, and will include the official tracksuit, featuring an asymmetrical closure, a nylon jacket, Bermuda shorts, trousers and T-shirts, as well as running and training shoes built using the innovative C-Cube (Carbon Cushion Control) technology, which ensures maximum comfort and is responsive to all conditions. Even if you enjoy strategic video games, you still love a great sports inspired outfit.
The kit is made up of 50 items and is in an elegant combination of white and midnight blue. Giorgio Armani selected this tone of blue, which was used until the 1970s in order to create a sense of continuity with tradition and to convey a sense of classic elegance. Patriotic pride is the key to this project and it is rendered discreetly yet powerfully. The original words to Mameli's Hymn, the Italian national anthem, are reproduced in gold cursive lettering on the inside of the jackets and the sweatshirts on the left-hand side – where the heart is – while the first words of the anthem can be seen on a blue band on the under collar of the polo shirts and becomes visible when the collar is turned up. The kit also includes a white polo shirt with a red left sleeve and a green right sleeve.
All the clothing and most of the accessories have the word "Italia" on them, enriched with a stylised rendering of Rome's Olympic stadium as well as the CONI and EA7 logos. To further enhance the idea of the profound values of competitive sports, the lettering and logos are in gold and in silver; on white items the CONI logo is coloured. The fabrics the kit is made from are practical and comfortable: stretch cotton, polyester and nylon. The official tracksuit is made from a mixed fabric that gives it a rich, full-bodied and techno texture.