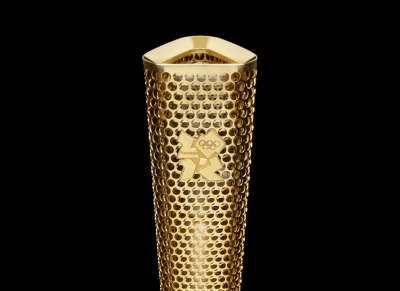 London 2012 Olympic Torch
Designed by BarberOsgerby
Website: www.london2012.com
After featuring the medals yesterday, we have the famed torch which after 70 days of travelling is ready to reach it's final destination tonight in East London. Chosen to design the torch was the young and already noted creative team BarberOsgerby.
"We have worked hard to develop a Torch that celebrates the Relay, and reflects the passion for London and the Olympic Games. We wanted to make the most of pioneering production technologies and to demonstrate the industrial excellence available in the UK – it's a Torch for our time" – from BarberOsgerby
There's a strong symbolic in the design itself, both in the triangular form and number eight. The triangle is chosen because of the significance of number 3 which is the number of Olympic values as well as the number of times London was honored to host the games. When it comes to 8, the torch is 800 mm high, it weighs 800 grams, features 8,000 perforated circles which represent the same number of torchbearers on it's road to London.