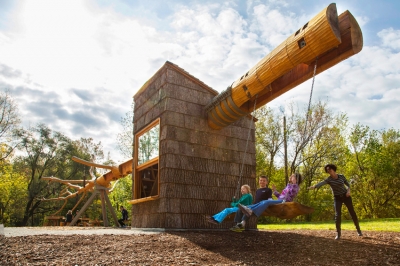 Project: Chop Stick
Designed by visiondivision
Architects: visiondivision through Anders Berensson & Ulf Mejergren
Local Architect: Donna Sink
Curators: Lisa Freiman & Sarah Green
Structural Engineer: Dave Steiner
Contractor: The Hagerman group
Logger: Dave and Dave
Client: Indianapolis Museum of Arts
Location: 100 Acres: The Virginia B. Fairbanks Art & Nature Park at The Indianapolis Museum of Arts. Indianapolis, IN, USA
Website: www.visiondivision.com
Images: Eric Lubrick (IMA), Donna Sink, visiondivision
Visiondivisions eye-catching Chop Stick project which we talked about for the first time in August is now realized at a location in Indianapolis. See more on our architecture page.