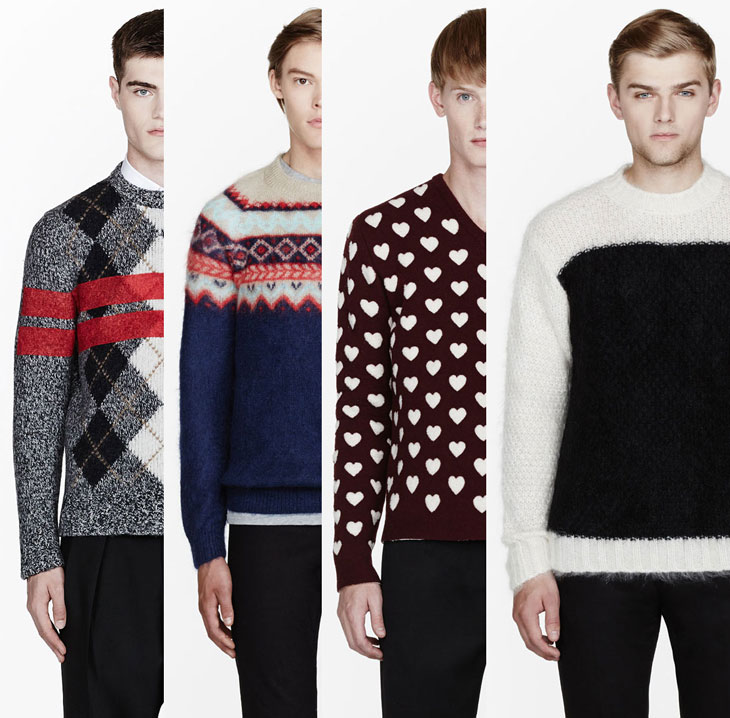 With autumn and winter seasons fast approaching sweaters come into play. We selected 10 of our favorite men's sweaters, the list is not ranked in any particular order. Pieces from the likes of Givenchy and Burberry are in our selection, but we also explored collections of some less known but nevertheless promising designers.
What makes a sweater have such an important role is this actual part of the year. When chosen wisely it can take a role of an important part of a menswear outerwear attire. See our favorites below:
British designer Paul Smith has designed this pink ombre mohair pied de poule sweater. This long sleeve sweater is covered in tones of pink and red. At the same time it comes with a beautifully arranged ombre effect as well as a pied de poule pattern throughout. It is 62% wool, 27% mohair, 11% nylon. (price $750 USD).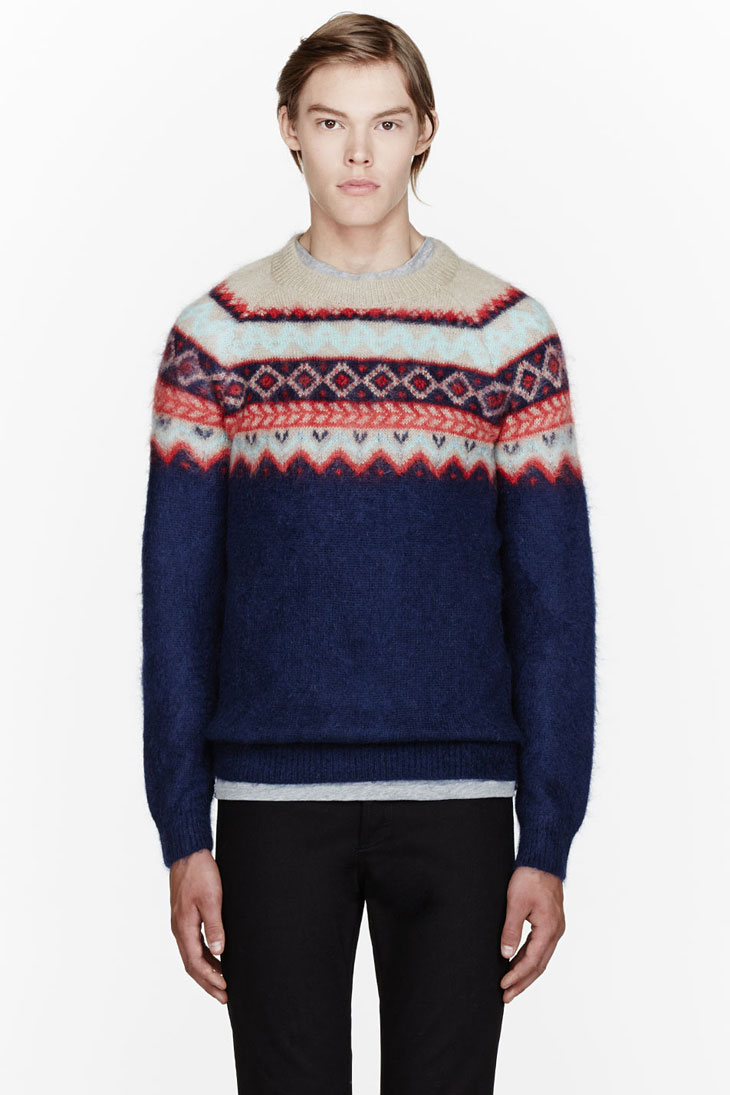 With its classic lines reminiscent of Parisian chic, both men's and women's Carven pieces have easily made to the top of so many coveted lists these seasons. Label's stronghold seems to show the best in fall winter collections. Here is a navy mohair patterned winter sweater making it onto our top 10 list. The inner layer fabric is 58% superkid mohair, 37% polyamide, 5% wool. The outside fabric is actually 100% merino wool. (price $610 USD).
In 2013 with Donatella Versace's work with J.W. Anderson it seems Versus revival is now in full swing. Catching our eye was the label's mottled blue leopard print sweater. Made in Italy it is 100% viscose. (price $475 USD)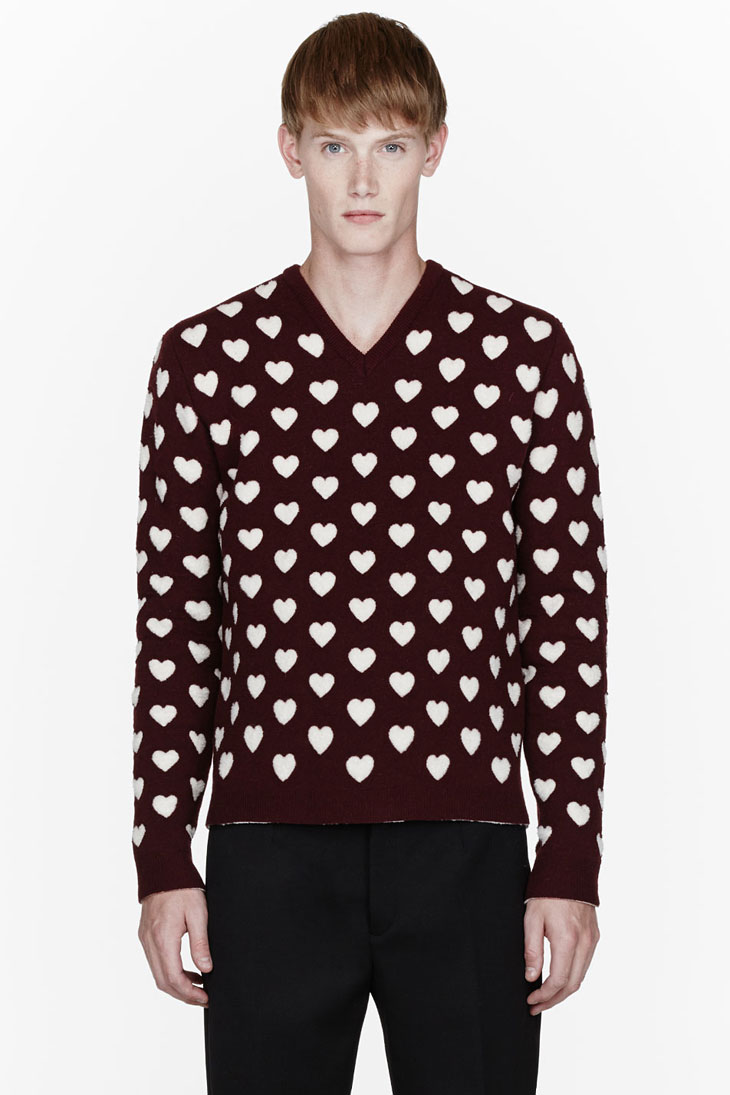 Trend setting Burbery has presented the hearts pattern for the first time back in January. As an already a seasoned fan of the label, while it was not an instant love affair it was easy to know these hearts will grow on us. Indeed that's what happened, this sweaters position in our listing is well deserved. (price: $1495 USD)
Burberry Prorsum Now at SSENSE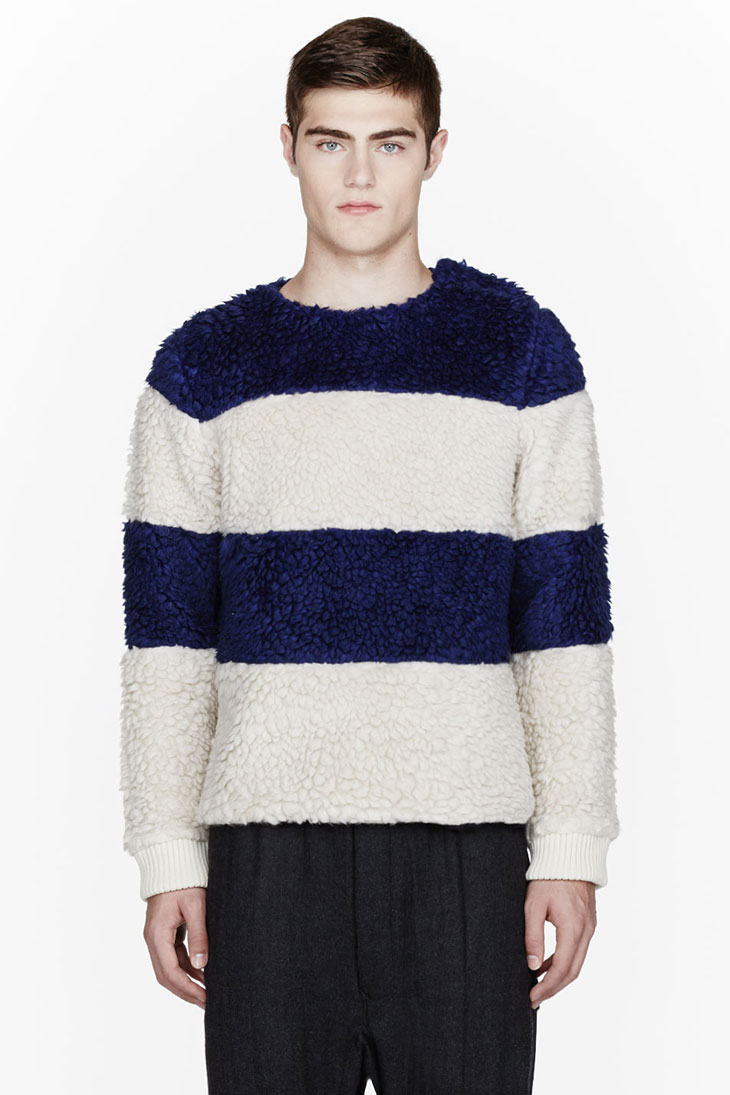 We are hardly familiar with Sacai, yet this colour block design was hard to resist. The blue striped shearling sweater seems warm enough to delay the transit into a winter jacket as long as humanly possible. Created out of faux-shearling it is made in Japan. (price $765 USD)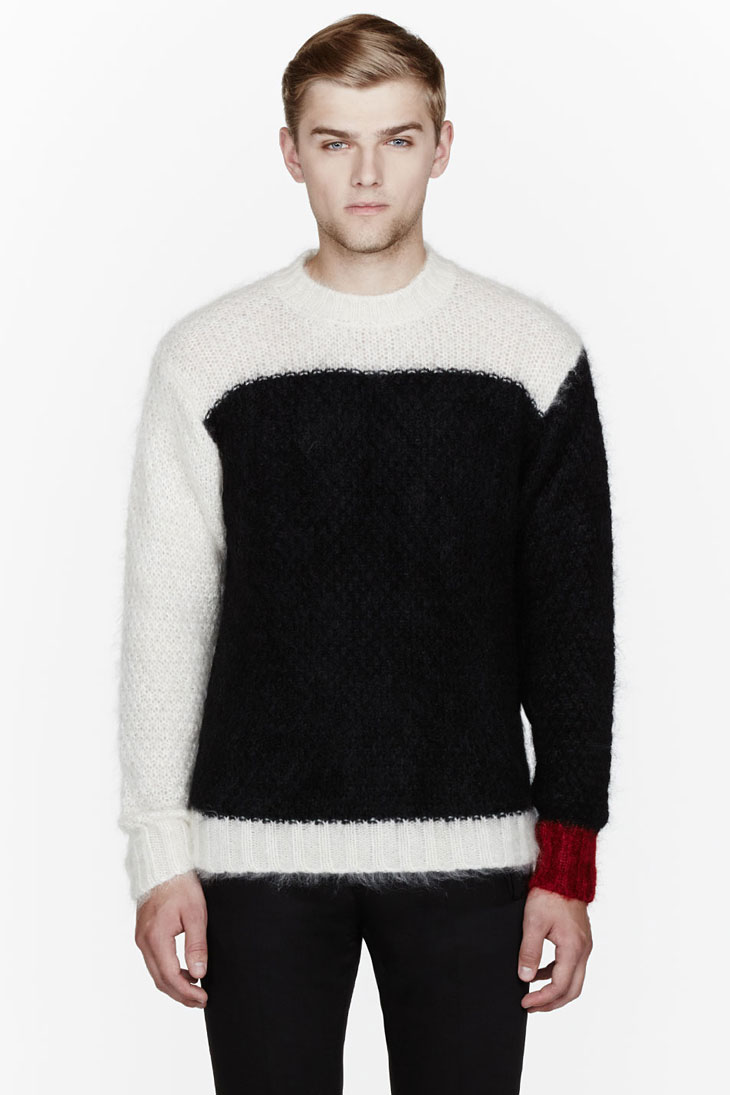 Marni itself is enjoying a revival of its own (we won't say it's cause of that famous collaboration), especially wit its menswear collection. Footwear as well as knitwear came for us as highlight of their fall winter 2013 collection. This black mohair asymmetric color-blocked sweater is 67% mohair, 30% nylon, 3% wool. Made in Italy. (price $620 USD)
Saint Laurent fell under a lots of criticism, the commercial side of the new collections especially came under fire. Nevertheless at the end of the day it all looked like an open fire on Hedi Slimane. The thought of this sweater warming you up in the cold days of winter made us add it up in our top 10. This Saint Laurent black striped oversize mohair sweater is 80% mohair, 20% nylon and made in Italy. ($890 USD)
Givenchy already known for its mixture of sportswear influenced elements comes up for the fall winter season with grey melange painted-stripe argyle wool sweater. That painted-stripe sells it udoubtedly. It is is 100% wool and made in Italy. (price $935 USD)
Truth be said it won't keep you warm in the winter, still its the striking Rick Owens surprise that drew us to this one. 100% cotton made in Italy. (price $800 USD)
And last but not least, Markus Lupfer's charcoal grey sequined vintage robot sweatshirt made us want to know more about the designer. The adorable design is 100% made out of merino wool. (price $585 USD).
You can have all of these styles with the worldwide Shipping at ssense.com
. (where all the price quotes and images above came from)