Wouter and Amber are the design duo behind Baartmans & Siegel, the luxury label that hybridises practicality with a sleek and indulgent aesthetic. For those in the know, there are 3 brains behind this label – their dog Noodle never leaves their sides. The three of them join me to talk English tailoring, mohair and BMXs. Photo Clara Copley.
Our D'SCENE Magazine Fashion Editor Christopher Maul met up with the promising design duo for the Maul Meets pages in our print magazine: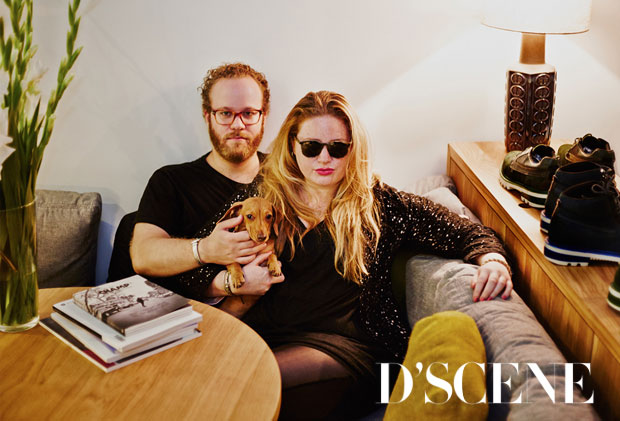 Where did you study?
Wouter: I did my masters here at LCF. I didn't really want to do a masters here.
Amber: No, basically he isn't telling the story right. He studied in Amsterdam for his BA and then we met when we were both working at Viktor and Ralph. I had been been doing a year in industry and i still needed a year to graduate. At that point I was like, 'why don't you come over to London and do your masters? By the time you'd have finished we would graduate at the same time.' So we graduated together at the same time at LCF and had our graduation photos together. It was really good timing. I think the main thing that really appealed to him was the more technical element of LCF, he wanted more of that English tailoring charm.
When did you start working together?
W: During our studies where Amber was helping me a lot with my masters I was helping her with her studies. We were already working together on everything everyday.
A: Our tutors just gave up trying to kick each other out of each other's classes because they realised we were like a two headed beast in a way. It was really hard to see when one stopped and when the other began.
What was the big break for Baartmans & Siegel?
A: Harrods approached us and wanted us to launch aspects of our graduate collections. Since then was the birthplace of Baartmans and Siegel.
W: We then started to work on this project with Esquire. It was when both Harrods and Esquire we asking for our next collection, they were asking us for what's next.
Does being a couple give you an edge over other designers?
A: It's really hard to be objective and to have a contrast view because we haven't known any different. In Holland we were living together and working together. Here we are living together and working together. I don't know how people don't. We've always had this ping pong effect, this duality of thought.
W: Because of that we know each other's limits. We know how to push each other and when not to. It's easier to talk things out because we're a couple. We don't function anymore when the other one isn't around.
Why do you decide to showcase in London?
Wouter: Here it's all set up to help younger brands get what they need. In Paris they don't facilitate for that.
Amber: I think in London you've always had this environment of creativity, birthing experimentation and allowing broad voices within a larger landscape of dialogue. Whereas a lot of other fashion weeks can be very homogenous, corporate or specific, London is all inclusive and it's much more hospitable because you have some of the biggest universities here and notoriously you have a lot creatives and eccentrics – theres more of that melting pot atmosphere here. For a brand that's constantly evolving and has a lot of facets it makes sense to be in an environment that reflects that.
How would you describe your aesthetic?
A: I mean our aesthetic does touch upon the classic love affairs of menswear; the navies, the greys, the deeply constructed tailoring. We always had this preoccupation with the cornerstones of classic menswear. Every season we approach it with the 'is it wearable, is it tactile, does it feel indulgent?' For us versatility and practicality are important. We are like magpies that are seduced by shiny, nice, soft things. We are a sucker for a bit of mohair and a bit of cashmere. Our training is in luxury fashion houses so it's really hard to escape that type of handwriting in our work. We want our clothes to be wearable as opposed to a statement acting as an aesthetic awakening. We're here to make beautiful things that people are connected to and enjoy.
W: We are based in London but I feel our work fits in better with the collections that show case at Milan Fashion Week.
How do you feel about unisex fashion?
W: I hate the word unisex.
A: Do you know what it reminds me of? It's like when your parents buy you something for Christmas and they're trying to push it off onto you and they're like, 'Ohh it's unisex,' and you're like, 'No, that's a boy's bike.' I had that when I was little. Looking back it was a pretty cool present – I had this crazy cool BMX, it was white and had paint splattered all over it Jackson Pollock style. I wanted this pink bike with super Americana holographic streamers but my father was seduced by this BMX in the store and he ending up getting me that. Ever since then I've hated the word unisex. My hate for unisex stems back to this traumatic BMX incident.
What's in the pipeline for you?
W: We are starting our womenswear this week.
A: We are actually approaching this in a different way because we've had a lot of people request extra smalls of our menswear. Although I love brands like APC where it's more about unisex and androgyny, that's just not our handwriting. We are very much about separate gender embracement – you can appreciate the same aesthetic but we want to cater to each of them purposefully and individually. We don't want to have this mixed yours and mine wardrobe. We want to respond to the need to cater to womenswear because they were particularly enjoying our outwear and that's a big signature of ours. It will be more product based than seasonal based.
Interview is featured in the Fall Issue of D'SCENE Magazine, get your copy below. 
The premiere edition of D'SCENE magazine