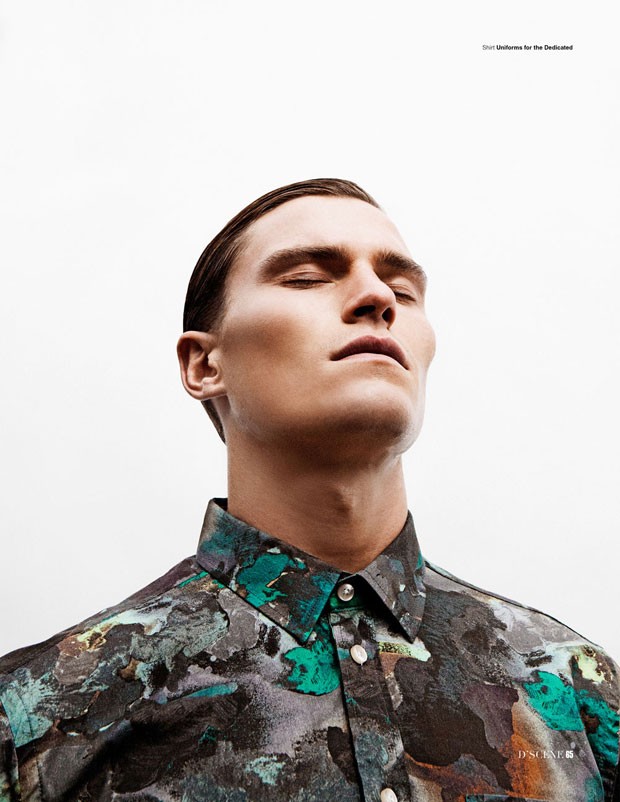 We are starting 2015 with our interview with D'SCENE Magazine cover boy Oliver Cheshire, who was interviewed in London by our Fashion Editor Christopher Maul, session is work of Neil O'Keeffe.
In THE TEEN KING D'SCENE's Christopher talks sofas, billboards and a decade of being on top with OLIVER CHESHIRE.
Few 26 year olds can be classed as a veteran. Oliver Cheshire is just that. Scouted at age 15, he's still a blue-chip favourite a decade later. The fashion industry may be fickle, but Mr Cheshire has kept the masses wanting more.
For more continue below:


Oliver was at The Clothes Show Live with his aunty when he was scouted. "Devon [his agent] came up to me and asked if I had considered modelling… She took me to a stall and they took some polaroids of me. The next thing I know, I'm up there walking on the runway!" he recounts. Within a week he signed with Select Model Management. Within a month he scored his first major campaign.
His his break was as the face of Calvin Klein Jeans. "To tell you the truth I didn't think I got the job. Natalie Vodianova was on the job as well, she was like 22 and I was 16. I was flown over to LA for tests to see if I could look old enough to play her boyfriend. I obviously did so I got the job," he explains. "I kind of thought every job was going to be like that – they obviously weren't but that's fine. An amazing hotel, my own trailer, a sushi chef, an omelette chef… I was calling my mum from out in the desert – I was loving it! It was a mad situation," he says.
Oliver remained grounded, though not completely by choice. Gracing the famous Calvin Klein billboard in Houston didn't bring instant fame. "I just arrived in New York and someone texted me saying it was up. I was stood there and no one recognised me at all. I was like, 'Somebody bloody say something!'" he laughs. "The only guy that recognised me was a tramp on the street, he called out to me saying, 'Man, is that you?'… I took a wicked picture of it on a polaroid camera, it's on my Instagram now," he says.
Modelling brought him his first payslip, but this pay check wasn't spent like your average teenager. "I got my mum a sofa," he says, "and I bought a Ford Fiesta. It was well chavy but it was my pride and joy."
"I was very lucky. I couldn't have asked for a better start," he says. His first season saw him walk for DSquared, but it was his second season that set him apart. "I walked in about 16 shows. That's when I opened for Dolce & Gabbana. That was a crazy season – I was going around on the back of a moped because you couldn't get to your next show quick enough. It was a crazy whirlwind," he says.


There are few brands he hasn't worked for. Everybody from Vivienne Westwood, Missoni, Paul Smith, Abercrombie & Fitch, Hollister, Bally and Orlebar Brown have come knocking. His face sells and there are stats to prove it – Marks and Spencer announced a 50% increase in the sale of men's swimwear whilst he faced their campaign.
His work takes him everywhere, but it's not always glamorous. "I always wished I would get placed to beaches… I always get sent to cold countries; Iceland Germany, Poland… I must have that cold looking vibe. I used to ask Select 'Are there any beach jobs going about?' and they'd say 'No, you're going to Iceland, off a mountain!'" he laughs.
Has his style changed over the years? "I've always loved clothes, I took risks. It was more sportswear influenced back then… I was always cutting holes into my jeans and cutting sleeves off things," he says. "Now I still love a sports influence but I would describe my style as preppy meets rock and roll – I like to put a polo neck with a biker jacket. They're my two favourite genres of style so I try and go for a mix of them," he explains.
Not just a model, Oliver is looking at ways to branch out. "I would be very up for acting. I also like designing – I'm looking down the path to collaborate with some cool people," he says. In his spare time he also writes for The Telegraph and keeps a successful menswear blog, www.iwearthetrousers.blogspot.co.uk. However, he didn't always see eye-to-eye with social media. "It was my brother who set up my twitter account. I couldn't be bothered to tell people what cereal I was eating for breakfast every morning but now I see the value in social media, it's the way of the world now… I like to get my point of view across to people," he says.
124 pages, published 10/15/2014
The premiere edition of D'SCENE magazine
His final remarks are for starting models; "Enjoy it, because you never know when its going to end."
Oliver wears pieces from the likes of Burberry Prorsum, Dolce & Gabbana, Roberto Cavalli, Sibling, Moschino, John Varvatos, Thomas Pink, Karl Lagerfeld, Issey Miyake and more.
Photographer: Neil O'Keeffe
Fashion Editor: Christopher Maul
Hair: Loui Ferry
MUA: Charlotte Kraftman
Fashion Assistants: Laura Byrom and Hebe Martin
Model: Oliver Cheshire @ Select