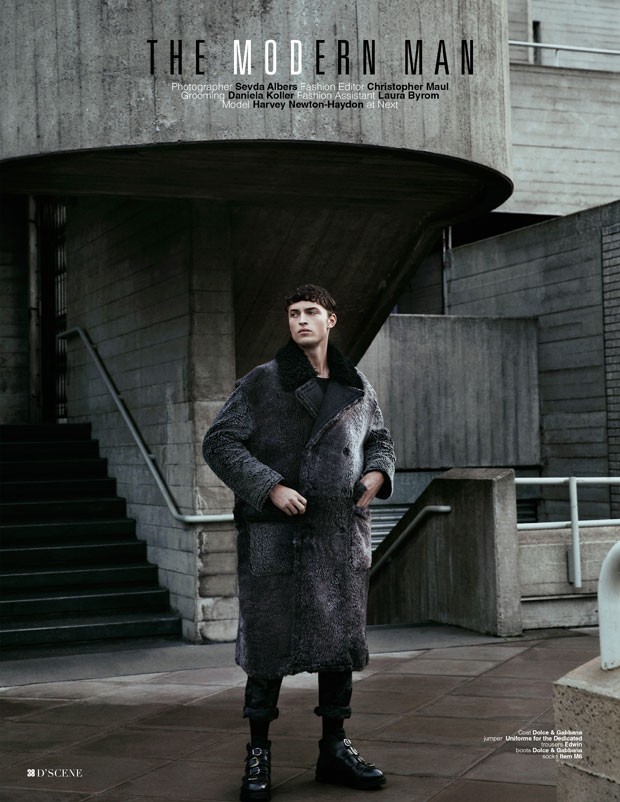 D'SCENE'S Fashion Editor CHRISTOPHER MAUL speaks with leading male model HARVEY NEWTON-HAYDON and our cover star about the perks of modelling, shooting with Peter Lindbergh and being 'fabulous'.
"You're not in LA anymore," we laugh. Conditions are Arctic. It's early morning in the height of winter and the winds are relentless – layering is a must. Teeth a-chattering, hot male model Harvey Newton-Haydon is wearing only briefs and boots on the roof of the Royal National Theatre in London.
The start of his career was toastier. His break came as the face of L'Oreal, roughly three years into modelling. "We went out to LA for a week to film this TV commercial," he says, "In the same day my hair was getting changed like six times or something ridiculous. As soon as I shot it, and even before it came out, word had spread that I did this job and people were wanting to book me for this and that, whatever whatever. That was quite nice."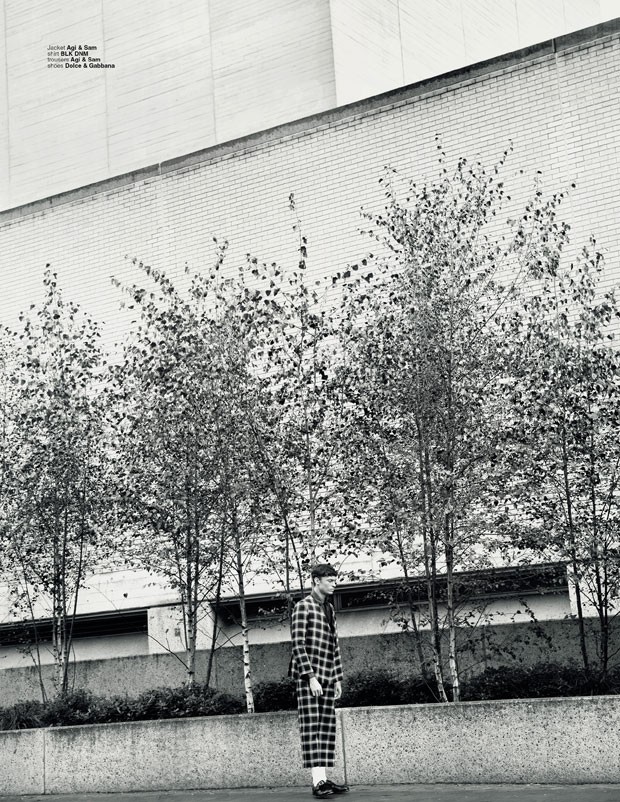 His big hair, pushed back from his face, is his trademark and boosts his commercial charm. In this shoot he sports a more unfamiliar style – a choppy forward fringe that gives him a mod edge.
Newton-Haydon had never considered modelling. "I thought it was a very unobtainable world," he says, pulling off the John Varvatos boots, "The average person wouldn't be able to stroll in and do it. I do look at myself and look at my story and think I'm an average guy who happened to stroll into it. It was something that was quite strange to me."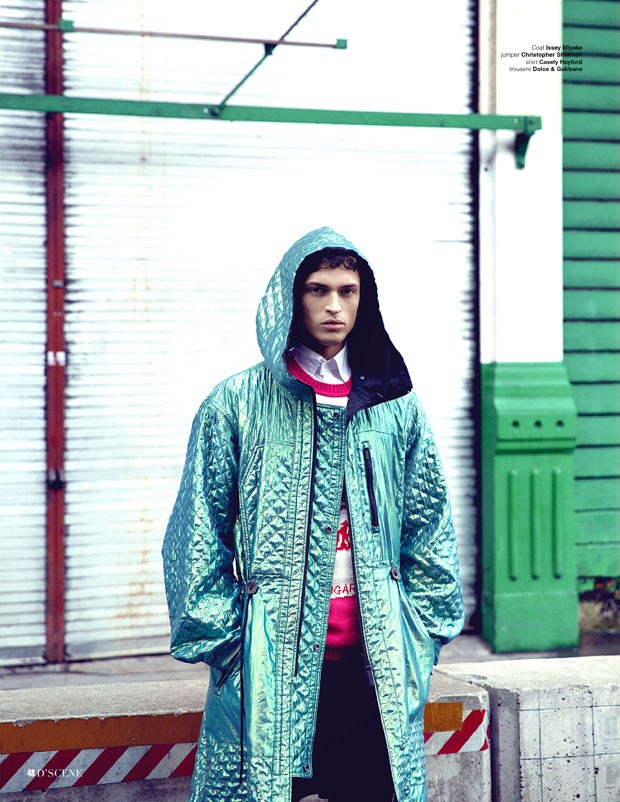 For Newton-Haydon, it was a case of being in the right place at the right time. Initially a French and German student at Royal Holloway University, he intended to pursue a different path in life. "I had a click moment that I was doing the wrong thing so I sat down with my dad and I said straight up to him that I want to drop out, not because I can't be arsed but because I'm wasting my time and money. I felt I could be doing something better with my life."
We're sat waiting for Sevda Albers (the photographer) to change the lens. The model's hands are wrapped around a cup of coffee for extra warmth. Halfway through a change, he's wearing the grey sweatpants he turned up in and the James Long bomber he took a shine to. He takes another sip of his soya latte. "It was then that a friend of mine was going to New York for fashion week so I flew out with them. A few days later I was scouted. It wasn't like I ditched one [university] for the other, it kind of just happened, which is very fortunate for me."
His scouting story is fun. "I was in a nightclub getting seriously twisted and all of a sudden this huge guy comes up to me," he laughs. "He asks me, 'Are you a model? Do you wanna be, honey? You're fabulous!'. Then he gave me his business card. I called him the next day and got the ball rolling from there. That was like six years ago now."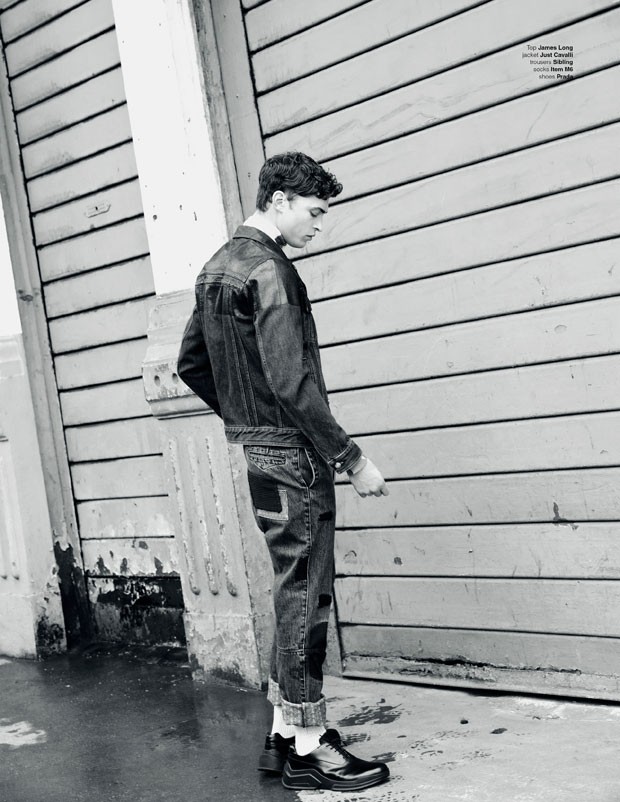 Harvey Newton-Haydon has since established himself as one of the top-money models in the business. He's posed for Roberto Cavalli, Boss Orange, Joop Homme, Gieves & Hawkes, Next and Givenchy in the last year alone. And, after climbing to the dizzying heights of the fashion model world, he has no intention of coming down yet.
He struggles to think of a single career highlight. Suddenly, he smiles as he recalls one memory, "Insecure as it sounds, getting compliments from Peter Lindbergh was the highlight of my fucking life. I've worked with him twice now and it's been really good." Without thinking, he runs his fingers through his hair and brushes it back to its usual style. After a tentative glance from Daniela Koller (today's makeup artist), he repositions it with a bashful smile.
He sounds inspired when speaking about photographers he has idolised from a young age. A keen photographer himself, he favours the aesthetic of the late, great Helmut Newton.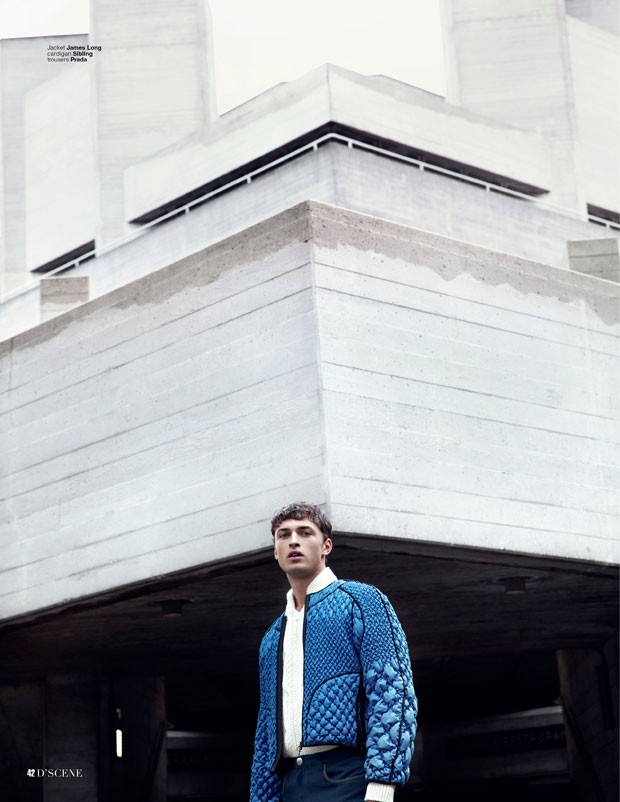 The perks of his work are the people. "It's a very sociable industry. Apart from people like Katy [Katy Moseley – Director of Public Relations at Next Model Management] who are there shaping a career for me and watching my back for me, there are people I get to meet – like you – or any designers that I've met over the years. Being a model is like having a VIP access card to that world you don't ever think you'll be a part of," he says. "I really think it's the chance of things happening and the probability of socialising."
Next stop: Old Spitalfields Market. We pack up and head down to street level for the awaiting car. Newton-Haydon, still wearing that bomber, picks up the largest suitcase and leads the way. Protests fell on deaf ears – being a top model won't stop him getting his hands dirty. "My first show was with John Galliano in Paris," he says through heavy breaths, taking one step at a time. "I love going to Paris for work. You always know that's going to be a highlight when you know you've booked a job in Paris."
Modelling does have its drawbacks. "You're massively typecast and stereotyped, which I don't really like. The fact that I have tattoos makes it even more of a stereotype so I try to wear long sleeves as much as possible," he says, revealing the lotus tattoo on his right arm. His left arm has an Asian theme too – a half sleeve of flowers, geishas and Hokusai-inspired waves. "When anyone asks me what I do, I just make up some loose interpretation of what a model is. I tell people I work in advertising. If they have any kind of sense they can work it out."
His job gives him confidence. "You know what, I'm gonna wear what I like. I guess I have got more confident in what I'm wearing and what I do but that might also tie hand-in-hand with me getting older," he says.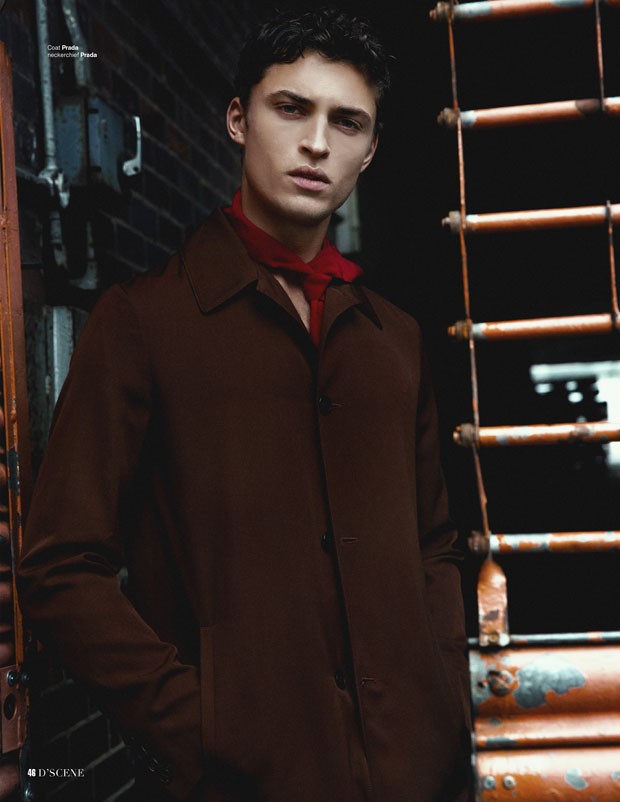 He has a keen eye for style. His mother influenced his dress sense from a young age. "When I was 16 and asking for the same trainers, jackets, caps and nonsense as my friends, she told me, 'Instead of being a sheep, you should be a shepherd. You should be creating your own style and have your own identity and people will respect you more for that.' I took this on board and even started buying brands that she was wearing. I'd even start to wear some of her clothes and as a teen I'd try to pull off some of her pieces with my own," he says.
Though he grew up in south-east London, he was always a fan of Japanese fashion. "I feel that there's a lot more you can get away with in Japan than in the UK," he explains, catching a glimpse of a metallic Issey Miyake coat.
He's also a budding actor, recently starring in a film funded by a Kickstarter project, directed by his friend Danny Chan. Titled 'He Who Has It All', it's a short movie about a young man who, at first appearances, seems to have it all: money, promising career, good looks and an better looking girlfriend. However, when James starts to score everything he could have hoped for, he fights a losing battle with mental illness. "It's a film that's loosely inspired by my life and how I am as a person," he says. "It was an incredible project to work on… In this film I had to portray a really dark character profile of myself, which was quite emotional I suppose you could say. But at the same time it was such an amazing experience seeing the ins and outs of how a film is made."
It's late afternoon and it's a wrap. Before parting, I ask Harvey what he hopes the future has in store for him. His response is quick: "Success and happiness, hopefully."
144 pages, published 2/8/2015
D'SCENE Magazine winter 2015 edition – fashion magazine starring top models in editorials captured in New York, Milan, London, Sydney, Dubai, and Belgrade.
Photographer: Sevda Albers – sevdaalbers.com
Fashion Editor: Christopher Maul
Grooming: Daniela Koller
Fashion Assistant: Laura Byrom
Model: Harvey Newton-Haydon at Next Models London
For the shoot Harvey is wearing pieces from BLK DNM, Casely Hayford, Christopher Shannon, Christophe Raeburn, John Varvatos, The White Briefs, PRADA, James Long, Issey Miyake, Casely Hayford, Dolce & Gabbana, Lagerfeld, Scotch & Soda, Just Cavalli, Uniforms for The Dedicated, and Agi & Sem to name a few.