If you're of a certain age, you'll remember that the eponymous movie "Buffy" and lead pep-ster "Nicole" of "Drive Me Crazy" were both on their high school's prom committee. While their membership signified the character's pre-change, pre-epiphany, officious stage, it's no secret why the teen rom-com writers included the formal dance. In a coming-of-age tale, on screen or off, the prom signifies ritualistic milestones, starting with choosing a theme. Image above by Clara Copley for Design Scene
Continue after the jump for our annual prom talk.

Theme
One of the most popular themes for prom is Vegas; the first "Twilight" film, ended with a casino-variation, "Monte Carlo." Masquerade is another widely-used theme, as long as the celebrants don't plan on channeling a film that featured it, "Eyes Wide Shut". Colorful and bold, "Mardi Gras" is also a lively choice. A sweet theme is "Candyland," which can also be very colorful and allow for creativity. Since the release of the Disney remake starring Johnny Depp, "Alice in Wonderland" is another theme developing a following amongst prom committees.
Teens have a flair for the dramatic, and the exotic "Arabian Nights" fulfills those fantasies. Image above Kristina Salinovic by Daniele Rossi and Emily Lee for Design Scene (see more)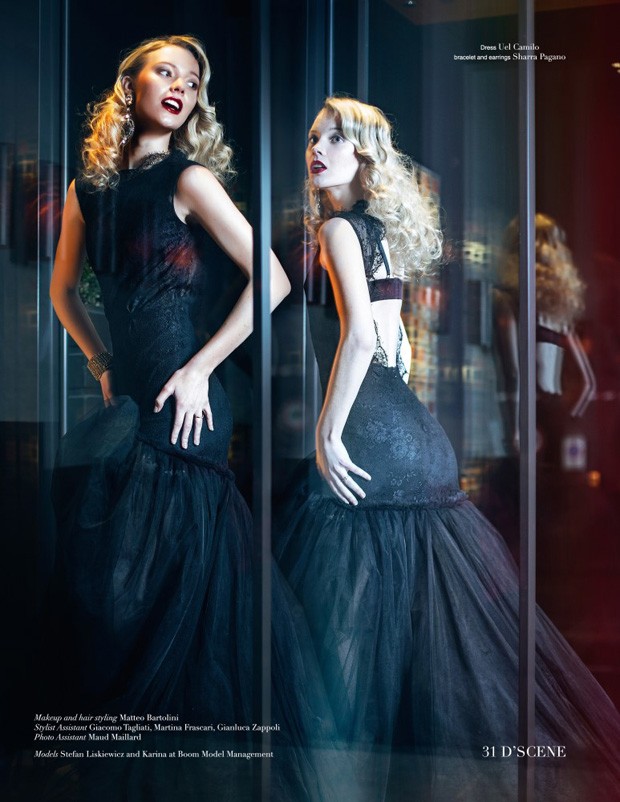 Dress
Once a theme's been chosen, it's up to each attendee to consider clothing. Girls who sign-in online to peruse stunning Sherri Hill prom dresses collection will surely find something to suit. Next up: shoes and accessories. Image above photographer Igor Cvoro styling Stefano Guerrini for D'SCENE Magazine by Design Scene
Décor
But back to the prom committee – in terms of décor, it's important to choose the venue first. Many schools have dances on campus, but, for prom, they opt to rent-out restaurants, halls or hotel reception-rooms. Committees should find out their decorating options– the hotel may have restrictions. Be prepared: you may be given a no-more-than two color scheme that must convey the prom theme (for example, for "Alice in Wonderland" you may choose red and black, for Arabian nights it may be gold and maroon).
While your school may have restrictions, you'll likely have more freedom (color-scheme, for example), regarding décor at the facility (gym, auditorium, etc.), seating, etc. Often, hotels will not allow you to bring outside food. For example, if you wanted to hire a mobile barbeque cart or a taco truck, you could, if you were on school property or a private facility.
Photos
A hotel's policy on photographers is likely to be much more lax than it is regarding food – meaning, it is likely okay to hire an "outside" photographer or videographer. One extremely popular party feature is a photo booth. The company usually provides props for the guests to wear (usually hats, boas and canes) for fun photos. Generally, photo booths provide photos to the hosts (in this case, the school's prom committee), and to guests, too. And when you're dressed your best, you'll want many photos, to document and remind you of wonderful memories. Image above – photo Al Habjan & styling Daniel Paciocco for Design Scene
Music
Another prom essential is the music and you basically have a choice of DJ, live band or a digital playlist. The prom committee may feel like the arbiter of all that is musical, but it is critical that the music be reflective of the attendees as a whole. You can't please all the people all the time, of course, but think generation neutral, tunes that will get everyone up and dancing and socializing.
Flowers
Unless your school has an endowment for prom, it doesn't make sense to decorate the venue with flowers, which, of course, play a huge role at prom, in the form of corsage. Today, wrist corsages are the most popular floral form, and a search on Pinterest reveals many, many pins demonstrating the creative possibilities. Real and faux flowers are combined to create unique, as well as color- and dress-coordinating ensembles. Ribbons, tulle, strings of faux pearls or rhinestones further enhance. Some girls even have a tiny version of their wrist corsages made to wear on their middle fingers. A unique choice and alternative to the pin-on corsage is to attach the tiny bouquet at the top of the shoulder strap of the prom dress. Despite the inclination, be careful when designing a wrist corsage, because depending on how fervently you dance, you may have flying flowers.
Be the kind of prom committee where guests sincerely laud efforts; and the best way to achieve this is to let go of your own preferences and consider the school at large.