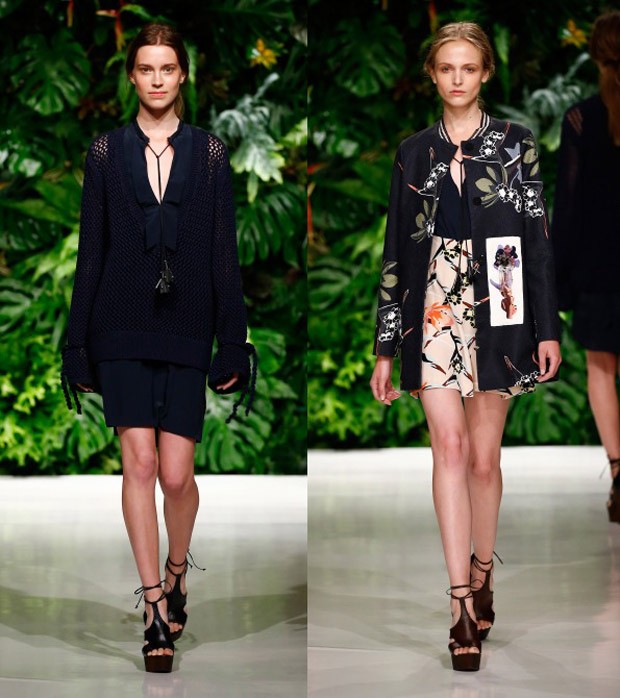 Dorothee Schumacher presented her S/S 2016 collection on the 10th of July 2015, the last show day of Mercedes-Benz Fashion Week Berlin. Once more, the German label invited a rather small circle as audience, which felt like the perfect decision. This season, the creative spirit behind the German traditional brand, takes her inspiration from a desire to authenticity and the presence this season. This collection seems to be made for the cosmopolitan woman who prefers to wear sophisticated, feminine and wearable pieces with a contemporary edge. We name it, Dorothee Schumacher shows it. Nature plays an exceptional role and it is in fact symbolized by a wild garden as setting, or to say it more precisely, an exotic paradise. In that surrounding, floral prints are paired with natural fabrics, for instance raffia and linen with raw edges that act as abstract hybrids. Let's sum it up like this: It's hot in paradise!
RELATED: FIND MORE SS16 COLLECTIONS FROM BERLIN FASHION WEEK
Cut-wise, the collection can be described as subtle and seductive with just the right amount of each: off-the-shoulder cut-outs on dresses, tops and jackets underline that mood. Albeit also contrary elements can be noticed within this collection, and therefore raw- edged hems and inside- out seams on linen build that contrast. Cardigans with transparent backs give this looks its unique, edgy allure. Absolutely astonishing!
Even though the collection can be seen as an ode to femininity, it is still cool at the same time: delicate cord lace- ups give refined décolletés a feeling of coolness. Why stick to one attitude, when you can cover several ones? Leather and metal tassels underline that spirit. With that creative play, Dorothee Schumacher proves her love of fashion and her love of creativeness. It is made for the cosmopolitan woman who dares to live different facets of her womanhood.
Shape-wise, it stays feminine and playful. The designer preferably dresses her wearer in shorts made of silk or leather, either alone or with straight- cut short coats. Palazzo pants underline the creative experimentation with widths. Jumpsuits come along in different lengths, both long and short and drape the body in the most skillful way. Midi- length skirts and dresses stand for an easy- going and yet enjoyable savoir vivre. Cropped tops appear utterly feminine and versatile. They express the high- waist spirit of the collection.
Print-wise, the collection is dominated by tropical flowers and abstract fantasy flower hybrids which takes its inspiration from the Japanese photographer Shigeo Gotto. What a striking statement print! Dorothee Schumacher dares to mix strong, vivid colours and harmoniously unites them: tyrian purple, chartreuse and mineral blue are paired in a unique, unconventional way. It is a mix and match of daring hues which is so highly inspiring and refreshing.
Fabric-wise, we noticed a lot of linen, cotton and raffia. All those materials plus flower print. Even in the fabric choice, nature plays a center part. Crochet seams on leather dresses, batiste blouses and jackets adds a highly artisanal spirit. Brodierie anglaise reminds us of past days and lets us indulge in reminiscensces. You may call it the most modern expression of femininity. Albeit also masculine elements can be found in this collection: striped cotton shirts are shown as dresses and tops. Little jumpers and mini cardigans are mostly presented in linen blends. Nature meets technology, for instance tech- organza with fringed jacquard, finished with graphic cotton ribbons.
But also futuristic elements can be seen in this collection: abstract embellishments with crystals, ribbons and metal petals applied to jackets, coats and tops underline that character.
Accessoire-wise, leather tassels and metal pins on long silk ribbons, play an important role. Chunky summer sandals with mahogany- coloured wooden plateau soles appear indigenous yet seductive. Exactly those twists make the collection so special and interesting. Belts with a vintage finish and interlacing knot details emphasis the waistline.
Dorothee Schumacher's creative play was thrilling, seductive and refreshing.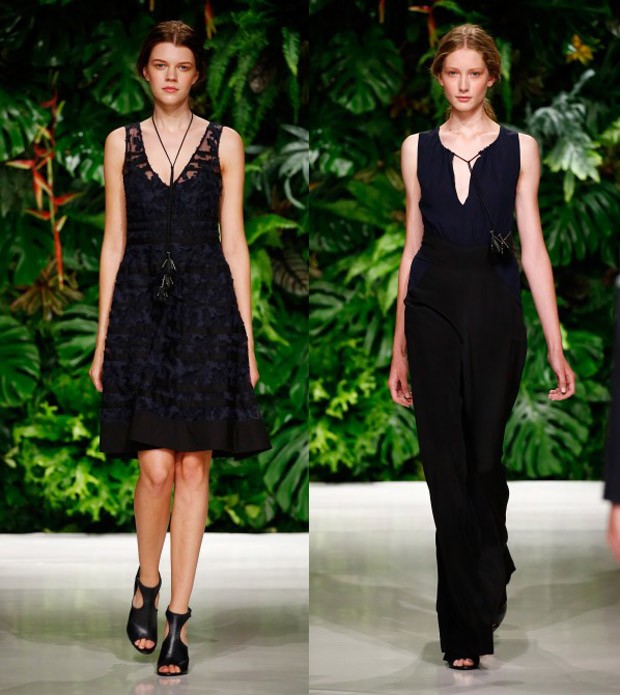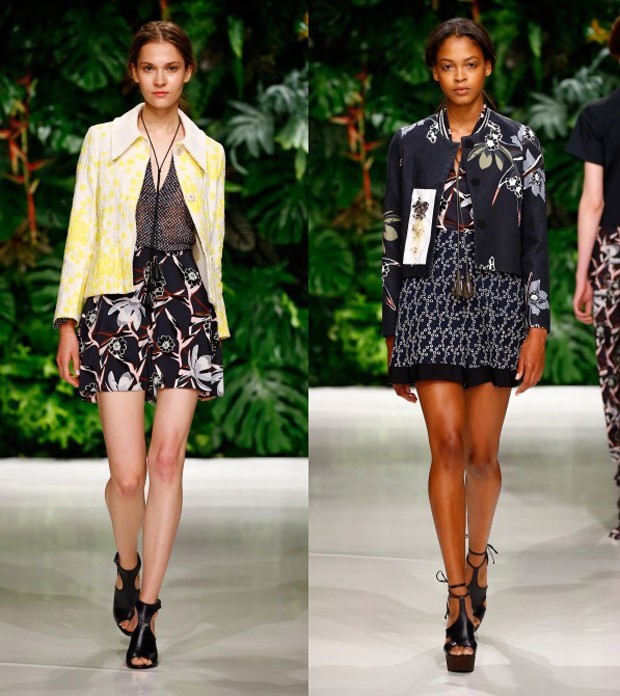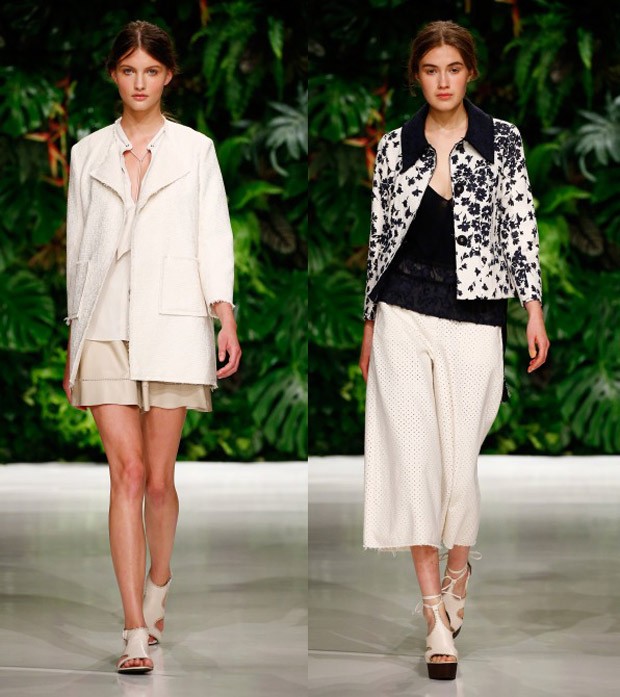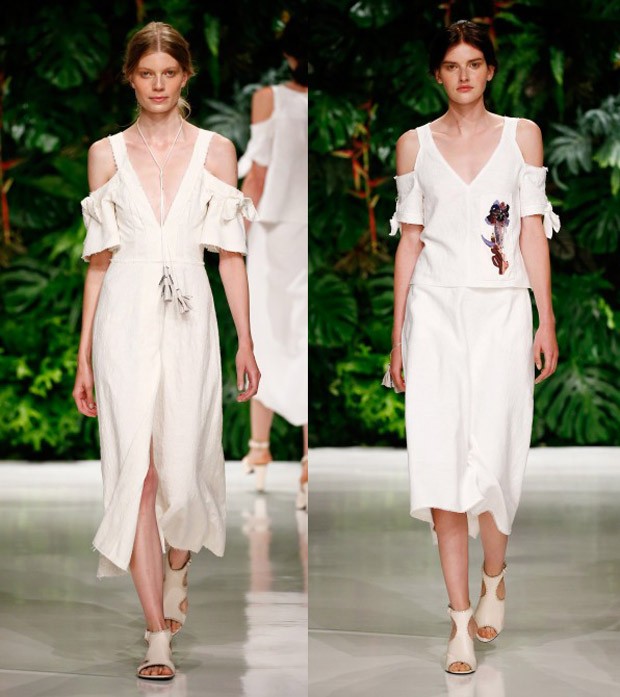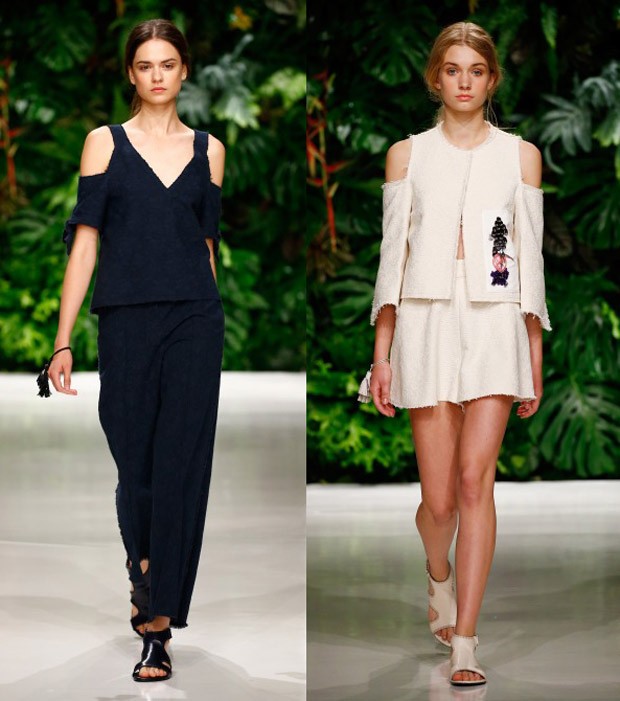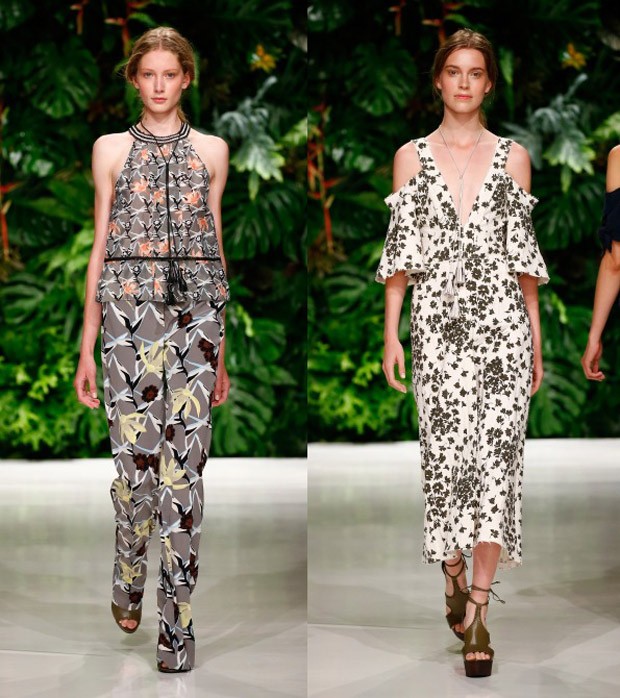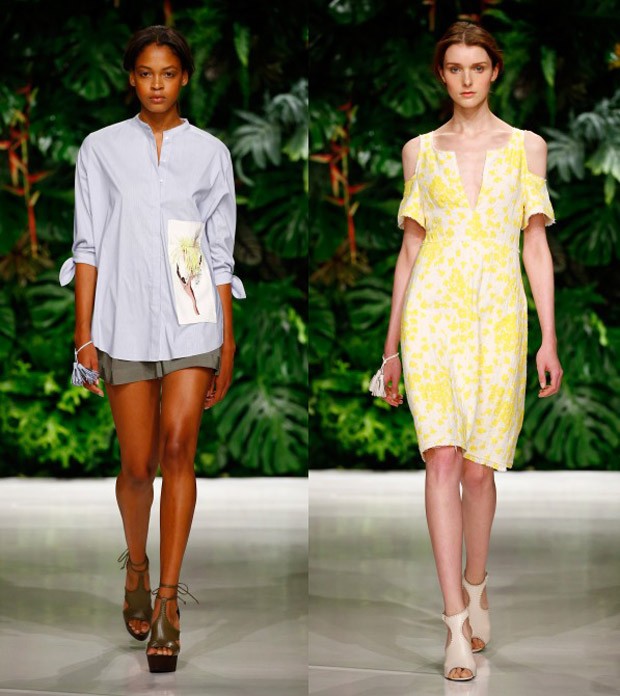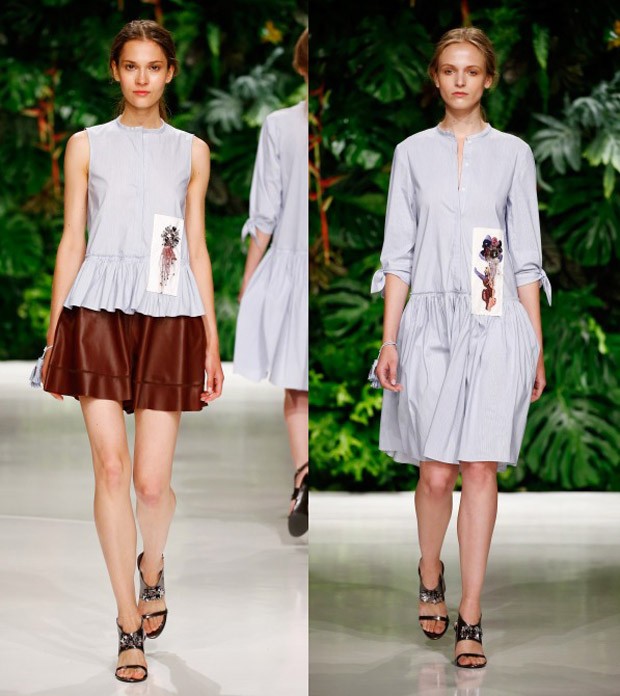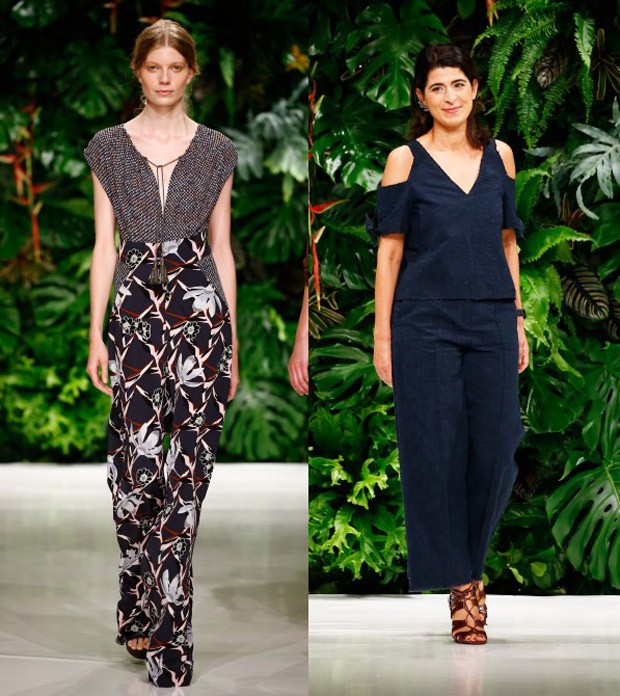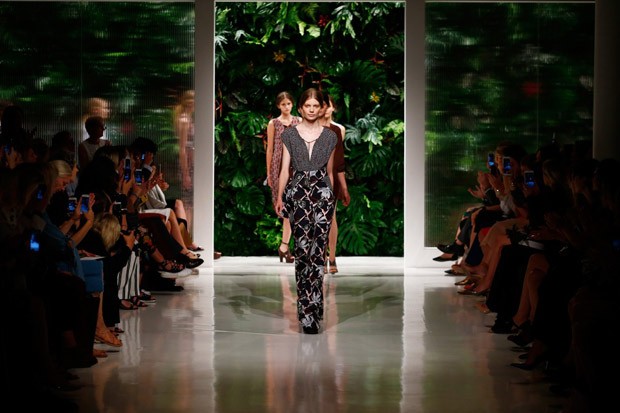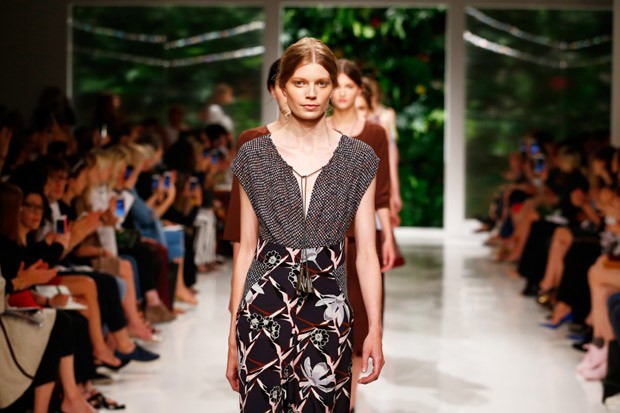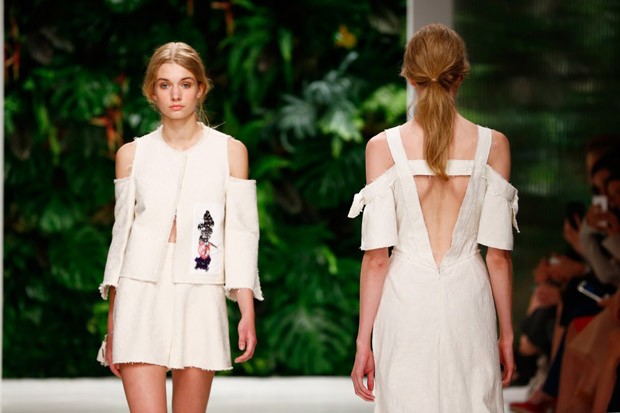 Review by Sussan Zeck for D'SCENE Magazine
Picture Credit: Mercedes- Benz Fashion Week Berlin / IMG Fashion
Website: www.dorothee-schumacher.com