If you're a size 10 and up, you've probably had the same sinking feeling that many women encounter. You're in the mall about to go swimsuit shopping when the snotty saleslady looks you up and down. You're about to be presented with yet another grandma-style one-piece in basic boring black. The same bathing suit they've been recommending for you since you turned 13. However, this time you can finally turn on your heels and head home. Instead of being suckered into purchasing a bathing suit you'll never wear, head online for the coolest plus-size swimwear. Today's market has changed and designers have finally clued into the fact that women of all sizes want to wear cute bathing suits for women. By knowing what trends work for your personal style and figure, you'll be able to sport your cutest swimsuit yet. Image above – plus size girls taking the cover of VOGUE Italia photo by Steven Meisel
If you've never rocked a two-piece before but are curious about testing the waters, consider the tankini. This style is usually designed with a longer tank top and a bikini bottom of your choosing. If you feel more comfortable in boy shorts or a skirted bottom, feel free to mix and match. Look for a suit that plays up the things you love about yourself. An interesting neckline will showcase your cleavage, a halter style shows off your toned shoulders and arms and high-cut bottoms will make your legs look even longer. These designer swimsuits will accentuate your curves instead of covering them up.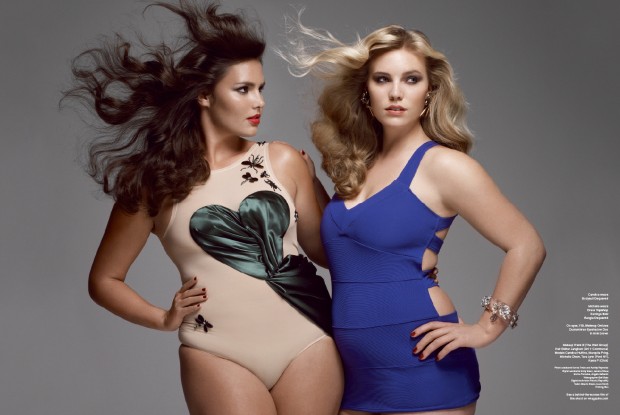 All women are shaped differently. Bathing suit shopping in particular is not a one-size-fits-all proposition. In fact, many women may need a larger size on top and a smaller size on the bottom (or vice versa). The emerging separates trend means that you select whatever size works for your figure. By purchasing a few options, you can mix and match your swimwear for multiple combinations. Other emerging looks to consider this season are the high-waisted bikini and the skirtini. The high-waisted bikini emphasizes the slimmer parts of your frame while drawing attention away from problem areas, and is designed with a vintage 1950s look in mind. The skirtini swaps out plain bikini bottoms for a flirty skirted layer. Depending on your comfort level, you can make the skirt as long or short as you want it to be. Image above – plus size girls by Solve Sundsbo for V Magazine
Fit is something that should also be carefully considered. If you go one size up, your bathing suit will only make you look bigger. If your swimsuit is too tight, it will be nearly impossible to slip into.Be sure to select a swimsuit with a fitted waist. (Spandex and Lycra are some of the best materials.) Color and pattern are also vital. Go with something that plays up your complexion and sculpts your figure along the waistline. Other style features like ruffles, side ruching, and mesh inserts can place focus on other areas, emphasizing your best features and playing down others.
Of course, it isn't always easy to find the right swimwear at a mall or a department store. Luckily, there are a great number of retail options online. At swimsuitsforall and other stores like it, there are no long lines, no judgmental salespeople, and no reasons why you can't find the perfect swimsuit for your unique and beautiful body. Image above plus size top model Crystal Renn by Armin Morbach for TUSH Mag
Thanks to the convenience of online shopping, you can finally get the bathing suit you deserve. Instead of freaking out when that inevitable beach vacation or family cruise comes together last minute, you can take matters into your own hands, and head over to swimsuitsforall. To see a wide selection of swimdresses, skirtinis, and tankinis, go online and start planning your next vacation right away. When you purchase a variety of stunning swimwear at a great plus-sized retailer, you can turn any outfit into an occasion.