Fashion shows take place in all major cities around the world, and at all times of year. In the coming weeks, those who can't get enough fashion news, updates, and trends, can visit cities around the world to attend some of the biggest fashion events featuring some of the best known names in the industry. As we approach the A/W 2015 season on calendar the fashion scene is looking into Spring Summer 2016, here are just a few of the best fashion shows and exhibitions to enjoy.
Bare in mind, most of men's collections for SS16 were already shown during the summer therefore it is time for the ladies to take the catwalks.
Stockholm Fashion Week runs from 10th to 16th August and features a combination of trade fairs, as well as exhibitions, events, and fashion shows that are open to the public. The exhibition is primarily aimed at those who work within the fashion industry, including retailers and suppliers, but the city will play host to a series of shows and events that can be visited by members of the public as well. Photo above from Missoni show by Pasquale Ettorre for Design Scene.
From 17th to 22nd August, Montreal hosts a major outdoor fashion event with all events open to the public, and there are expected to be more than half a million visitors. As well as the latest designs and trends being exhibited to fashion lovers, you can also experience live creative sessions, design showcases, and musical exhibitions, ensuring that there is something for everyone.
Mumbai's fashion week is co-run by Lakme, whose aim is to put Indian fashion on the map. It runs between 26th and 30th August and features a host of fashion, accessory, and textile designers. There are also features on next generation designers and emerging talents. You can also see fashion films created by designers as a means of showcasing their creative talent.
New York Fashion Week is one of the biggest and most prestigious of fashion week celebrations. September 10th to 17th are the dates when you can see the latest collections from the biggest names in fashion, shows put together by some of the most creative talents, and clothes and accessories modelled by the biggest names in modelling. New York fashion week is big and can get very busy, but it is one of the most important dates in the annual fashion calendar.
London Fashion Week runs from Friday 18 September to Tuesday 22 September it brings the best of British fashion with of course Burberry as the center point of the week (to be streemed live on Design Scene). Above photo from London Fashion Week by Clara Copley.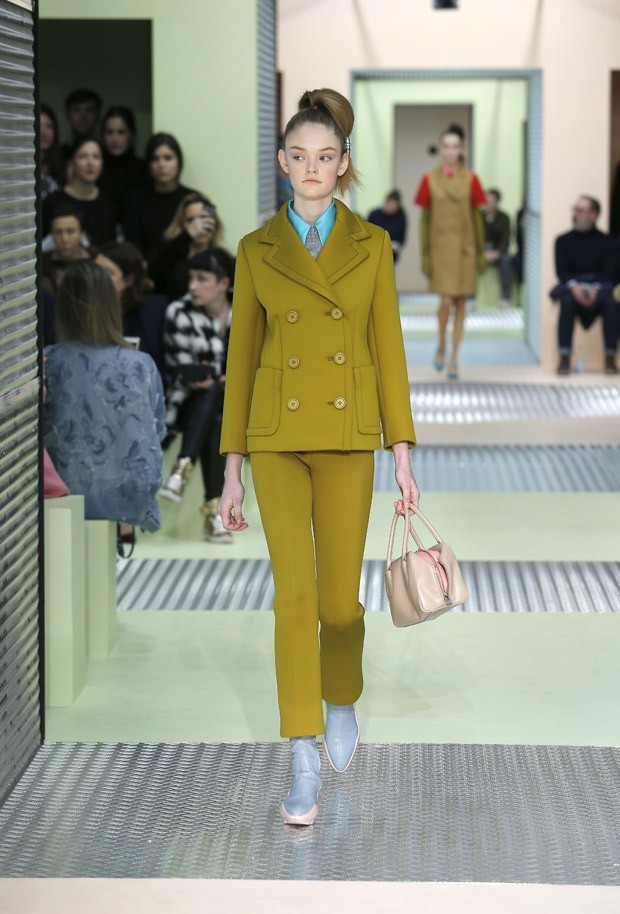 Milan Fashion Week follows from Wednesday 23 September to Monday 28 September, always regularly featured on our pages it will showcase the new tendencies in Italian fashion. Above look from PRADA Fall Winter Show.
And last but not least the Paris Fashion Week with its flavour for couture is taking its ready-to-wear to the runways from Tuesday 29 September. to Wednesday 7th of October. More than a week at the end of the every-busy Fashion Weeks month.
Fashion weeks and fashion exhibitions vary from those that are aimed at industry professionals to public exhibitions and showcases of emerging talent. If you love fashion in all its guises, enjoy big budget shows, are interested in the social history and cultural context of clothing, or you want to find the next big trend for your own shop or fashion business, then these are the shows to visit.